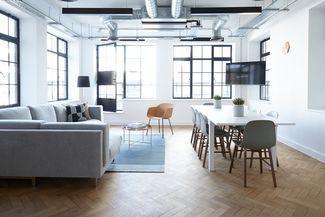 Good production can allow your employer to let you work from home permanently.

Pexels

In the last ten years, there has been a significant increase in the number of people working from home. While some people face challenges such as space limitations, the presence of kids, instant access to social media platforms and other distractions; it is important to note that the overall productivity depends on the condition of your working environment. An organized workstation motivates you, creates a conducive atmosphere and saves you time by helping you remain focused. Here are seven proven ways to organize your home office workspace, avoid distractions and stay super productive all year round.

Invest in Creating a Dedicated Office Space

The key to maximizing productivity is creating a professional atmosphere in your workstation. Whether your home is big enough or not, set aside an area that can accommodate all you need. An ideal work from home office space has one or two computers with reliable internet connection, a printer, a business-only cell phone, and other general office supplies. Of course, you will also require some workstation furniture, including a comfortable office chair and desk.

Get Organized

Working from home means balancing home and work life, which means your working schedule can easily get disrupted. It is therefore important that you stay organized; keep your office clean and get a filing cabinet so that you organize and file loose papers. Apart from the physical layout, you can also use applications such as Evernote to help you stay organized when away from your desk. Lyndell, who works remotely for her employer the Canvas Factory had this little tip, "Organisation becomes far more important when you're working from home, as you don't have that on/off switch of arriving at work like other people do. You need to keep work in its place, and have a clear schedule of what needs to happen, and when."

Leverage technology.

There is nothing much frustrating like frequent technical faults in your workstation devices and their connections. Take your time and get an expert to troubleshoot and fix these devices. When possible, perform an entire upgrade to increase their efficiency. Apart from conducting regular maintenance checks, upgrade your computer software and backup important files to avoid data loss in the event of a system crash. On top of that there are many high tech solutions for various home office problems, don't be afraid to leverage technology to make your work easier.

Bring in some green or anything with a calming scent.

Placing a floor plant, fresh smelling potted herb or fresh flowers on your workstation adds aesthetic beauty and a breath of fresh air to your home office. It also creates some visual variety the moment your eyes need a random break from the computer screen. Alternatively, you can add a scented candle and position your desk in such a way that it allows you have an outside view. Aromatherapy gets your thoughts back on track.

Create a Daily To-Do List

It is important that you set priorities when working from a home office. Be your boss- ensure you stay on track by creating a detailed checklist of the tasks you should accomplish before starting the day's work. Work on these tasks based on their priority and transfer any undone task to the next day's to-do list. Visible accomplishments spur your productivity.

Get Your Family Involved

An essential tip that comes in handy for working mothers with kids at home. Consider explaining to your family members including children that you need some uninterrupted work time. As well, you can reduce the scope of your responsibilities and remain focused by hiring a housekeeper or babysitter for your kids. It's like teamwork, everyone's cooperation will help maximize your productivity.