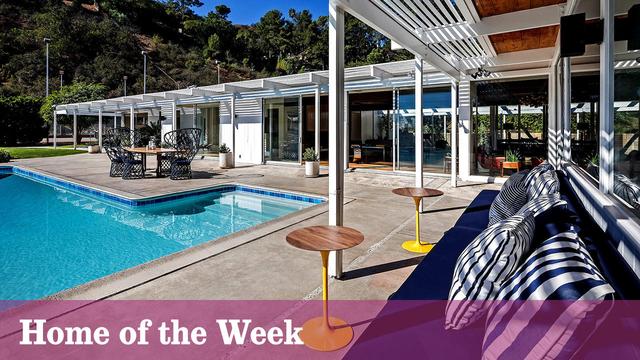 The Brander House in Hollywood Hills West is a signature example of the post-and-beam designs of architect Eugene Kinn Choy.
Walls of glass remove barriers between indoor-outdoor spaces, opening common rooms to views of the swimming pool and an inner reflecting pool. A wall fireplace made of sandstone and travertine anchors the living room, which was once seen through the lens of architectural photographer Julius Shulman.
Location: 7266 Outpost Cove Drive, Los Angeles, 90068
Asking price: $9.288 million
Year built: 1959
House size: 4,529 square feet, four bedrooms, four bathrooms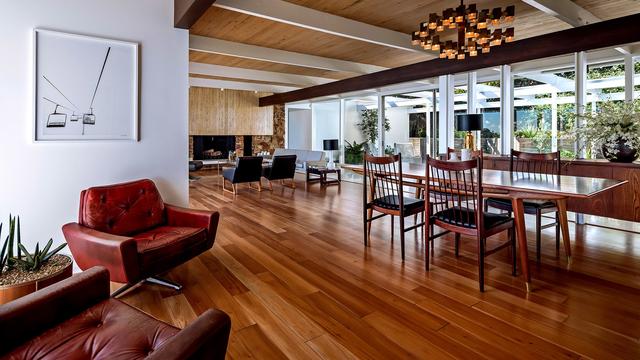 Lot size: 1.29 acres
Features: Original finishes; period-sensitive updates; sandstone and travertine fireplace; vaulted ceilings with exposed beams; dining room with built-in buffet; open-plan living room; lighted tennis court; detached studio; swimming pool
About the area: In the 90068 ZIP Code, based on 38 sales, the median sales price in September was $1.465 million, according to CoreLogic. That was a 1% increase in median sales price year over year.
Agents: Marcie Hartley and Donovan Healey, (310) 691-5950, Hilton & Hyland
To submit a candidate for Home of the Week, send high-resolution color photos via Dropbox.com, permission from the photographer to publish the images and a description of the house to neal.leitereg@latimes.com.
Kid Rock recently sold his Balinese-inspired compound for $9.5 million, $2.1 million less than he paid for it in 2006, in a deal completed off-market.
The party-ready home in Marina del Rey is listed for sale at $3.799 million.
Actor Phillip P. Keene has a good reason for hanging out in the downstairs den of his Los Feliz home.
The Tony winner's prized possession in this room is her Steinway, but she keeps other items there that also inspire her.
Jillian Michaels retreats to the office in her Malibu home when she needs some kid-free space.