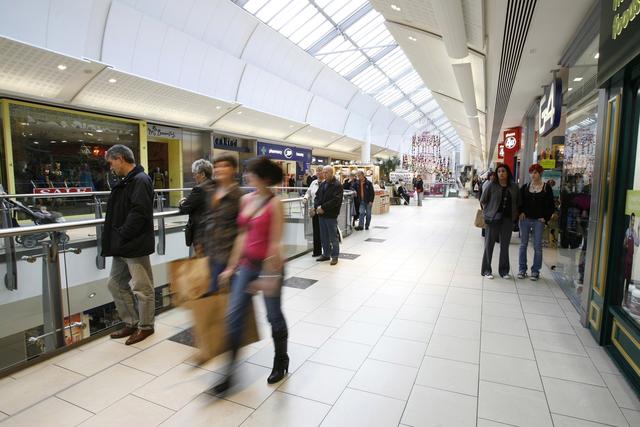 One of the UK's busiest shopping centres has installed a fast-lane for shoppers in a hurry.
Lakeside Centre in Essex has marked out a bright orange 225m path especially for those looking to cut through the crowds.
The retail hub is hoping to prevent "slow-rage" incidents with the new lane, helping speedier walkers to avoid disputes with customers who walk at a more leisurely pace.
According to a survey of 2,000 people commissioned by MasterCard, slow walking is a grievance for 84% of shoppers.

MastercardUKBizMastercard installs click and collect fast lane at Intu Lakeside, to support speedy shoppers who want online convenience reflected on the high street #BlackFriday #Masterpass
As the busy Christmas season approaches, the company estimates that walking speeds will decrease by 21 per cent because of congestion.
Shoppers in the South East were found to be the fastest, with an average shopping speed of 2.92mph, while Scottish shoppers were the slowest, at 2.77mph.
Lakeside contains more than 250 shops, 50 cafes and restaurants and parking for 13,000 cars. It attracts over 25 million visitors a year.
This is not the first time a shopping centre has gone to extreme measures to control human traffic. In 2014, Sheffield's Meadowhall centre introduced its own fast shopping lanes after a 10-year-old girl wrote in to complain.
It's not just retail hubs that are using coloured markings to manage crowds. TfL recently trialled bright green markings on the platforms at King's Cross Underground Station to show people where to stand so as not to block the train doors.