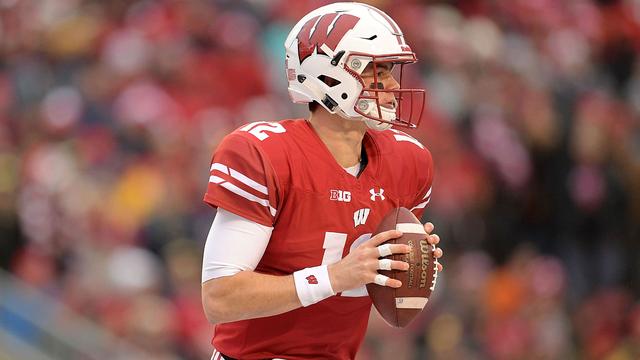 The first half of the Wisconsin-Michigan game would have made all those old-school Big Ten coaches proud. The two teams smashmouthed their way, three-yards-and-a-cloud-of-dust at a time, to a 7-7 halftime tie. And one of those scores came on a punt return.

But Wisconsin coach Paul Chryst opened up the playbook in the second half, turning quarterback Alex Hornibrook loose, and the sophomore delivered. With Michigan suddenly having to respect the pass, that opened the door for freshman running back Jonathan Taylor.

While everyone talked about the importance of Wisconsin's top-rated defense coming into this much-hyped matchup, Hornibrook proved to be the Badgers' big man in the end as No. 5 Wisconsin (11-0, 8-0 Big Ten) beat No. 24 Michigan (8-3, 5-3) by a score of 24-10.

Here are three takeaways from Wisconsin's win over Michigan

1. Wisconsin quarterback Alex Hornibrook still learning on the job — Wisconsin is loaded on both sides of the ball, boasting one of the nation's top defenses and a sensational freshman running back in Jonathan Taylor. Then there is quarterback Alex Hornibrook. Is he a strength, or a weakness? Against the Wolverines, the sophomore was both. With Hornibrook coming off a three-interception performance last week against Iowa, coach Paul Chryst seemed reluctant to let him throw in the first half against the Wolverines. When Hornibrook did get a couple of passing plays early in the second half, he looked shaky, throwing an interception in the third quarter that led to a field goal for Michigan.

But then, late in the third, Hornibrook led a nice, seven-play, 77-yard scoring drive for the Badgers. On 3rd-and-13 during one play, he hit A.J. Taylor perfectly in stride downfield for 51 yards. He capped the drive off on a 3rd-and-16 play, threading the needle between defenders to hit Taylor on a 24-yard TD pass.
Alex Hornibrook let it rip 🙌#OnWisconsin || #Badgers pic.twitter.com/EjtYWdm5Tk

— Wisconsin Football (@BadgerFootball) November 18, 2017
On the very next drive, Hornibrook dropped in a perfect 27-yard pass to Danny Davis III. With the Badgers QB suddenly hitting every open receiver, the Wolverines had to respect the pass. That opened up some running lanes for Taylor, who had a strong finish to end up with 132 carries on 19 yards. Hornibrook, who finished 9-of-19 for 143 yards, with the one TD and one pick, needed this performance as a confidence builder heading down the stretch. "I thought he did a lot of really good things," Chryst told Fox Sports after the game.
2. Wisconsin may still need help to make the College Football Playoff — A week ago Wisconsin was ranked eighth in the national top 25 and, despite their undefeated record, were being overlooked not just by College Football Playoff selection voters but fans as well. Ranked No. 5 in the latest poll, they're still on the outside looking in. Many fans probably tuned in Saturday to see how the Badgers' game might affect their team's playoff hopes. The Badgers may still need some help to make the playoff, either with a loss by one of the four teams ahead of them, or a change of heart by the voters if nothing changes.
3. Michigan receiver Donovan Peoples-Jones looks like a future star — The freshman wide receiver came into the game with only a dozen catches for 155 yards this season, but looked good for the Wolverines. His leaping 48-yard reception in the second quarter helped set up Michigan's first touchdown. Earlier, he showed great body control hauling in a pass in the end zone, although he just barely stepped out of bounds. In the third quarter Peoples-Jones had a nifty 12-yard run on a reverse. He finished with four catches for 64 yards. Peoples-Jones is the type of playmaker every team needs.