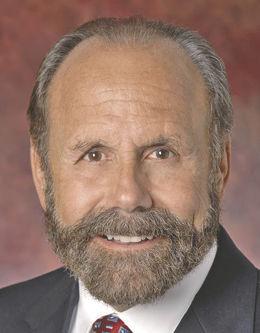 Jerry Hill
Is there an archaic California law you think needs updating? Got a good idea for a new rule that could make a difference in your community? Well you don't need to be a legislator to try and make it happen as state Sen. Jerry Hill just announced his 10th annual "Oughta Be A Law … Or Not" contest.
Hill, D-San Mateo, is looking for budding bill makers to submit ideas as part of his Senate District 13 constituent contest where the best proposals could make it into California's 2018 legislative session. Entries can be ideas for new statewide laws, as well proposals to repeal or revise existing rules.
While this contest is covers state regulations, Hill agreed what's happening at the federal level has inspired more to engage in politics.
"People are so upset with what they see in Washington, that they become involved, they become engaged in government, they don't want to see their democracy hijacked so they're going to do something about it," Hill said. "It's so true that all politics is local. It all gets down to what affects you at the local level. It's in your community, it's something you live with every day, it's something that affects you on a daily basis."
Prior years' submissions have touched on a range of topics including elections procedures, traffic violations, tax exemptions for nonprofits, water conservation, and gun store security. Of the 13 bills introduced through the contest over the last decade, seven have become law, Hill said.
"We've been very fortunate and people have a lot of suggestions and a lot of good ideas," Hill said.
The contest, which former state senator Joe Simitian also hosted, provides an opportunity to hear from constituents whose lives and experiences contribute toward new ideas, Hill explained.
"Who knows better than the people who are living with laws every day what we should have and what laws there should be and what laws there shouldn't be?" Hill said. "I always liked laws and ideas that are commonsense things that make our lives better, and a lot of these do that."
The Oughta Be A Law contest also provides an opportunity for constituents to step into the shoes of a legislator and get a closer look into what it takes to turn a bill into law. Those with an idea are asked to submit a form and questionnaire designed to encourage participants to flesh out their ideas by considering what effects the policy could have. Hill noted he's already received several hundred ideas from constituents that have called in over the year, but only about a dozen have filled out the form.
"We always have to look at the unintended consequences as well. That's why we like to use the form on the website because it requires the person submitting to really think about the bill and really argue it, defend it, [provide] reasons why you think it's important," Hill said.
In the past, contest winners have testified on behalf of their ideas in Assembly or Senate committees. When generating ideas, people should take into consideration why their proposal should be a statewide law, as some policies are better handled locally. For example, Hill said he often receives suggestions to ban noisy leaf blowers, but that is something that is more appropriate to address with a local ordinance.
While some ideas may be good in theory, it's also important to consider how laws are implemented and what hurdles might be presented. Someone once proposed having the California Department of Corrections and Rehabilitation promote gardening as a healthy pastime by requiring prisoners grow their own food. While there are a variety of challenges to actually putting such an idea into effect, an obvious obstacle is prisons don't have the amount of additional land required to grow food on a large scale, Hill noted.
Many of the successful ideas that arise are those that constituents recognize would have an effect on their lives or community. Contest ideas that have become law include Senate Bill 814, which cracks down on water guzzlers by fining for excessive usage when drought emergencies are in place. The idea was sparked by a constituent who was frustrated by others not doing their part to meet conservation targets, according to Hill's office.
Another came from the all-volunteer La Honda Fire Brigade which suggested exempting California's roughly 250 all-volunteer fire departments from sales tax on fundraising activities such as T-shirt sales and pancake barbecues. One law inspired by the 2013 Mills High School Advanced Placement test fiasco when 641 AP exams were invalidated due to a minor technicality related to seating arrangements. Now, students must be offered a retest within 30 days if a testing agency determines scores need to be canceled and requires seating charts be filled out for each test, according to Hill's office.
One proposal Hill is considering trying for a third year is to reduce fines drivers can face for rolling right turns. The growing prevalence of red-light cameras has prompted frustration amongst those who've received more than $500 tickets for what some argue is a relatively minor traffic violation. Prior legislation suggested reducing the base fine from $100 to $35, according to Hill's office.
This year, Hill has already heard from 16 frustrated consumers who were troubled to learn 145 million people had their personal data compromised in a hack of the Equifax. In January, he plans to introduce legislation that would require the three major credit reporting agencies to provide free credit freezes to Californians.
The San Mateo legislator often cites constituents' experiences and emotions as fuel for his passion to enact change.
"I get a lot of that energy that comes from some of these ideas. That's why when I'm fighting for them on floors or in committees, I advocate for these bills as though they're something I came up with," Hill said. "These are important issues and, to me, it's important because the only hope for change really comes from people."
The deadline to submit is Jan. 12. Visit sd13.senate.ca.gov/submit-bill-idea to obtain an entry for or for more information.
(650) 344-5200 ext. 106
Twitter: @samantha_weigel