Men treated victim 'like an animal' and tried to kill her on several occasions, say prosecutors.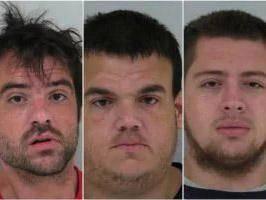 A farmer in rural Minnesota was stepping into his truck Tuesday when something caught his eye in the grassy fields behind his property. Hundreds of yards away, he spotted what he thought was a deer.
It was actually a teenage girl, walking toward him wearing no shoes or pants, he told WCCO. She was sopping wet. He immediately recognised her face.
"Oh my gosh, you got to be kidding me," the farmer said.
The 15-year-old's face had been plastered on missing posters in the area for nearly a month. He asked if she was the girl missing from the nearby town Alexandria, and she said yes. The girl asked him to call 911.
"I've been kidnapped," the girl told him, she later recounted to television station WCCO.
Police said that for 29 days, the girl had been held captive in a mobile home by three men who restrained her with zip ties, threatened her with guns and repeatedly raped her. They treated her "like an animal," prosecutors said in charging documents, according to Fox 9, holding her against her will in a closet and trying to kill her on multiple occasions.
When the men finally left her alone for the first time, she managed to escape, running door-to-door to nearby properties seeking help, Alexandria Police Chief Richard Wyffels said in a news conference Wednesday. Then, she swam across a portion of a 150-acre lake, shedding her shoes and pants in the water. She sprinted through a field until she reached a residential area and came across the farmer, who was not identified by local news outlets.
Although some news sources have identified the 15-year-old girl, The Washington Post is withholding her name because she is a victim of sexual assault.
The teen waited with the farmer in his pickup truck until deputies arrived.
"I was getting her out of the pickup to put her in the deputy's car, and she says 'There's the car, there's the car'," the farmer told WCCO. She had spotted a vehicle belonging to one of the captors driving right past the home. The man, identified by police as Steven Powers, 20, of Mankato, was immediately stopped and arrested.
Soon after, officials arrested Thomas Barker, 32, and Joshua Holby, 31, both from Carlos, Minnesota. All three are charged with kidnapping and false imprisonment. Barker and Powers also face charges of first-degree criminal sexual conduct, and Barker faces an additional charge of second-degree assault.
The three men made their first court appearances Thursday. The case remains under investigation, Wyffels said.