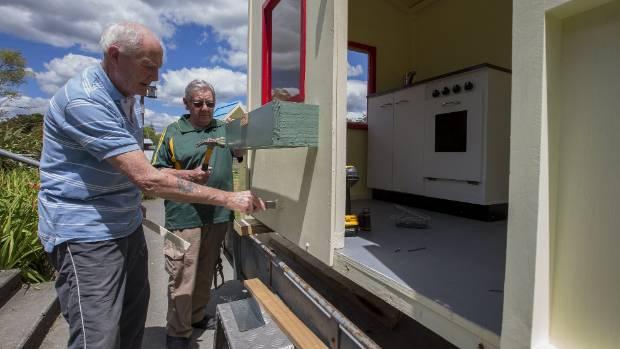 Someone will win a playhouse for Christmas thanks to the building efforts of Palmerston North's Menzshed Manawatū.
Menzshed members were putting finishing touches on the latest of the community build team's playhouses at their Racecourse Rd headquarters last week.
Made for the Manawatū Stroke Club, it will be the prize in a $2-ticket raffle.
Stewart Murray from the Stroke Club said the group, affiliated to Wellington-based Stroke Central Region, did not receive any government funding for the support services it provided.
The playhouse featured a porch and a window box, and inside a separate sink and stove unit, provided by Athol Dean of Property Care.
Menzshed's David Chapple said much of the roofing, cladding and paint had been donated.
"We've been blessed with our donations over the last couple of years. Some of the material for this came from Bunnings - stuff they don't have a commercial use for, but we can put to practical use. It's nice being able to work with new material," Chapple said.
"We started at Labour Weekend. It has taken about 500 working hours with three or four people working on it every week."
He said it was the fourth playhouse Menzshed had made, with another one going to Cloverlea Kindergarten, and one had been given to Camellia House in 2015.
Menzshed was also engaged in a range of other projects. They made three sizes of tiny coffins for Sands, the support group for parents who have lost a baby.
"That's quite an emotional kind of project, actually," Chapple said.
The coffins come in three colours, white, blue,and pink.
"We do a lot of projects like that - ones that fly under the radar, but are really useful. We've just got funding to make picnic tables for Community House on King St."
Menzshed also produce small wooden fish hooks for mental health patients at Palmerston North Hospital.
"Patients get to sand and smooth them off. It's part of their therapy," Chapple said.
They had also made rabbit hutches for the SPCA, and mended wooden furniture.
​Menzshed Manawatū is part of a nationwide organisation, and hold a club shed day on Tuesdays from 9am to 2pm.