It's sensible for everyone to use a VPN when browsing online. Once thought of as solely the choice for those conducting nefarious activities, it just makes sense for everyone to have an extra layer of security, especially when doing things like checking one's online banking account.
Without a VPN, your data is effectively open to anyone because it's not encrypted. While most people don't have to worry too much about being spied on, it's still a risk that's not worth taking. Circumventing it by installing a VPN really doesn't take much effort. It's simple enough to find a good quality VPN service — such as NordVPN or ExpressVPN — before setting it up with your devices.
The best VPN deals this week*
— 75% off three-year plan ($107.55)

— Get three years for only $99 (a savings of 77%)

— 67% off a 1-year plan ($39.95; Original Price $119.40)

— 58% off two-year plan ($99.99; Original Price $239.76)

— 50% off one-year plan ($29.99 after coupon MASH50)
*Deals are selected by our partner,
Editor's Note: IPVanish is owned by J2 Global, the parent company of Ziff Davis, Mashable's publisher. Any J2 products featured on Mashable are covered independently by our content team.
Set up is where things can get tedious. One method is to install a client to every single device in your home. Odds are though you have multiple devices that connect to your WiFi network from your laptop and smartphone to your TV or even kitchen appliances. Installing a VPN to every device takes time and it's far from the convenient solution.
Instead, you can download a single VPN client directly to your router. That way, every device connected to your router will use the VPN without any need for you to interfere further.
It's the safest option, especially if you have kids or tech novices in your home, and you want to keep things secure with minimal hassle.
There are additional benefits to VPN services too, such as the ability to access different countries versions of Netflix, thus giving you more shows to enjoy.
So, how do you get this kind of easy and secure service? Well, you need a router that supports the ability to install a VPN client. This can be done in a few different ways. Some support the OpenVPN standard which means you can configure a VPN with any provider that supports this, while others can have their firmware changed to a third-party alternative that supports VPNs.
It can take a little tweaking to get just right but we've picked out some VPN routers that are fairly simple to use and offer plenty of useful features for you and your family. These features aren't solely focused on VPNs either, with benefits for avid streamers and gamers too.
Here's a look at the best VPN routers for you and your budget. (Be sure to hit the grey arrow on each card to read all the details for each option.)
Best choice overall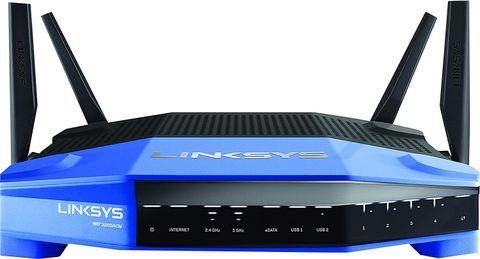 Image: linksys
The Good
Extensive open source firmware support, tons of features, bandwidth doubling technology
The Bad
Unsubtle design, occasional speed drops
The Bottom Line
It won't fit into your home aesthetic brilliantly, but the Linksys WRT 3200 ACM delivers flexible and great performance the majority of the time.
1. Linksys WRT 3200 ACM router
A no-nonsense design, open source firmware, and plenty of features make this the ideal router for all VPN users.
Good to know: 1.8ghz Dual-Core CPU Tri-Stream, 160 bandwidth technology, Open Source ready, 5 ethernet ports plus 1 USB 3.0 port
A dependable name in the router field, Linksys has delivered an ideal router for the majority of users in the form of the Linksys WRT 3200 ACM. It's not the cheapest by any means, but it's reasonably priced compared to competitors and certainly offers plenty of bang for the buck.
For $249, you get a chunky router with Linksys's iconic blue and black design making it stand out noticeably amongst your equipment. Four positional antennae mean you can tweak it physically to make it easier to get an accurate signal across your home or office space. Underneath the hood is a 1.8GHz dual-core CPU along with Tri-Stream 160 technology which doubles bandwidth from 80 MHz to 160 MHz and when needed. That generally means a faster connection for you.
The star though is the Linksys WRT 3200 ACM's support for open source firmware. You can install either OpenWRT or DD-WRT opening your router up to advanced features such as TOR network browsing and all-important VPN capabilities. It's also possible to view advanced network traffic and network intrusion reports so you know exactly what's going on. Remote access to your router via the accompanying smartphone app is also available for those times when you're not near your home network.
The only issue? Once you start placing walls between the router and your devices, the Linksys WRT 3200 ACM does occasionally suffer from some dramatic speed drops. It's a router clearly best designed for open plan areas or homes with thin walls, which is something to consider.
Despite that though, the Linksys WRT 3200 ACM is an easy to use yet powerful router that should serve the needs of anyone looking for a VPN router without getting too bogged down in complexities.
Best for performance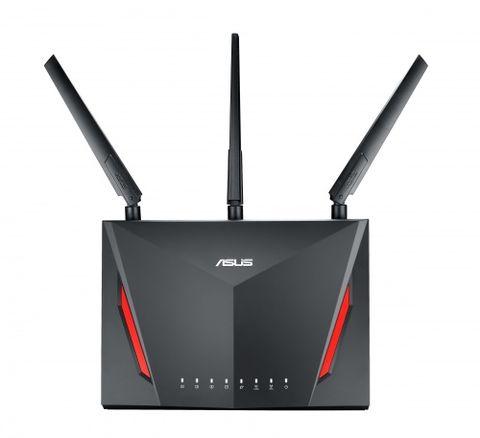 Image: Asus
The Good
Great speed, useful features for gamers, extensive firmware options
The Bad
Complicated setup, looks ugly
The Bottom Line
Range boosting and gaming acceleration is key to the Asus RT-AC86U experience. It's just a shame its looks are a bit over the top.
2. Asus RT-AC86U router
Fast and reliable performance makes the Asus RT-AC86U an appealing proposition but don't be surprised if its firmware feels overly complicated.
Good to know: 1.8GHz Dual-Core processor, Game accelerator mode, Range Boost technology, 4 ethernet ports, 1 USB 3.0 port, and 1 USB 2.0 port
Asus's reputation as a game-centric tech manufacturer continues with the Asus RT-AC86U. More distinctive looking than other routers here, the Asus RT-AC86U offers plenty of features that will enhance one's online gaming time while also being of great benefit to anyone wanting to use a VPN via their router.
At its simplest, there's range boosting technology helping out anyone with a larger than average home. There are also plenty of automated gaming acceleration features such as adaptive QoS that promise lag-free gaming or at least as close as you're going to get to it.
Its three antennae prove to be pretty powerful with many tests stating it's great for ensuring a steady signal between walls, no matter what you intend on doing. Dead spots should be a thing of the past here in all but the most extreme of situations.
For VPN users, there are obvious if somewhat slightly convoluted means in which to set up a VPN server or client. There's also the option to install third party firmware which is recommended if you want to get away from the trickier stock firmware currently out there.
The looks might be a little divisive but we were impressed by the Asus RT-AC86U's powerhouse of options and its great performance.
Best for a large household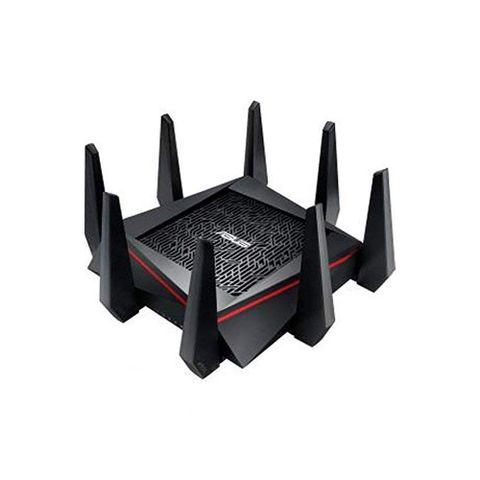 Image: asus
The Good
Exceptionally fast, flawless WiFi coverage • Easy to set up
The Bad
Expensive, only one USB 3.0 port for the price
The Bottom Line
The Asus RT-AC5300 is an unusual looking device that's impressively powerful.
3. Asus RT-AC5300
The Asus RT-AC5300 might look like a disturbing villain in a sci-fi film, but it's an impressively fast and powerful router for both home or office.
Good to know: 1.4GHz Dual-Core processor, Remote Router app, Tri-Band Smart Connect mode, 4 ethernet ports, 1 USB 3.0 port, and 1 USB 2.0 port
The second Asus option featured here, the Asus RT-AC5300 is an expensive choice to take but for good reason. It's a tri-band router that boosts speeds up to 5334Mpbs in certain situations making it perfect for smooth 4K video playback across the network, as well as file-sharing at speed.
Its tri-band smart connect mode automatically selects the fastest of the three available frequency bands for each device, based on your device's speed, signal strength, and how busy each band is. That's a great way of ensuring the best service every time without you worrying about tweaking much.
Indeed, much of the setup is done automatically so you don't have to worry too much about not knowing everything there is to know about routers. While you can't install your own firmware, there are extensive options for VPN servers so you're good to go for getting set up at router side.
Is the Asus RT-AC5300 for everyone? Not really. It's overkill for a basic home setup. However, if you regularly game, stream media content, or simply have a lot of devices connected at one time, it takes a lot of the hard work out of managing what's going on within your network.
Best budget choice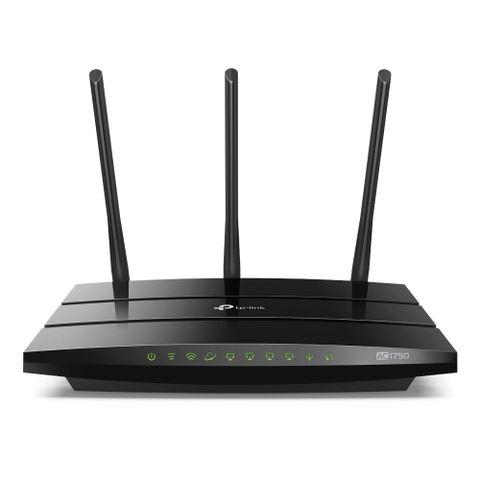 Image: tp-link
The Good
Inexpensive, fast, Amazon Alexa integration
The Bad
Awkward user interface, only USB 2.0 ports
The Bottom Line
The TP-Link Archer C7 AC1750 doesn't have all the options of a premium router, but it's a solid performer for its price range. Most users will be satisfied with its performance.
4. TP-Link Archer C7 AC1750
A decent VPN router doesn't have to cost a fortune if you don't mind cutting back on some features. The TP-Link Archer C7 AC1750 ably demonstrates that.
Good to know: 750MHz processor, Alexa connectivity, Fast set up, 4 ethernet ports, 2 USB 2.0 ports
The TP-Link Archer C7 AC1750 is a surprisingly effective VPN router at a low price. TP-Link is well known for its budget routers, and it knows its way around ensuring that performance isn't compromised.
A dual-band router, you need to choose to connect to either 2.4GHz or 5GHz unlike other routers which tend to do it automatically. (That's not hard to do, though.) Similarly, the set up interface is a little basic looking but underneath there are some useful features including the ability to set up a VPN from the router via a feature known as VPN Pass-Through. As the terms suggest, it's useful to know what each feature means as the interface doesn't do much to explain matters. However, you're only ever a Google away from an explanation.
Where the TP-Link Archer C7 AC1750 excels is its speed and performance. It hardly ever misses a beat and is speedy despite its low price. Don't expect any drops or poor signal moments here unless you're very far away from the router source. Alexa support is a neat bonus too, although you're probably more likely to use the app or web browser interface to do anything with it.
The TP-Link Archer C7 AC1750 can't quite compare with more expensive VPN routers as it only supports USB 2.0 rather than USB 3.0 (impacting speed), and its features aren't quite as varied as premium options. However, for the price, it's a bit of a bargain. If you want a no-frills router that also makes it easy to set up with a VPN, this is a great choice.
Best premium choice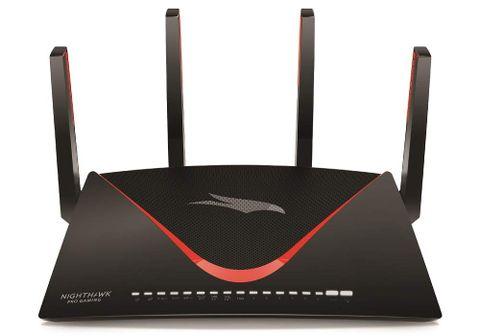 Image: NETGEAR
The Good
Tons of features, plenty of ethernet ports, ping optimization
The Bad
It's big, expensive, overkill for some
The Bottom Line
The NETGEAR Nighthawk XR700 is the ultimate router right now with great performance, features, and VPN support.
5. NETGEAR Nighthawk XR700
An absolute beast of a router, the NETGEAR Nighthawk XR700 offers a plethora of features, and its performance is unrivaled.
Good to know: 1.7GHz quad-core processor, Alexa connectivity, Incredibly fast , 7 ethernet ports, 2 USB3.0 ports
The NETGEAR Nighthawk XR700 is as expensive as buying a new PC or laptop, but it offers a ridiculous number of features for those desperate for the absolute best router out there. Like the Asus RT-AC5300, it offers triple wireless standards, including 2.4GHz, 5GHz, and 60GHz so that you have a choice of higher speeds or further range depending on what you require at the time. It sounds intimidating to novices but you soon get the hang of it.
Alongside that is software that's optimized with gaming in mind. It focuses on ensuring you have all the bandwidth you need with low pings giving you the edge while you game. It's even optimized specifically with Fortnite, Call of Duty: Black Ops 4, and Overwatch in mind.
The NETGEAR Nighthawk XR700 allows for six devices to be connected physically as well as an unlimited number via WiFi so it's important that its algorithms and software is designed in a way that means it manages your network effectively without much input from you. It'll even filter out distant servers, always connecting you to the best and nearest automatically.
Crucially for VPN users, there's a module within the software that allows you to fine tune the traffic types over an OpenVPN compatible service. That way, you can use a VPN to fake a location for gaming while having the rest of your traffic go directly to your ISP. Extensive tracking and logging locally is also possible here for those times you need to see who's hogging all the bandwidth.
The NETGEAR Nighthawk XR700 isn't for everyone given its hefty price, as well as its chunky size (it's about a foot long), but if you need a powerful router, this one offers everything and more. It's overkill for many users, but if you can afford the absolute best, it's a delight to use.