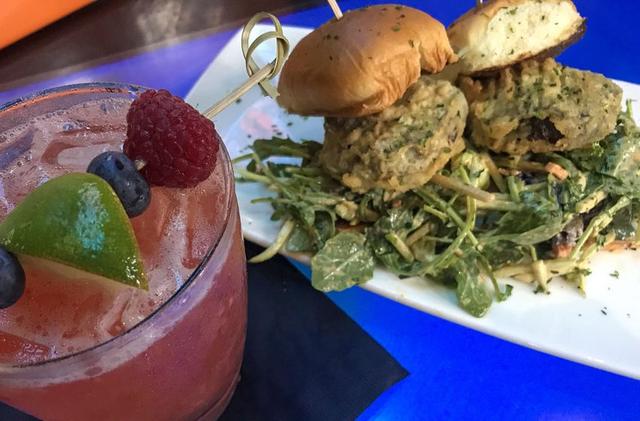 Did you know that there is a Universal Orlando secret menu items for annual passholder appreciation days? Yes, membership has its privileges.
Annual passholders often are the theme park experts. During Universal Orlando's annual passholder appreciation days, the Universal Orlando secret menu items make the celebration even tastier. Are you ready to taste some of these perks?
Going to Universal Orlando for passholders can be like going home. While everyone has a favorite dish or beverage (how many Butterbeers have you drunk), a special, secret menu can add a little excitement to a visit.
Every year, Universal Orlando holds its annual passholder appreciation days. For 50 days, the UOAP family gets numerous perks, discounts, opportunities and some special food.
Since food is FoodSided's focus, these special menu items are definitely having us return time and again to sample them all before September 30. With more than 30 new menu items, it might be a daunting task, but definitely a tasty one.
Although eating the entire menu is on the to-do list, a few menu items stood out on a recent visit. If you are looking for everything on the secret menu, all the menu items are here. Remember these menu items are for the UOAP family, so you might have to ask about them. Still, they are definitely worth a taste.
Here are FoodSided's favorite secret menu items for this year's annual passholder appreciation days.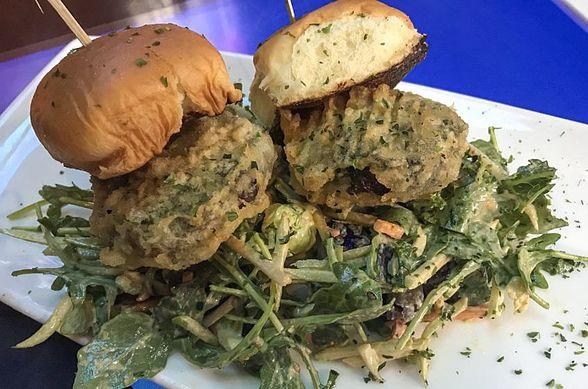 Sumo Minis appetizer at Cowfish Sushi Burger Bar, photo by Cristine Struble
Sumo Minis appetizer at Cowfish Sushi Burger Bar
If you are a fan of burgerushi, the secret appetizer for UOAP days is a must try. The two tempura battered mini burgers are great as a light meal or to share with friends.
The best part of this dish is the spicy Asian slaw. The brightness and the crunch is a nice contrast to the sweet Hawaiian rolls.
Margherita Pizza Fries
Pizza fries are always a Halloween Horror Nights favorite. For a limited time, the Margherita Pizza fries are available at Comic Strip Café. The hot, fresh French fries are topped with fresh mozzarella, Italian tomatoes and marinara, which is then drizzled with balsamic glaze and basil pesto.
When eaten in a single bite, it is the perfect bite. After trying these fries, you will forget about eating these flavors on just a flatbread.
Loaded Potato Web at Finnegan's Bar & Grill
Move over potato jacket, the Loaded Potato Web at Finnegan's is a must. The classic potato and onion menu item gets an upgrade for UOAP days.
Topped with melted sharp cheddar cheese and sprinkled with Applewood smoked bacon, those beer battered potatoes and onions will have you craving another Harp.
Glazed Pork Belly Biano Pizza at Kohola Reef Restaurant & Social Club and Whakawaiwai Eats
While Volcano Bay offers a wide array of island inspired food, this pizza option is a foodie's dream. The combination of pork belly and garlic cream sauce is decadent without being too heavy. More importantly, the use of sweet plantains on top is a flavor combination that needs to be tried.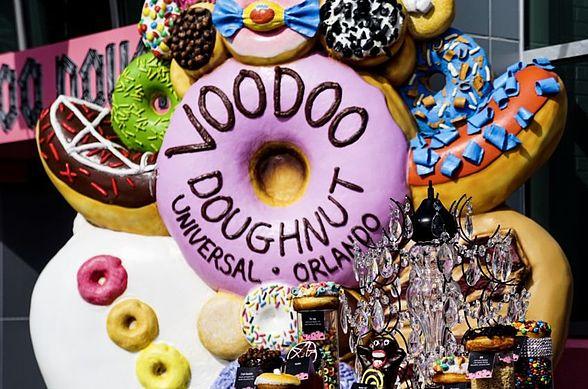 Voodoo Doughnut at Universal Orlando City Walk, photo by Cristine Struble
Voodoo Doughnut exclusive flavor
Periodically, Voodoo Doughnut on City Walk offers limited edition doughnuts. This limited edition doughnut is a bright, refreshing flavor combination for the end of summer.
The filled doughnut features Strawberry Lemonade Bavarian. It is slightly sweet, slightly tart. Just make sure that you have a few napkins on hand while you're eating it.
Chicken & Waffle Sliders at Toothsome Chocolate Emporium & Savory Feast Kitchen
Before you order another outrageous milkshake, explore the combination of sweet and savory with this dish. Chicken and waffles are often a favorite choice, but this version has a little extra kick.The strawberry and Sriracha maple mayo cuts through the richness of this dish. Too bad this sauce couldn't be added to a burger.
Starbucks special drinks
While many people will be sipping the AP Candy Bar Frappuccino, the Cinnamon Honey Cold Foam Cold brew is a must for coffee fans. The coffee flavors of cinnamon, vanilla and even a little toffee nuttiness are rounded out with the sweetness from the honey. It could be the perfect beverage to kick off your day at the parks.
These menu items are just a few of the many options on the Universal Orlando Secret Menu for annual passholder appreciation days. Just remember, these limited edition menus will disappear on September 30.
Are you a Universal Orlando annual passholder? Which Universal Orlando secret menu item do you want to try first?