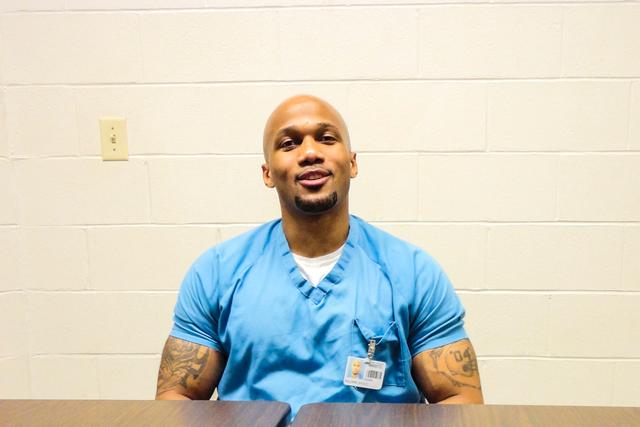 HE WAS A FIVE-STAR RECRUIT AND NFL PROSPECT. NOW HE'S IN PRISON
Kyle Williams was a five-star recruit out of Illinois that had some of the nation's best colleges recruiting him. He signed to play at Iowa, but he didn't have the ACT scores to compete and never played for the Hawkeyes. He wound up at Purdue, played well in a few games before things went awry. Now he's in prison for three brutal attacks against women he committed while wearing a homemade mask. But he says he'll never commit another crime when he's released. The question now: Is Kyle Williams still wearing a mask of sorts? Or is this truly the gaze of a man reformed? 
THE™ OHIO STATE UNIVERSITY GETS ROUNDLY MOCKED
Hey, wanna know how to get everyone, everywhere to feel at least somewhat irritated by your very existence? Be an Ohio State fan! We kid, we kid. But seriously, attempting to trademark an article, the most-abundantly used word in the English language, is silly at best. Our Nancy Armour wasn't quite as forgiving, instead calling the move pretentious, smug and just plain dumb. To clarify, the university is attempting to patent just "the" when used in conjunction with "Ohio State University." It's not like they're trying to trademark the word "the." That would be crazy.
In any event, the response was swift and inevitable. But the week wasn't all bad for the Buckeyes.
30-SECOND TIMEOUT
So you're telling me there's a chance ... heading into Sunday, that Tiger could still make next week's Tour Championship.
Don't expect to see Coach Tom Brady anytime soon.
Bill Walton called a baseball game like only he can.  
John Daly, a two-time golf major champion, called playing a round with President Trump "one of the greatest days of my life."
Magic Johnson turned 60 last week and celebrated with some pretty confusing rankings of his favorite things.
NO FLINCHIES.
Your fitness app may know more about you than just your fitness.
A Little League coach accused his opponent of stealing signs.
Johnny Football → John Football → Johnny...Auto Insurance?
Megatron and Harvard are teaming up to study weed.
Josh Hamilton says the Holy Spirit spoke with him before he hit a home run in Game 6 of the 2011 World Series.
The Braves' Sean Newcomb made a mess of the 10th inning in a 7-6 loss against the Marlins. Then he made a mess in the clubhouse.
Mike Tyson is spending his retirement making cannabis products. And, well, using some cannabis products.
The Mariners' Kyle Seager hit three homers, but he needed some help on his third and got it from an unlikely source. 
Two triathletes were disqualified for an extremely strange reason.
MUCH ADO ABOUT HELMETS
It all started last week when Raiders wide receiver Antonio Brown filed a grievance with the NFL because he wanted to wear a non-certified helmet. The NFL, in so many words, didn't budge. So naturally, Brown took to Twitter in search of a newer version of his old helmet. Meanwhile, Cardinals coach Kliff Kingsbury cracked wise about the situation, while Tom Brady, who also wore the helmet Brown wore, said he had little choice in the matter. In the end, it appears Brown is on track to practice with the Raiders, and he believes the helmet issue is behind him.
In unrelated Antonio Brown news, a chef is suing the wide receiver for an alleged unpaid bill of nearly $40,000. Also, Brown's feet were one of the stars of this week's "Hard Knocks."  
Exclusive to the USA TODAY Sports Network
From original reporting to some of the nation's best columns, these are stories you can only get from the USA TODAY Sports Network:
Dan Wolken on how a blind sports fan is making a huge impact both on and off the field.
Nancy Armour on why Simone Biles is more than just the greatest gymnast of her time.
Wolken on Tate Martell, who got dragged on social media after not being named the starting QB at Miami.
USA TODAY Sports' Gabe Lacques take a look at the Houston Astros. They have a *ton* of talent, but here's why that's "a blessing and a curse."
Greg Moore of the Arizona Republic on why it makes sense for the Cardinals to sign Colin Kaepernick.
Detroit Lions defensive tackle Kevin Strong is inspired by his father's battle with lung cancer.
Christine Brennan spent time with the "Founding Mothers" of the NFL.
CONFERENCE BREAKDOWN
With college football's soft opening less than a week away, our Paul Myerberg has released his conference-by-conference power rankings. Clemson, to the surprise of no one, leads the ACC. Alabama, of course, is atop the SEC, but Georgia is on its heels. Michigan sits atop the Big Ten, while Oklahoma and Texas lead the Big 12. Meanwhile, Washington and Oregon are tasked with bringing some national respect to the Pac-12.
As for the best-of-the-rest, UCF and Army lead the way.
USWNT CONTINUES FIGHT FOR EQUAL PAY
Talks between the U.S. women's national team and the U.S. Soccer Federation started last week, and, well, they aren't going great. The women are seeking equal pay with their male counterparts, though U.S. Soccer sees their current compensation — which exceeds that of any women's team in the world — as fair, though they are open to further conversations. Nancy Armour is confident the U.S. women will continue their winning ways in this battle. 
ROC NATION-AL FOOTBALL LEAGUE
Roc Nation, headed by Jay-Z, announced a partnership with the NFL where the rap mogul and his company will lend advice for music at special events, as well as social activism. Jay-Z frames the partnership as a step in the right direction when it comes to fighting social injustice. Our Jarrett Bell, however, wonders where Colin Kaepernick fits into the equation. But Mike Jones writes that everyone needs to quit ripping Jay-Z, and give the man time to do some work!
ICYMI
Skiing legend Lindsey Vonn wears hockey skates these days. It's not a career move. She's helping her NHL star boyfriend P.K. Subban train for the season.
Aristides Aquino has had a record-breaking start for the Cincinnati Reds.
Dale Earnhardt Jr. and some of his family members were involved in a plane crash Thursday. Thankfully, it appears everyone is OK. 
NFL players Josh Norman and Demario Davis helped post bail for an immigrant detained by ICE.
Tom Brady had a gift for his former teammate and current Titans coach Mike Vrabel.
Josh Gordon is being conditionally reinstated by the NFL. We'll see if he can finally find some stability both personally and professionally, Mike Jones writes.  
A man died after choking during a taco-eating contest at a minor league baseball game.
The 2019-20 NBA schedule has been released. Here are the must-see games.
The so-called "Rich Paul Rule" didn't go over too well. So the NCAA changed it.
New Cardinals coach Kliff Kingsbury probably never imagined his team would have trouble getting the ball snapped legally. 
The season's first College GameDay is sure to be magical, at least.
DeMarcus Cousins just can't catch a break.
Jets kicker Chandler Catanzaro had a rough start in the preseason. He had an ... interesting reaction.
Louisiana-Lafayette football coach Billy Napier has recommended that each of his scholarship players donate money to the school's athletics foundation. Dan Wolken was not a fan of this idea, which Napier later defended.  
Bryce Harper figured out how to easily silence a heckler. He also hit an epic walk-off grand slam.  
The Pirates announcer predicted a strikeout. He could not have been more wrong.
Curt Schilling is considering running for Congress. Here are five of his most controversial political stances.
Red Sox pitcher Chris Sale made MLB history last week.
Bryson DeChambeau wants no part of Brooks Koepka in a fist fight. 
***
MORE NEWSLETTERS!
Want more content like this in your inbox? Sign up for USA TODAY Sports' daily sports newsletter, where you'll get the biggest news and trending topics delivered each morning. And we also have exclusive NFL (4th & Monday) and NBA (Click & Roll) newsletters to satisfy your inbox's appetite.   
SEE YOU ON SOCIAL
And for more great sports stories from across the USA TODAY Network, check out sports.usatoday.com daily. And don't forget to follow USA TODAY Sports on Twitter, Instagram and Facebook.