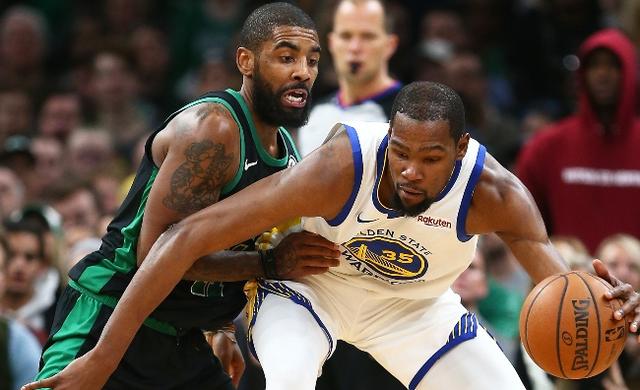 Somewhere along the line, the Brooklyn Nets emerged as the alleged front-runners to land perhaps both Kyrie Irving and Kevin Durant in free agency this summer. The rumors around Irving's future in Boston have been all over the place in recent days, with varying — and sometimes conflicting reports — about him treating Celtics brass like a bad date and the front office thus steeling themselves for what many believe to be his imminent departure.
That situation remains fluid, as they say, and equally uncertain is what will happen with Durant in light of his devastating ACL injury in the Finals, the recovery of which will cost him all of next season.
The Nets are readying themselves for both contingencies, and there is apparently some trepidation on their part about settling for just Irving alone if they are unable to land Durant.
Via Brian Lewis of The New York Post:
The question is if they can't land Durant, do they still want Irving? Especially if they have to lose D'Angelo Russell — their own 23-year-old homegrown All-Star — to get him?

It's a question that has turned into a civil war among the fan base. It also has become an internal debate the Nets are having right now.

The Post has confirmed Brooklyn might have qualms about signing the enigmatic Irving if he isn't bringing the injured Durant with him.
On the surface, it almost seems like we've seen this movie before: a young and up-and-coming team with great chemistry adds Irving to the mix in hopes of getting over the hump and becoming a legit contender in the East. What could possibly go wrong?
Russell is also four years younger and millions more affordable as a restricted free agent. One thing is clear: Irving's personality quirks and idiosyncrasies — particularly as they pertain to his leadership style — are starting to catch up with him and make teams at least a little apprehensive about bringing him on. Depending on how things unfold, it'll be up to Brooklyn to ultimately decide whether it's worth the gamble.