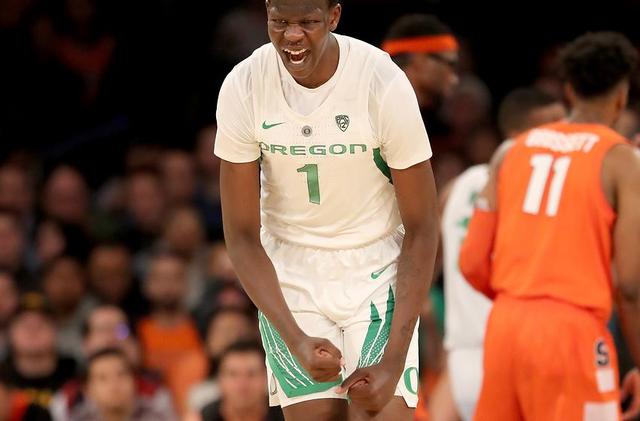 If Bol Bol falls to 24, a fate NBA TV suggested on their Mock Draft Special, the big man's reward is worth the risk for the Philadelphia 76ers.
And with the 24th overall pick in the 2019 NBA Draft, the Philadelphia 76ers select… Oregon center Bol Bol?
What?
Well, if you take NBA TV's Mock Draft Special as gospel, the 7-foot-2 son of ex-Sixers center Manute Bol could very much still be on the board when Philly takes the clock Thursday night and is a risk worth taking despite his well-documented injury history and shall we say unusual body composition.
And honestly, the mock draft squad was dead on: Bol Bol would be a deceptively excellent addition to this current iteration of the Philadelphia 76ers.
Yes, you read that right, doubling down on the center position is a great move, even if more immediate contributors like Carsen Edwards and Dylan Windler are still (potentially) on the board.
As things presently stand, the Sixers only have two frontcourt players under contract, Joel Embiid and Jonah Bolden. While Embiid's the best center in the NBA, and Bolden has some upside, it would be woefully irresponsible to go into the 2019-20 season without an upgrade over the motley crew of reserves who backed up 'The Process' last season.
I mean some have even gone so far as to suggest that the 76ers target Al Horford in free agency as their next starting power forward and de facto backup center (more on that here). While there is some merit to that idea – if you can't beat 'um, join 'um, right? – Bol Bol has a very similar skillset to Horford, and could conceivably fill that role for years to come for much, much less money.
With as many as four starters playing on max deals next season, adding a cheap player with a very similar skillset is a value play in every sense of the word.
Furthermore, when you actually look at Bol's fit on the court, it's hard not to see a very defined role for him both in 2019 and beyond, regardless of who stays, and who goes in free agency.
Though he only played nine games for the Ducks in 2018 (and none in 2019) due to a left foot injury against San Diego, Bol highlighted his unique skill set as a super-duper sized stretch five: averaging 21 points, 2.7 blocks, and 9.6 rebounds a game while knocking down 13 of his 25 attempts from 3 point range (52 percent).
Now could those numbers be slightly inflated due to (a lack of) strength of competition and a 268-minute sample size? Sure, but if you peep the workout film Jonathan Givoy posted on June 13th, it's hard not to be excited about Bol's ability to be one of the most unique 3-and-D players in the league almost right from the jump.
While he only really played center in college, – and at 7-foot-2 with a 7-foot-8 wingspan why would he play any other position – Bol could actually slot in pretty well as either a stretch-5 backup center (giving Philly a truly formidable death lineup), or as an Ersan Ilyasova-esque power forward who spends the bulk of his time perched on the wings.
Can you even imagine a starting five with a 6-foot-10 point guard, a 7-foot-2 power forward, and a 7-foot-tall center? Based on how the 76ers fielded their lineups in the playoffs, where no player shorter than J.J. Redick received meaningful minutes, adding a 7-foot-2 shooter with a feathery touch may be Elton Brand's dream scenario.
Sure, there's the whole issue with his injury history, his incredible tallness but skinniness, and his reported propensity for partying in Hollywood, but if the Boston Celtics somehow pass on Bol (first name) three times, the Philadelphia 76ers should have no reservations in selecting Bol (last name) 24th overall, as he would all but certainly be the best player available on the board.