Pressure is intensifying on Democratic House speaker Nancy Pelosi to launch impeachment proceedings against Donald Trump.
An increasing number of Democrats - and even a Republican congressman - are openly calling for the measure in response to the Mueller report's findings and the Trump administration's refusal to submit documents to congressional investigations.
Mr Trump on Wednesday sabotaged a planned White House meeting with Ms Pelosi on infrastructure, and said he would not work with Democrats until all probes into him were closed.
House speaker Nancy Pelosi is feeling the heat from a small but growing number of House Democrats calling for impeachment proceedings against Donald Trump.
Mr Trump's latest defiance of congressional investigation of his administration and his own actions came on Tuesday when he ordered his former counsel, Don McGahn, to refuse to appear at a House hearing despite a subpoena.
Some Democratic leaders are backing Ms Pelosi's cautious approach, but signaling that a march to impeachment may at some point become inevitable.
The Democratic majority leader, Maryland's Steny Hoyer, has said lawmakers might be confronting the largest cover-up in American history and that if a House inquiry leads to impeachment, "so be it".
Here are details of yesterday's five-minute meeting between Mr Trump and the Democratic leadership, as well as the president's extraordinary 10-minute press conference in which he railed against the prospect of impeachment, among many other things.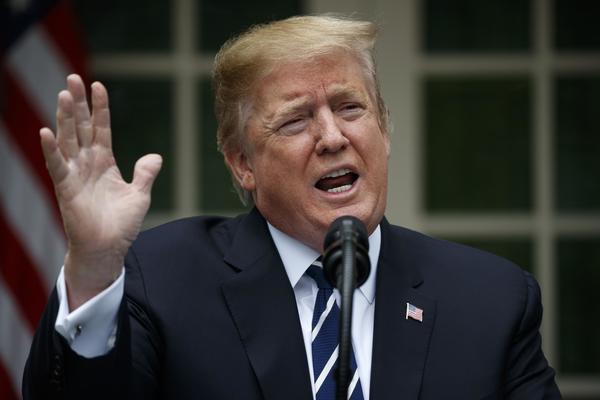 Trump explodes in White House meeting, refusing to work with Democrats and lashing out on Twitter
President says he will no longer work with Democrats until all investigations against him are closed

Good morning and welcome to The Independent's coverage of all the latest from the Trump administration and the increasing pressure on Congress to launch impeachment proceedings against the US president.

Discussions of impeachment appear to be occupying ever more the attentions of both Democrats and Donald Trump himself, who yesterday conducted an impromptu press conference in part to rail against what he described as 'the big I word".

Please allow the blog a moment to load.