Eurovision 2020 will be hosted by The Netherlands, 44 years after they last won the song contest.
Duncan Laurence, favourite to win since the beginning of this year's competition with the song "Arcade", triumphed in both the jury and public vote to win first place.
It was a fraught competition where, across the evening, it seemed as though any one of six countries could win. But ultimately Sweden failed to sway the public vote, and the soulful ballad won over John Ludvik's more upbeat but still emotional number.
Madonna, who performed towards the end of the ceremony, caused one of the biggest controversies of the night with an unscheduled political statement that caused uproar in Tel Aviv.
During the second part of her performance it was revealed that her backing dancers were wearing Israeli and Palestinian flags on the backs of their outfits. Organisers quickly issued a statement saying this was not a planned part of the event.
"In the live broadcast of the Eurovision Song Contest Grand Final, two of Madonna's dancers briefly displayed the Israeli and Palestinian flags on the back of their outfits," the statement said.
"This element of the performance was not part of the rehearsals which had been cleared with the EBU and the host broadcaster, KAN. The Eurovision Song Contest is a non-political event and Madonna had been made aware of this."
Upon learning their score, Iceland also unveiled a scarf bearing the Palestinian flag, which draw both cheers and boos from the live audience.
Other favourites among fans included Norway's trio KEiiNO and their song "Spirit in the Sky", Czech Republic's catchy number "Friend of a Friend", and San Marino's loveable entry Serhat with "Say Na Na Na".
The UK pinned its hopes on 22-year-old Michael Rice this year. The singer performed the song "Bigger Than Us" but ultimately came in last place due to low votes from both the professional juries and the public.
The Eurovision liveblog has now closed:
We're wrapping up the liveblog now but more coverage is on the way - head to The Independent website. Thank you for following this evening, good night!
The last time The Netherlands one was in 1975, so this is a big moment for them. Poor Michael Rice, though, you have to feel for him.
Wow. So after all that, the favourite did win.
And the winner of this year's Eurovision Song Contest is THE NETHERLANDS.
Sweden or The Netherlands...
261 points for The Netherlands, putting them in first place...
Sweden, North Macedonia or The Netherlands could still claim this
253 points for Italy! Placing them in the lead by quite a good margin.
Ah, Australia are out.
Russia get 244 points from the public which places them top of the board. Again, unlikely that they'll win overall but still.
Iceland get 186 points from the public and unveil a Palestine flag which is not going down well in the audience. I was wondering if they were going to do anything overtly political in this contest.
200 points for Norway from the public vote, which sends them rocketing to the top of the board! This could change everything.
San Marino took a big jump up with the public vote. Zero points for Germany!
The UK gets 3 points from the public. OUCH. Poor Michael Rice. This is not good.
Uh oh, the EBU and broadcaster KAN have said they were unaware that this was going to happen and that it didn't occur during rehearsals. Anyway, we'll have to come back to that because we're about to find out the winner of the Eurovision Song Contest 2019!
So the jury votes are in, and now the public votes are coming through.
12 points to The Netherlands from Israel!
Slovenia hands 12 points to... Czech Republic!
Over to Switzerland, who give 12 points to North Macedonia.
Another 12 points for Sweden
Wow the Eiffel Tower is giving us migraines. But The Netherlands are happy, because France has given them DOUZE POINTS>
Another douze points to Sweden
At the moment we've got a four-horse race between North Macedonia, Sweden, Italy and The Netherlands.
Time for Czech Republic, who give 12 points to Sweden!
So right now it's looking like the UK is absolutely ending up in the bottom three and everyone is definitely going to blame it on Brexit.
Latvia give their 12 points to The Netherlands.
Greece give 12 points to... Cyprus. Neighbours being nice to neighbours, I guess, but it's not going down well among Eurovision crowds.
Georgia's 12 points go to Czech Republic!
Over to Iceland, who give douze points to Sweden.
12 points to North Macedonia, again.
Here's another look at that controversial Madonna performance
We're about two thirds of the way through the countries, and onto Lithuania. Douze points go to..... The Netherlands! It's still all up in the air right now, with no runaway favourite emerging right now.
12 points to Italy from Croatia!
Sweden awards 12 points to The Netherlands, who are holding on to their top five spot on the board at the moment.
Belgium's wonderfully flamboyant announcer gives 12 points to ITALY again!
Over to Germany with a very lively crowd behind Barbara who's presenting the points: douze points go to Italy!
Why is Russia so intense ALL THE TIME. Anyway, their talented pianist presenter gives 12 points to Azerbaijan.
Australia's turn to hand in their vote, and they give the 12 points to... SWEDEN.
We're halfway through the jury vote now with the public vote still to come.
Cyprus give 12 points to Greece, to A LOT of boos. People not impressed. I'm not impressed either, but more because no one is voting for Iceland.
12 countries to go and we're onto Romania, who is wearing a Sainsbury's shopping bag from the looks of it. 12 points go to... AUSTRALIA.
SWEDEN
Armenia calling, they want to give 12 points to.........
Belarus give 12 points to Israel
Sinead in Ireland announces douze points for... SWEDEN
12 points from Moldova to North Macedonia, WHAT IS HAPPENING.
Hungary is a friend of Czech Republic, who get another 12 points
Albania hands 12 points to North Macedonia! Are we in for a huge upset?
Ciao, Italia. Their 12 points go to: Denmark!
Rylan is announcing the UK jury vote for douze points, which goes to... NORTH MACEDONIA>
Austria award 12 points to North Macedonia! Jury votes are all over the shop tonight.
Over to Spain, who give 12 points to Sweden
Norway's rep is adorable, and he gives 12 points to... CZECH REPUBLIC
Poland is giving 12 points to Australia! The first 12 points for Australia of the evening - surprising, but I think the audience vote might help them out a lot.
And the UK STILL doesn't have any points. Eek. Come on Michael.
Estonia's douze points go to Sweden!
Montenegro give 12 points to Serbia! Bit of booing from the live audience there.
The UK still hasn't got any points.
The Dutch vote awards 12 points to SWEDEN.
Over to San Marino, who give their "douze points" to... ITALY!
North Macedonia up next, and they're giving their 12 points to... ITALY
The UK is not doing well right now.
12 points to Italy from Malta!
Azerbaijan awards its 12 points to... Russia.
Points from Portugal coming in first, they award 12 points to... The Netherlands!
We're about to find out the results from the juries.
Protests and parties take over Tel Aviv as Israeli city hosts Eurovision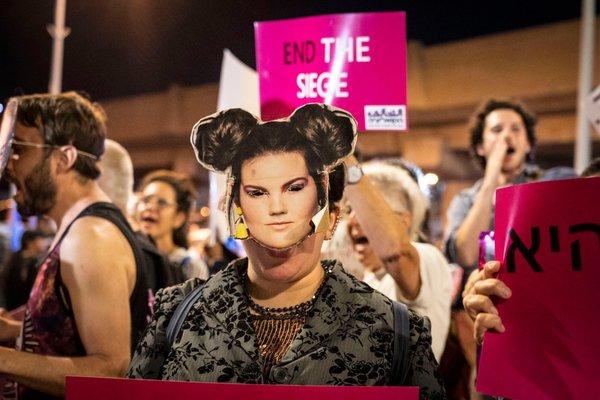 Protests and parties take over Tel Aviv as Israeli city hosts Eurovision
The IndependentThousands gathered in Tel Aviv for the 64th song contest, but many said the show "art washed" violence and occupation

Also it's like they've tried to make the song "modern" with a weird trap beat (Quavo, is this your fault?). Some weird mum dancing going on, too.

I've got to say her voice is not great tonight.

It's quite bizarre to see her in the Madame X getup while performing a hit from 1989.

"Like a Prayer" is being performed with a 35-strong choir and A LOT of atmosphere. I'm so excited.

MADONNAAAAAAAAAAAAAAAAAAAAA

Reminder to VOTE for your favourites before the line's close. You have about 15 minutes left.

No, it's time to hear Netta's new song, which is terrible.

Is it time for Madonna yet.

I love this guy, Lior Suchard who is called a "mentalist" in Israel but for us he's a magician of sorts. And he's very very good.

Quavo seems fascinated albeit slightly confused about Eurovision.

"The one thing that brings all of these people here is music. Let's never underestimate the power of music to bring people together" - Madonna.

"You're all winners, no matter what happens. Because to get here was not easy. You had to have a dream, and believe in that dream, make a lot of sacrifices to get here, and that, in my opinion, makes a winner."

Right, Madonna is here and she's being asked to give advice to the Eurovision contestants.

If you're watching the BBC, you're getting another recap of all the performances from tonight along with a reminder that voting is still open! Get those votes in!

Outstanding.

Oooooh we're getting a rendition of TOY from Verka!

I could not take my eyes of that performance, WOW

What's happening on Twitter:

https://twitter.com/wheres_neptune/status/1129859059925114880
℟eid__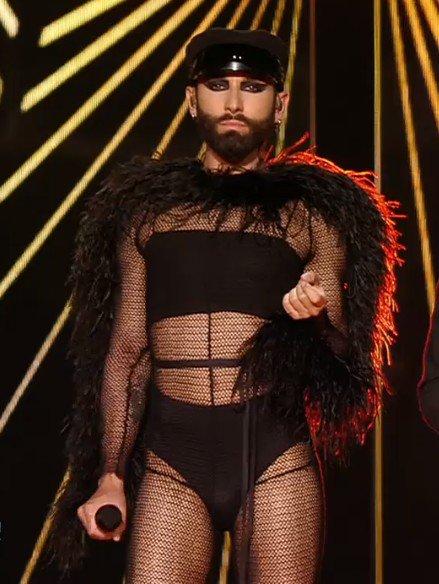 "You know nothing Jon Snow" #Eurovision
Christopher Reeves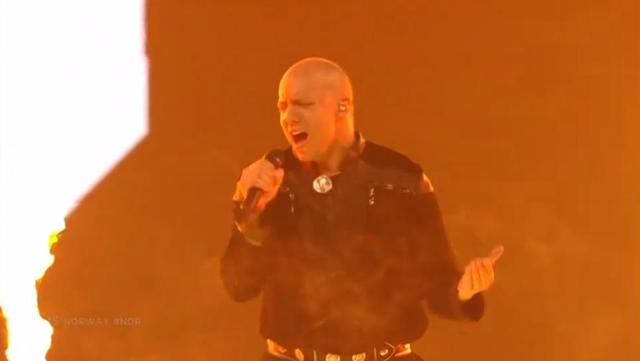 I hope Norway do well, purely for Norwegian David Draiman. #Eurovision
Kat BrownBitch, where's Madonna #eurovision
CONCHITAAAAAAAAAAAAAAA
VOTING IS NOW OPEN
So this is Australia, with undoubtedly the most spectacular production of the competition this year - and one of the best we've ever seen (I think). Rob posted a video of them being wheeled on stage during rehearsals and even that was impressive to watch. The high note! The floating! Absolutely wonderful. If they don't make the top 3 I will be shocked and appalled.
Song 24, and the crowd are getting excited. This was something of a sleeper-hit among Eurovision fans - Switzerland's Luca Hänni singing "She Got Me". Switzerland haven't won since 1988 with Celine Dion so they obviously have high hopes this time round. I wouldn't put it past them - Luca has a big Jonas Brothers/Shawn Mendes thing going on and the production for this number is super slick. That big brash chorus is what Malta's contestant was going for but not quite managing. I'm also digging Luca's black mesh top - obviously.
We're drawing ever-closer to the final performance of the night. Nevena Božović sings "Kruna" for Serbia, and quite beautifully might I add. This is my favourite ballad of the night after Albania's, and I think overall the female singers have been a tad overlooked in this competition - the favourites are pretty much all male-led. Nevena's nailing it on the delivery of this - very striking movements on stage, knowing when to hold back, and really going hell for leather on the chorus.
Mahmood singing "Soldi" for Italy. Having spent a lot of time in Italy and Sicily over the past 10 years or so I think it's OK for me to observe that Italian pop is not, shall we say, the greatest the genre has to offer in Europe. BUT, I am a huge fan of this song - it's got a great beat, Mahmood is another electrifying performer and that hook on the chorus is splendid.
What a fantastic performance. So sincere. And also a reminder of how Eurovision is and has been a platform for LGBT+ people for some time. Check out this profile by Clemence if you want to know more! https://www.independent.co.uk/arts-entertainment/music/news/eurovision-final-2019-bilal-hassani-france-roi-song-singer-who-is-a8919001.html
A Eurovision fan favourite, Bilal Hassan's song "Roi" is about refusing to conform to the expectations of others. It's a shame the song isn't so fantastique, but Bilal is such a magnetic presence onstage - along with his two backing performers - it's hard not to love.
I think Azerbaijan's a bit of a dark horse in this competition. Chingiz's performance of "Truth" is pretty flawless, the staging is really impressive and it's a very catchy tune.
Another look at Michael's admirable performance for the UK for anyone who wants it.
Unfortunately ZENA has been lumped with one of the weakest songs of the competition - kind of like an Anne-Marie cast-off (it doesn't help that ZENA looks a lot like the British pop star). Her voice is OK, kind of pitchy, but the song just isn't landing with the audience.
ZENA – "Like It" up next. The contestant for Belarus this year is the youngest of the competition, at just 16 years old!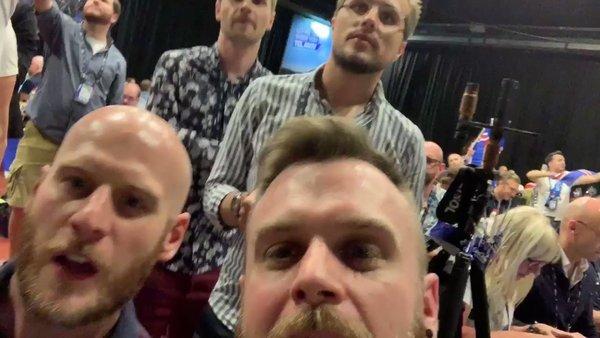 Rob Holley 🅰️ on Twitter
Twitter"Haaaaaaa!! Me and @SteveH1982 going nuts for Iceland 👏👏🥰 https://t.co/jqBnADw9OE"

Here to bring down the mood is Estonia's Victor Crone with "Storm". I'm being a bit mean because this is actually a decent performance, but it doesn't quite match up to the ballads from The Netherlands or even North Macedonia. Slightly more catchy than both of them, sure, but not as memorable.

Years & Years' Emre Turkmen is a fan.
emreiceland for the win #Eurovision2019
I've said it so many times but this is my absolute favourite performance and song of the competition. It's extrovert, insane, terrifying, GENIUS. Hatari have so much to say, and have put so much care and thought into this song. They deserve to win.
"Eurovision helps the world see that we, Israel, are open to everyone, we have freedom, we are not racist we are not simply pro-religion - there are many people of Israel, it is not simply about the conflict. This is the beautiful side of the country, instead of what people just get from the news," Naor, 26, a student sitting on the grass of the Eurovision village, tells Bel Trew.
"You can't boycott an entire people on the basis of what you read in a newspaper. A lot of what people know about Israel is lies. When I hear a singer won't perform in Israel, the only democracy in the Middle East, to me that only encourages division. You cannot deny that Israel exists."
COME ON ICELAND
OK, so we got off to a wobbly start which is understandable when you have the pressure of so many failed UK entries weighing on your shoulders. But as Rob stated earlier on this evening, Michael genuinely does have one of the best male vocals of the competition and the song is simple enough that it might stick with voters after the final performance is over.
Good luck Michael Rice! Here's a chat we had with him earlier:
The song itself is an underrated bop, in my opinion, with nice male/female harmonies that I think has been missing elsewhere in the competition. Cracking chorus, too. And you've got to love some traditional joik singing.
I want to learn how to joik. That's the traditional singing that the bald guy in Norway's group is performing. Pretty cool.
This is one of my favourite contestants this year - Norway's KEiiNO with "Spirit in the Sky".
Aw that was really great.
Israel's Kobi Marimi obviously getting a very warm reception with his performance of the song "Home". They've kept things simple after Netta's big, brash song "TOY", which I think is a very smart move as opposed to trying to repeat last year's success. It's a moving, semi-operatic ballad, backed by a choir and with a great climax (everyone loves those sparkly waterfalls).
Katerine Duska did a really great job with this song in the semi-final and I loved the staging, which offers a bit of a twist on the traditional fairytale ballet. Gorgeous costumes, too, and tonight Katerine is really hitting those notes.
13th performance of the night, which hopefully won't mean bad luck for Greece.
We're at the favourite now, The Netherlands with Duncan Laurence performing "Arcade". It's a ballad a la Coldplay with incredibly simple staging - they're definitely sticking with a minimalist vibe. Personally I still don't get why everyone is obsessed with the song - apparently it's had 12 million streams on Spotify. But streams do not a Eurovision winner make.
How does Cyprus fit into those boots. Did they get painted on before the show? Anyway, this is Tamta singing "Replay", which has a bombastic chorus but not much else. Definitely not the best singer in the competition, either.
If you want another look at Serhat...
Kidding. This is actually Slovenia, with a song that has drawn comparisons to The xx thanks to its ethereal tones and the stuttering beat. I do like it and think they could do well among voters, but it's hardly going to outdo countries like Australia or Iceland.
Oh look it's Wednesday and Pugsley.
"If Hatari are bringing S&M to Eurovision, John Lundvik is serving M&S – aka a quality product your mum would like. This Melodifestivalen winner has the full weight of the Swedish music industry juggernaut behind it, so it'll be no surprise if the Scandinavian does well. You can never, ever write off Sweden when it comes to Eurovision, and Gothenburg 2020 is a distinct possibility.
During national final season, Lundvik put forward this ballad as well as one other song to Swedish broadcasters SVT. Two weeks later, the phone call came, and he was told that "Too Late For Love" was a potential winning song that had been earmarked for Melfest. But what became of the other track? Ever mindful of recycling, the Swedes sent it across the North Sea, where it became "Bigger Than Us" - the United Kingdom's entry for 2019. Cheers guys!" - Rob on Sweden.
Behind-the-scenes video shows Australia's Eurovision performers being wheeled onstage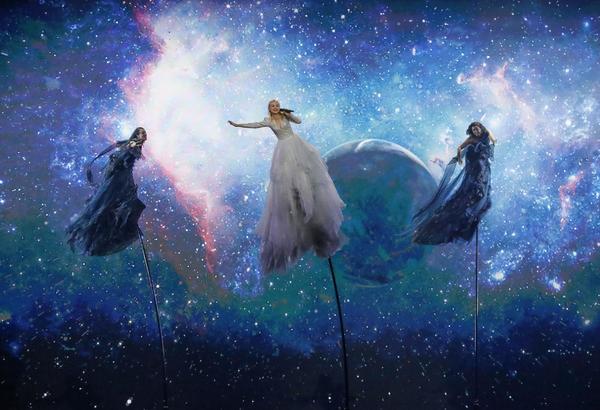 Behind-the-scenes video shows Australia's Eurovision performers being wheeled onstage
The IndependentKate Miller-Heidke is representing the country with the song 'Zero Gravity'

John Lundvik is performing "Too Late for Love" for Sweden now. This is another favourite, and I find it easier to understand why. It's your classic upbeat love ballad, and John does a grand job of delivering it with charm and passion. He also co-wrote "Bigger Than Us" - the song being performed by the UK's Michael Rice tonight. This one's definitely better.

(That was North Macedonia, by the way)

Another one where I just don't really get the vibe they're going for. I mean, it's obviously an empowerment anthem, great. But I'm not convinced by her performance or the lyrics - if you're going to do a "girl power" thing then it's better to do as Netta did last year: bold, brash, unapologetic. This is more of a dirge.

What do you say about Serhat? I'm smiling so much after that performance. I mean, he won't win, but can you imagine if he did? It's ludicrous and catchy and from a completely different world. Like budget Pitbull staggering out of a club in Marbella.

I am OBSESSED with San Marino.

So as my colleague Clemence points out, this kind of song was popular in the early noughties a la Lily Allen and Kate Nash, and perhaps still on the French pop charts (does anyone know why she sings in French halfway through?). But I'm not sure if it stands up among some of the biggest, bolder entries.

Right, Denmark now and I don't know if I can watch her trying to climb that ladder again.

Wow that was such a good interval with Jean-Paul Gaultier. In case you have absolutely no clear why he's here, he designed the costumes for both Madonna and Jean-Paul Gaultier.

Russia are up next with "Scream" performed by a former runner-up, Sergey Lazarev. This is apparently one of the favourites but I just find it quite sinister. You imagine it's the sort of thing a Bond villain would sing to his torture victims. But, a very impressive vocal performance and the staging is very dramatic.

Germany are up now with S!sters performing, er, "Sister". I'm not really keen on this song and I don't think they would have got through if they weren't in the "Big Five" of countries who make the biggest financial contributions to Eurovision (neither would the UK). Their harmonies, or lack of, aren't great, and it's a pretty boring track. "Meh" is my official verdict.

Czech Republic are up next with the band Lake Malawi, singing the insanely catchy "Friend of a Friend". This bunch are definitely underdogs, but that's probably why people find them so endearing - they really put themselves out there and give everything they've got for the performance. After their semi-final appearance it was the one song I kept humming for the next few days. I STILL don't get why they sing in Cockney accents, though.

Song #2. Albania have Jonida Maliqi singing the evocative "Ktheju tokës". This song hasn't been shown much love but I think it's fantastic - a really magnetic vocal performance with dramatic staging and a superb costume. It falls somewhere between Phantom of the Opera and Star Wars. Jonida definitely has one of the best female voices in this competition. Unfortunately the so-called "Eurovision curse" (or one of them) means that no one who performed second in the final has ever won.

Anyway enough of that for now, it's the opening act! Malta and their contestant Michela singing "Chameleon". For me, this is one of the weakest songs of the competition, although it's quite catchy. But the vague and occasionally nonsensical lyrics aren't helping them.

I haven't made much of a secret out of the fact that I would LOVE it if Iceland won this year's competition. I'm obsessed with Hatari, they are everything I think you should want in a Eurovision contestant. Here's what Rob has to say about them:

"Already causing a stir in Israel, Reykjavik's savvy, art-school hipsters haven't been afraid to share their political opinions with journalists. While they're unlikely to unfurl a Palestinian flag on-stage, expect hijinks that could see their PR machine going into overdrive this week, propelling them from electroclash outsiders to genuine contenders."

Lines will not open until the last song has been performed, so make sure you don't try it until then as you might still be charged.

A reminder, UK viewers CANNOT vote by text, and no one can vote for their own country.

Hearing "TOY" again just reminds me how the White Stripes allegedly got a credit because it sounds like "Seven Nation Army".

So Australia is the one to watch tonight, with absolutely one of THE best Eurovision staging efforts we've ever seen. Hopefully you saw Rob's video earlier that reveals exactly how the hell they get them onto the stage in those broom contraptions.

Meanwhile in the press area, it looks like everyone is a big fan of this year's opening ceremony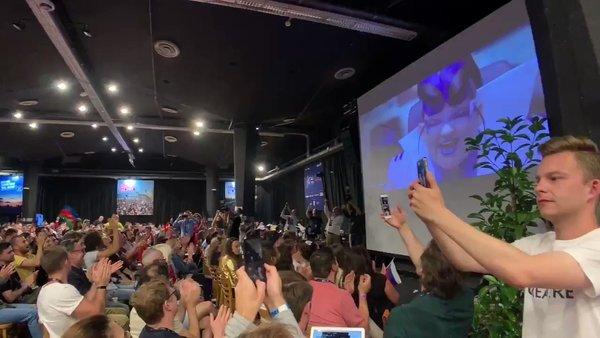 Rob Holley 🅰️ on Twitter
Twitter"FUNNEST EUROVISION OPENER FOR YEARS! 🐛 https://t.co/oTYEz4S8fU"

Via Bel Trew as the ceremony kicks off:

Across town at the sprawling Eurovision village over 80 street food stands, several bars and a massive statue of Israeli Eurovision winner Netta are spread across 15-acres of park. There fans flocked to watch the show on massive screens.

The location of the village sparked controversy among some pro-Palestinian protest groups as it lies on Charles Close Park, which they say was built on the ruins of a pre-1948 mostly Arab neighbourhood called al-Manshiyya.

But unperturbed on Saturday, fans from across Europe and Israel, spent the day on the seafront celebrating in the sunshine.

"I've been going to Eurovision since 2013 - I'm an accredited fan and really by far this is the best and biggest village I've seen. Tel Aviv has made the biggest effort of all the cities," said Charlie, 30 a solicitor from Manchester in a Union Jack blazer and cape.

"I genuinely think the anti-Israeli sentiment is anti-Semitic," he said of the calls to boycott Eurovision in Israel.

"You don't see the same boycott calls for countries which are, say, attacking members of the LGBT community.

There has been very little about Qatar with the World Cup coming up in a few years, there was muted calls for action over Sochi in Russia."

"What are they saying about the lives of LGBT people, that they are worth less?" he added.

It's Dani International!

Netta is launching the opening ceremony. In case you hadn't heard, she's the whole reason Eurovision is taking place in Israel this year, after winning last year's final in Lisbon, Portugal with her song "TOY".

Graham Norton is your host if you're watching live on BBC One, so get ready for some wonderfully dry commentary.

Aaaaand we're off. Likely with no toilet breaks because this thing does not stop once it gets started.

1 minute to go, people!

This just in from our Middle East correspondent Bel Trew, who's been speaking to people around Tel Aviv to get an idea of how people feel about hosting Eurovision:

Outside of Tel Aviv's Expo centre which is housing Eurovision a small protest was held organised by "No Pride in Apartheid" an Israeli activist group. As Eurovision visitors and revellers poured into the massive complex for the final, the group chanted "Songs and glitter cannot hide homeland being occupied" while holding up pictures of Gaza and the West Bank.

"We want to expose the truth and fight the idea that this is a normal democratic country. There are daily violations of human rights, there are people under military occupation.," Omer, 26 an Israeli activist told The Independent.

"They are trying to pink-wash and art wash the truth with Eurovision, to use this image of Tel Aviv as an LGBT friendly space while people are killed in Gaza. They forget there is an occupation, that is part of the daily reality of Palestinians that they have pass through checkpoints, that they don't have passports that they are refugees, they are prisoners of the Israeli state."

Rob and the rest of the UK contingent are ready to go in Tel Aviv
Rob Holley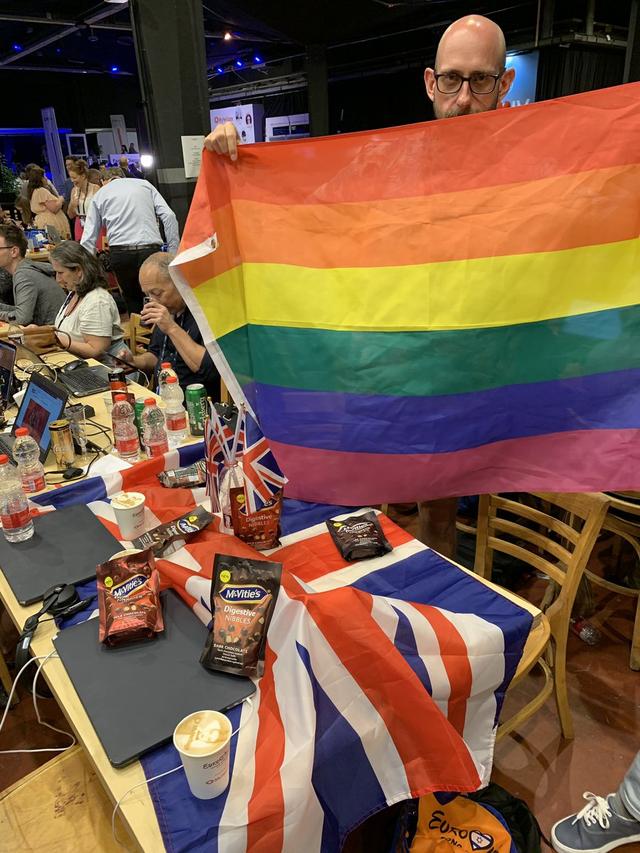 The United Kingdom at Eurovision PRESS DESK
About 40 minutes to go before the 26 finalists go head to head! Who do you think is going to win?
"One Hatari cappuccino, please"
Rob Holley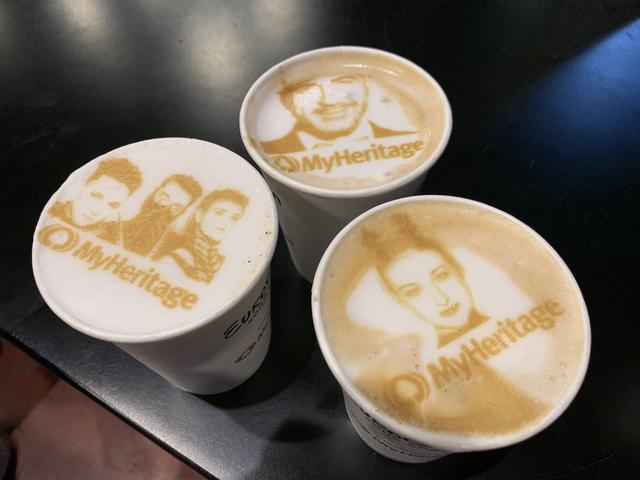 Our coffees are ready! #daretodream
A reminder, THIS IS HOW AUSTRALIA GETS ON STAGE
Madonna fans won't be too happy about this. Primal Scream's Bobby Gillespie claimed the "Like a Prayer" star is a "prostitute" for performing at the final in Tel Aviv tonight https://www.independent.co.uk/arts-entertainment/tv/news/eurovision-madonna-israel-bobby-gillespie-tel-aviv-primal-scream-a8919486.html
The biggest controversy around this year's competition is the fact that it is being hosted in Israel. Many, including artists like Roger Waters and the band Wolf Alice, have called for a cultural boycott over the country's treatment of Palestinians. However, others disagree with the boycott - like Israeli heavy metal band Orphaned Land, who spoke with me about the work they've been doing to promote peace and unity through music https://www.independent.co.uk/arts-entertainment/music/features/orphaned-land-band-israel-palestine-boycott-eurovision-tel-aviv-music-a8919746.html
This is amazing - how Australia gets onto the stage for their performance!
Rob Holley For anyone interested this is the Australia change-over. She's handed her mic on a giant pole! Pure #Eurovision
Obviously the biggest question everyone wants the answer to is... who's going to win? This year it really is anyone's guess, but you can take a look at Rob's predictions here: https://www.independent.co.uk/arts-entertainment/music/features/eurovision-2019-winners-prediction-iceland-sweden-netherlands-tel-aviv-israel-a8913056.html
Hello, and welcome to The Independent's Eurovision liveblog for this year's final! I'll be your host for this evening, providing the latest news, commentary, video and images from across the night, along with updates from our Eurovision Correspondent in Tel Aviv, Rob Holley (find him on Twitter @robholley )