The warning came from Hamid Baeidinejad, Iran's ambassador to the UK, with the acting US defence secretary Patrick Shanahan tabling plans to send 120,000 troops to the region if needed as tensions soar between the two nations over economic sanctions and an increased American military presence in the Persian Gulf.
Meanwhile, Mr Trump's trade war with China over tariffs continues to rumble on - despite his best efforts to downplay it as "a little squabble" - with the "patriotic farmers" the president is seeking to champion already bearing the brunt of falling prices and the loss of access to vital overseas markets.
Please allow a moment for our liveblog to load
Now to several enormous stories we haven't had time for so far.
Alabama's state Senate passed a bill on Tuesday by 25-6 to outlaw nearly all abortions, creating exceptions only to protect the mother's health, as part of a multi-state effort to have the US Supreme Court reconsider a woman's constitutional right to a termination.
The state's House of Representatives had already passed this hugely regressive bill - which makes no allowances for unwanted pregnancies arising from cases of rape or incest - and it will now land on the desk of Republican governor Kay Ivey to sign or veto as she sees fit.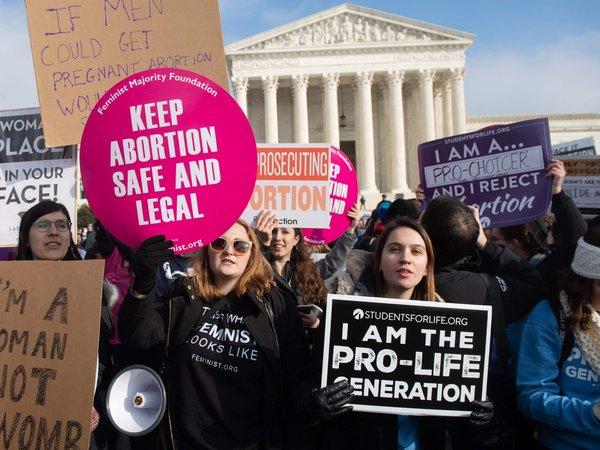 And speaking of Fox, here's their latest line of attack on Alexandria Ocasio-Cortez.
Outnumbered pundit Dagen McDowell says AOC's looks are all the "obsession" with her amounts to in an unbelievably catty and depressingly reductive segment.
"Beauty fades, stupid's forever," she said.
Lis PowerMcDowell ends the segment: "Beauty fades, stupid is forever." Unclear exactly who she's talking about but I think we can take a pretty educated guess.
With regard to the president's potential 2020 challengers, Elizabeth Warren came out with a superb attack on arguably the real source of Trump's power - Fox News - after refusing their invitation to appear at a town hall event, branding the right-wing broadcaster "a hate-for-profit racket that gives a megaphone to racists and conspiracists".

Elizabeth WarrenFox News is a hate-for-profit racket that gives a megaphone to racists and conspiracists—it's designed to turn us against each other, risking life and death consequences, to provide cover for the corruption that's rotting our government and hollowing out our middle class.
But it was this guy's socks - and the resulting photo - that were surely the true highlight of the day.

Doug Mills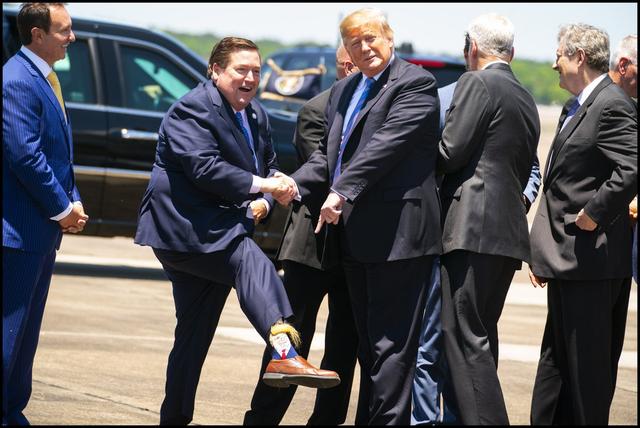 .@realDonaldTrump is greeted by Lieutenant Governor Billy Nungesser who was wearing "Trump Socks" as he arrives at the Chennault International Airport Lake Charles, LA.
President Donald Trump showcased his "America First energy policy" on Tuesday during a trip to Louisiana designed to highlight his administration's efforts to increase liquefied natural gas exports and boost the country's energy infrastructure.
Trump toured the outskirts of a $10bn (£7.7bn) export terminal that will liquefy natural gas (LNG) for storage and shipping. The process involves cooling gas vapor to a liquid state. Sempra Energy announced on Tuesday the plant has begun producing LNG and will begin shipping to global markets in the next few weeks.
"Under my administration we have ended the war on America energy and ended the economic assault on our wonderful energy workers," Trump said in a wide-ranging speech to workers in Hackberry,
He went on to call the Democrats' Green New Deal a "hoax", repeated his idiotic line about wind energy (still apparently refusing to understand the concept of battery power storage) and mocked his 2020 rivals.
"I'm looking at the competition. You sort of dream about competition like that, you know?" he said.
Beto O'Rourke is "falling fast", Trump told his captive audience, and Bernie Sanders has "got a lot of energy. But it's energy to get rid of your jobs".

Aaron RuparTrump on the Green New Deal: "That's a hoax like the hoax I just went through... under that deal, everybody in this room gets fired. All of the thousands of guys and women standing on these buildings gets fired... [Democrats] don't like anything. They don't know what they like."

Aaron RuparTrump demeans the prominent Democratic candidates for president in quick succession, capping it off by casually using a slur to describe Elizabeth Warren
Trump's evident fascination with the "monster, beautiful pieces of art" he saw around him making up the industrial landscape was also mighty weird and resulted in this preposterous tweet recapping his day.

Donald J. TrumpThe golden era of American energy is now underway!
The president's son, Don Jr, has now agreed to testify before the Senate Intelligence Committee in accordance with the subpoena issued to him after agreeing a last-minute deal.
Junior has previously skipped out on two earlier appointments with the Republican-led committee, which is seeking to verify precisely what went down at the notorious Trump Tower meeting with influential Russians of June 2016 after the Mueller report contradicted his statements on the affair in 2017.
Chairman Richard Burr's subpoena - the first for a member of the Trump family - sparked an intra-party dispute and accusations Burr himself was playing along with the Democrats' "witch hunt", with criticism incoming from fellow Republican senators John Cornyn, Ted Cruz and Lindsey Graham.
"It's really a tough situation because my son spent, I guess, over 20 hours testifying about something that Mueller said was 100 percent OK and now they want him to testify again," Trump told reporters at the White House on Tuesday. "I don't know why. I have no idea why. But it seems very unfair to me."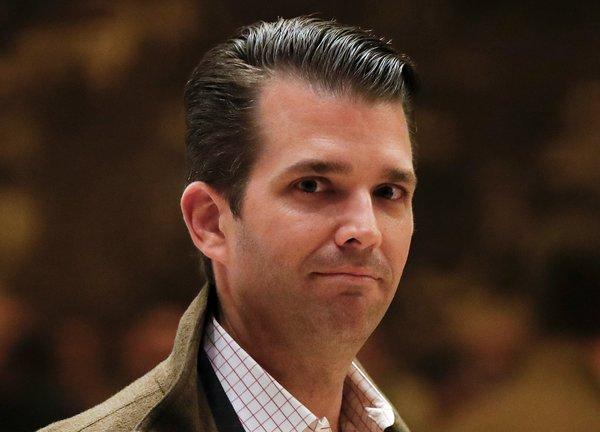 Yesterday the president argued on Twitter that America's "great Patriotic Farmers" would ultimately benefit from the stand-off.

Donald J. Trump....This money will come from the massive Tariffs being paid to the United States for allowing China, and others, to do business with us. The Farmers have been "forgotten" for many years. Their time is now!
But those same farmers are reportedly already bearing the brunt of lower prices and the loss of access to key overseas markets.
The price of soybeans has dropped below $8 (£6.20) a bushel for the first time since 2008 as a result of the current trade feud, which comes as many Midwestern farmers are facing rampant flooding at the height of planting season.
This follows the national net farm income dropping by more than $9bn (£9.9bn) or 12 percent in 2018 as a result of the President Trump's trade tactics, which are slamming the door to key markets for their produce, according to a report by the Congressional Research Service.
Brian Klaas2. He also told me they are being squeezed on both ends; no market for their soybeans and equipment is more expensive because of steel and aluminum tariffs. So they can't sell their products, consumer goods are getting more expensive, and their equipment cost is rising.
CBS This MorningSome farmers in the U.S. say the disruption of normal trade with China has forced many of them to go bankrupt. We spoke to a sixth-generation corn and soybean farmer in Princeton, Illinois, who says he wants business – not a bailout. https://cbsn.ws/2JizX6r
All this and the trade war with China rumbles on.
Trump - the billionaire business genius who lost a whopping $1.17bn (£897m) in the 1980s - started the fight by increasing tariffs on more than 6,000 Chinese consumer goods to 25 percent or $200bn (£153bn).
Beijing has since retaliated as promised by increasing tariffs on $60bn (£46bn) of American goods, an increase of 10 percent to 20-25 percent on items from alcohol and clothing to liquefied natural gas.
Trump has in turn threatened to impose tariffs on a further $300bn (£232.4bn) of Chinese goods but hopes to meet with Xi Jinping at the upcoming G20 summit in Osaka, Japan, to resolve a situation he is now seeking to downplay it as "a little squabble".

The HillPresident Trump: "We're having a little squabble with China because we've been treated very unfairly for many, many decades."
Here's Chris Riotta with the latest.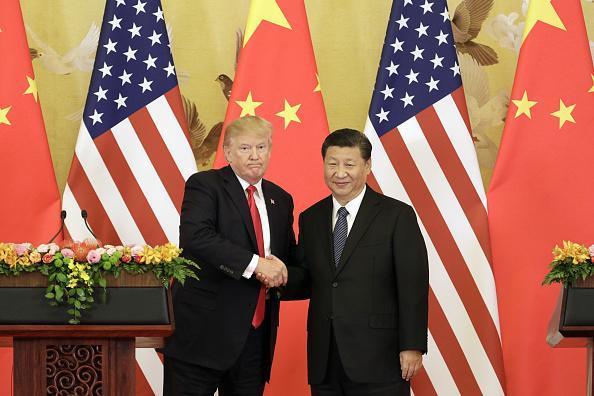 The US State Department has just ordered all non-emergency government staff to leave Iraq urgently amid escalating tensions with neighbouring Iran.
Here's the latest from Chris Baynes.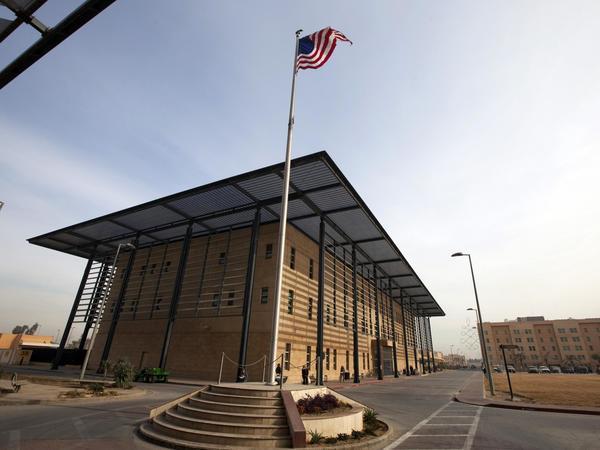 A British general has downplayed the threat of war in the region, only to then find himself rebuked by US Central Command.
"No, there's been no increased threat from Iranian-backed forces in Iraq and Syria," said major general Chris Ghika, a senior officer in the US-backed coalition fighting Isis. Speaking in a video conference from coalition headquarters in Baghdad, Ghika told reporters at the Pentagon that the coalition monitors the presence of Iranian-backed forces "along with a whole range of others because that's the environment we're in."
"There are a substantial number of militia groups in Iraq and Syria, and we don't see any increased threat from any of them at this stage," he added.
Late in the day, in a rare public rebuttal of an allied military officer, US Central Command said Ghika's remarks "run counter to the identified credible threats" from Iranian-backed forces in the Middle East. In a written statement, Central Command said the coalition in Baghdad has increased the alert level for all service members in Iraq and Syria.
"As a result, [the coalition] is now at a high level of alert as we continue to closely monitor credible and possibly imminent threats to US forces in Iraq," the statement read.
Here's Andrew Buncombe's report.
Donald Trump has been accused of "playing a very dangerous game" with Iran and risking dragging the US into a new war in the Middle East that could have "devastating" consequences.
The warning came from Hamid Baeidinejad, Iran's ambassador to the UK, with the acting US defence secretary Patrick Shanahan and hawkish national security adviser John Bolton reportedly tabling plans to send 120,000 troops to the region if needed as tensions soar between the two nations over economic sanctions and an increased American military presence in the Persian Gulf.
The US recently dispatched an aircraft carrier and B-52 bombers in a show of force, prompting accusations that Washington was engaging in "psychological warfare" from Tehran. Baeidinejad called this a "serious miscalculation", also denying Iranian involvement in the "sabotage" of rival oil tankers belonging to Saudi Arabia, the UAE and Norway, which has further ramped up tensions.
Both US secretary of state Mike Pompeo and Iran's supreme leader, Ayatollah Ali Khamenei, have denied their side is preparing for conflict. "We fundamentally do not seek war with Iran," Pompeo said at a press conference with Russian foreign minister Sergei Lavrov on Tuesday.
Having said on Monday "It's going to be a bad problem for Iran if something happens", President Trump was more measured yesterday, refuting the suggestion he was readying ground forces: "Would I do that? Absolutely. But we have not planned for that. Hopefully we're not going to have to plan for that. If we did that, we'd send a hell of a lot more troops than that."
But members of the international community are not convinced.
"We are very worried about the risk of a conflict happening by accident, with an escalation that is unintended really on either side but ends with some kind of conflict," British foreign secretary Jeremy Hunt told reporters in Brussels. "What we need is a period of calm to make sure that everyone understands what the other side is thinking."
Here's more from our diplomatic editor Kim Sengupta.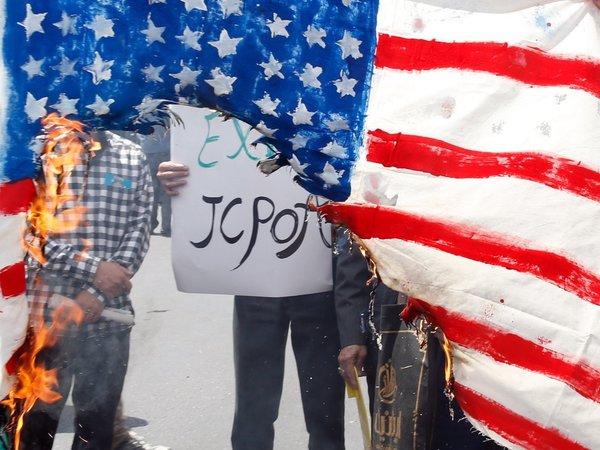 Hello and welcome to The Independent's rolling coverage of the Donald Trump administration.