You have three meetings, a doctor's appointment and six errands to run today. Making dinner isn't exactly first on the priority list. That's why we rely on easy, effortless recipes we can make again and again. One of our favorite shortcuts? The rice bowl. Make a huge batch of basmati, and repurpose the leftovers all week long. Need inspo? Here are 20 tasty (and, most importantly, fast) rice bowl ideas for weeknight dinners.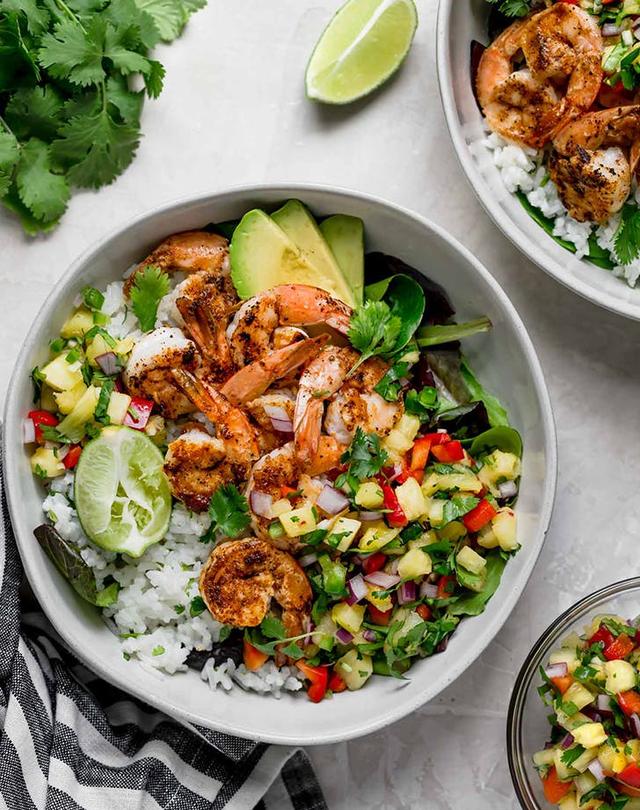 Shrimp Bowls with Coconut Cilantro Lime Rice and Pineapple Salsa
Cue the island vibes. Coterie member Maria Lichty's rice bowls are filled with seaside summer favorites: coconut, shrimp, pineapple and lime.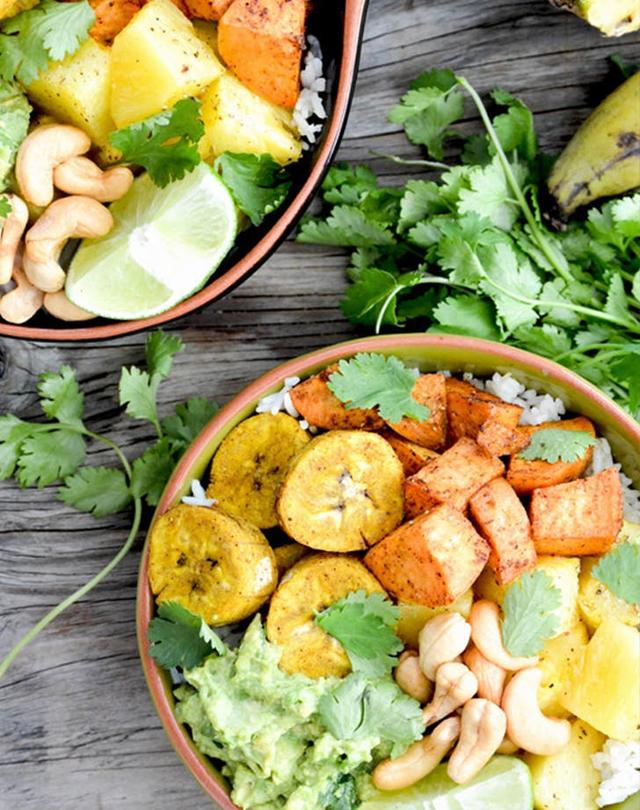 Tropical Rice Bowl
We're all about Coterie member Liz Harris's genius combo of pineapple, plantains and coconut-milk rice. Extra guac, please.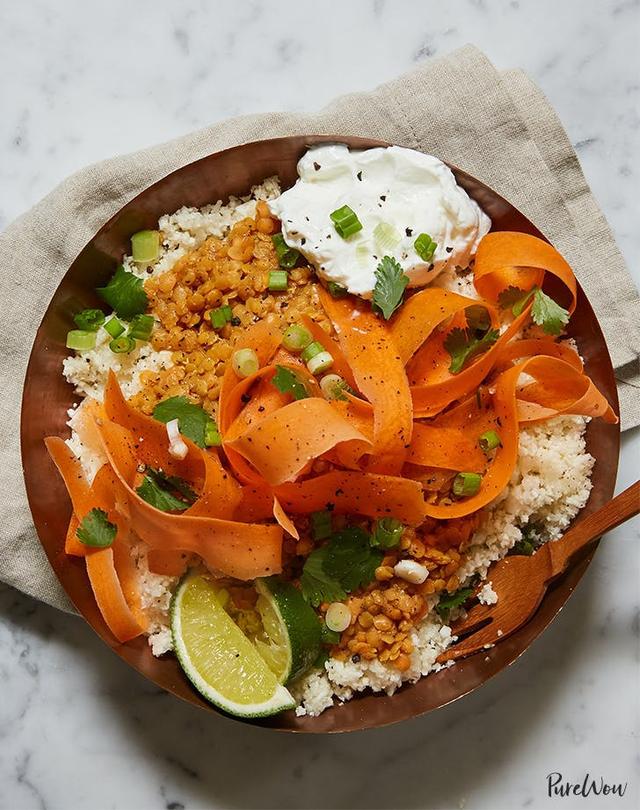 Cauliflower Rice Bowl with Carrots, Lentils and Yogurt
This low-carb twist uses riced cauliflower instead of traditional rice. We're loving the spiced lentils, laced with curry powder, cumin and coriander.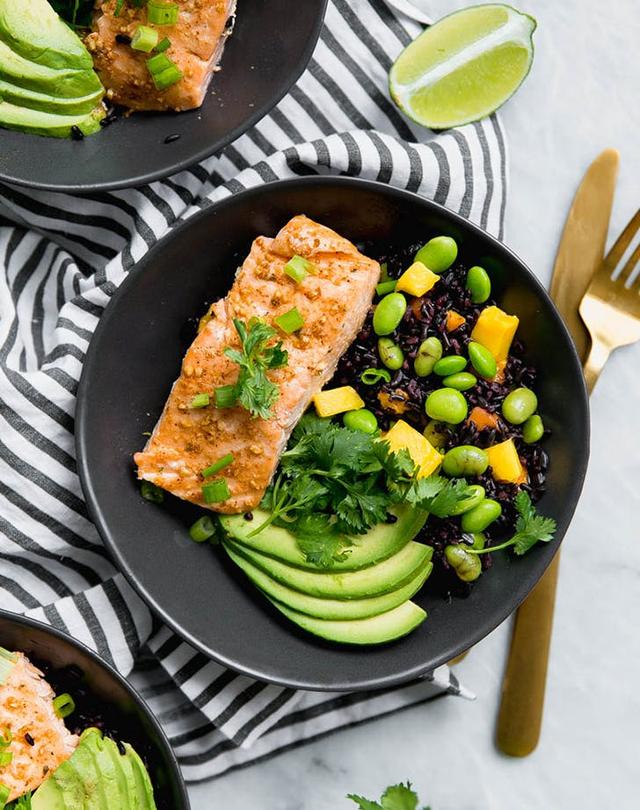 30-Minute Chili Maple Lime Salmon Bowls with Forbidden Rice
Five minutes of prep for a dinner this pretty? If only getting ready in the morning were this easy.
Orange Chicken and Broccoli Rice Bowls
Coterie member Heidi Larsen's gluten-free and paleo-friendly bowls sub in blitzed broccoli for traditional rice. It cooks faster than rice (45 seconds!), and it's a sneaky way to add in more greens.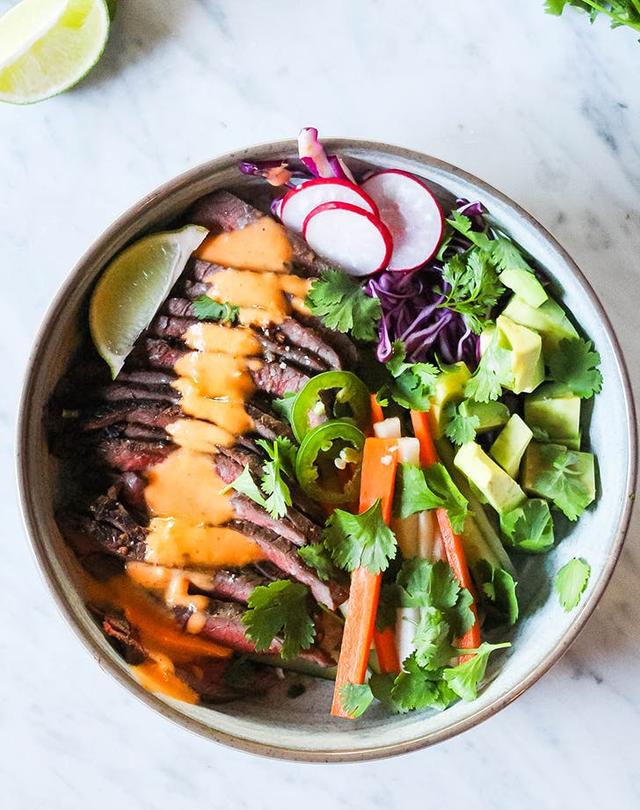 Lemongrass Steak Banh Mi Bowls
Our new favorite way to top a sirloin steak dinner? With a spicy garlic aioli, pickled vegetables, radishes and cilantro. Yum.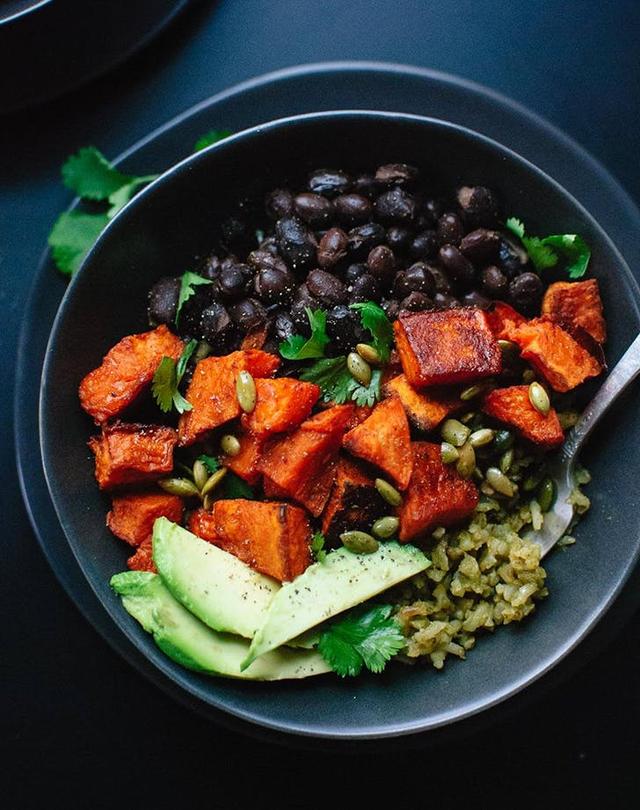 Spicy Sweet Potato and Green Rice Burrito Bowls
It's everything you love about a burrito, minus the gluten. Thanks to hearty sweet potatoes, black beans and avocado, this vegan version is a crowd-pleaser, even for meat eaters.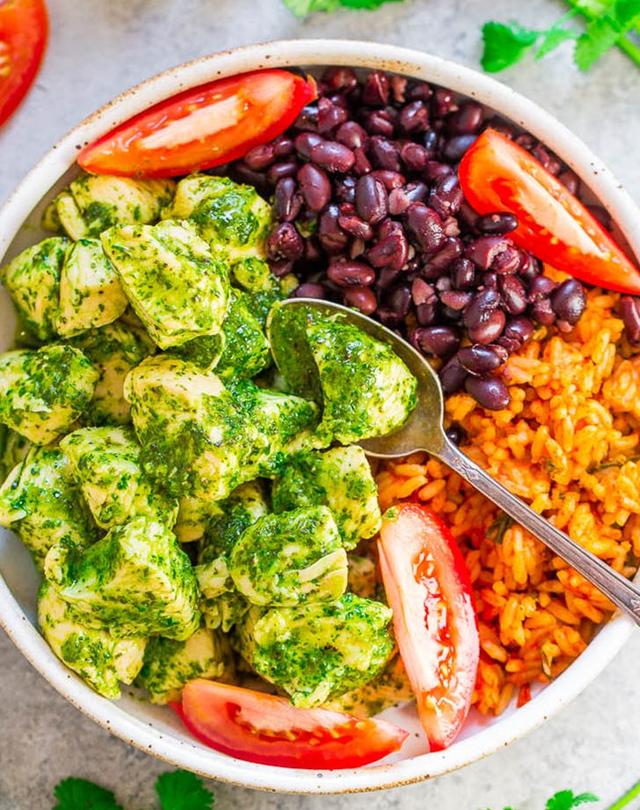 20-Minute Cilantro Chicken with Rice and Beans
And if you prep all of the ingredients in advance, all you need to do is combine everything in a bowl and zap it in the microwave for two minutes. Dinner = done.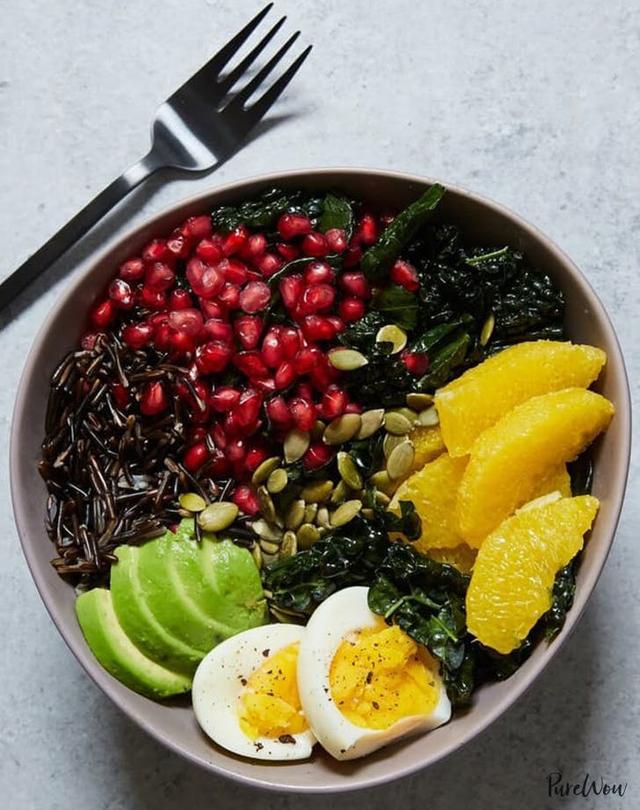 Buddha Bowl with Kale, Avocado and Wild Rice
Sorry, but we're not sick of buddha bowls yet—especially when they're piled high with avocado, oranges and pomegranate seeds.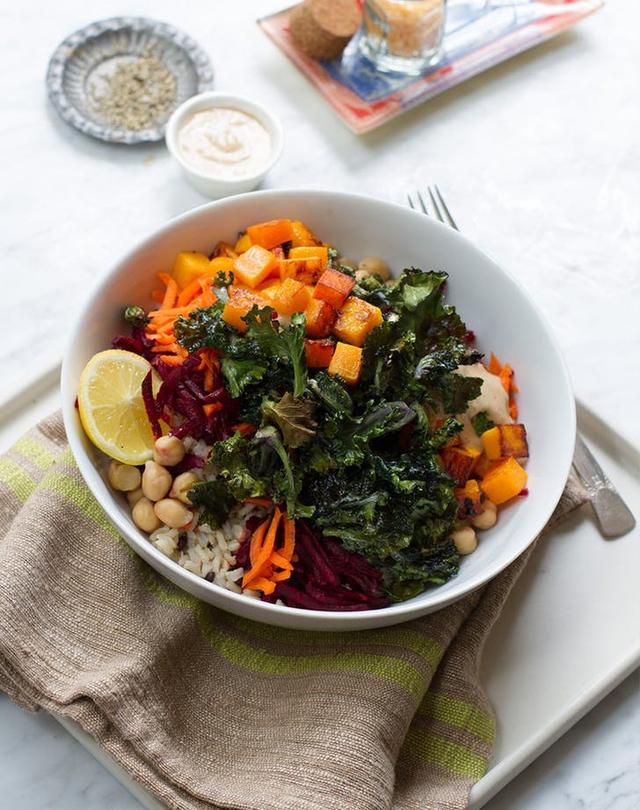 Brown Rice Vegetable Cashew Lemon Bowl
The best weeknight dinners include a bit of meal prep. For this brown rice bowl, use any leftover grain you have, and shake up the dressing in advance. Total time to get it to the table? Five minutes.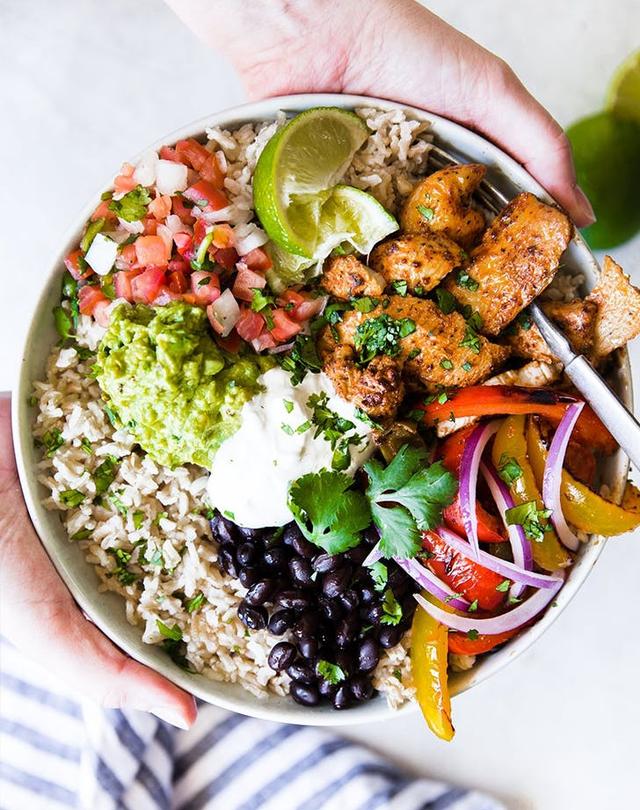 Chicken Fajita Burrito Bowl
Burritos and bowls are a dinner hit, so combining the two is a no-brainer. Toss in all the things you love about fajitas—bell peppers, chicken, sour cream—into a brown rice bowl for a healthy, crowd-pleasing meal.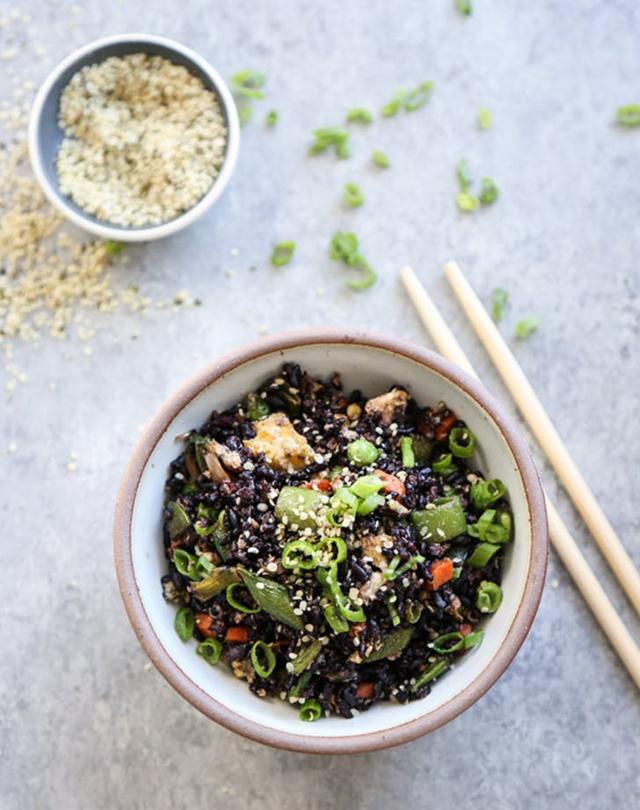 Black Fried Rice with Snap Peas, Hemp Seeds and Scallions
We spy sriracha, which gives this black fried rice from Coterie member Phoebe Lapine a kick. Add to that hemp seeds, scallions and eggs, and you've got dinner (in a breezy 20 minutes).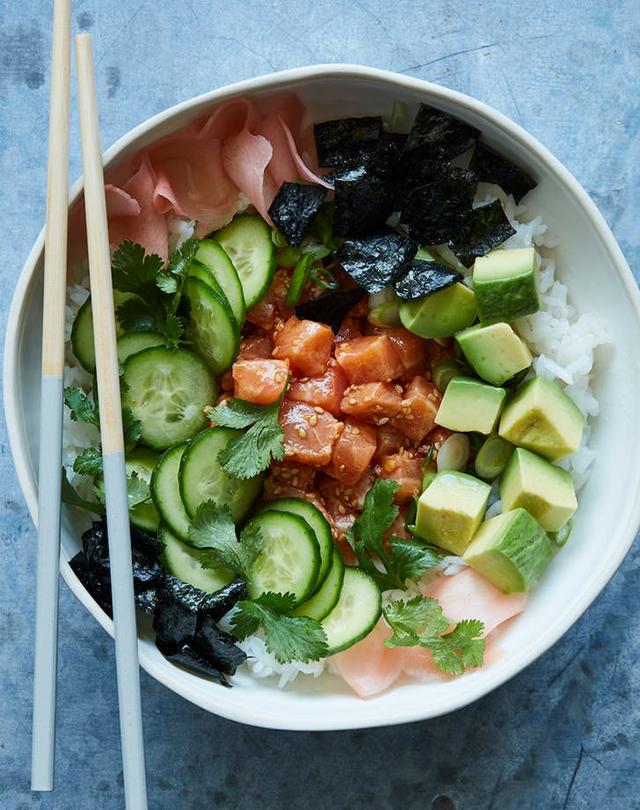 Spicy Salmon Sushi Bowls
Thought you couldn't make sushi at home? Think again. The secret is in buying sashimi-grade salmon, then tossing it with rice in this deconstructed sushi bowl.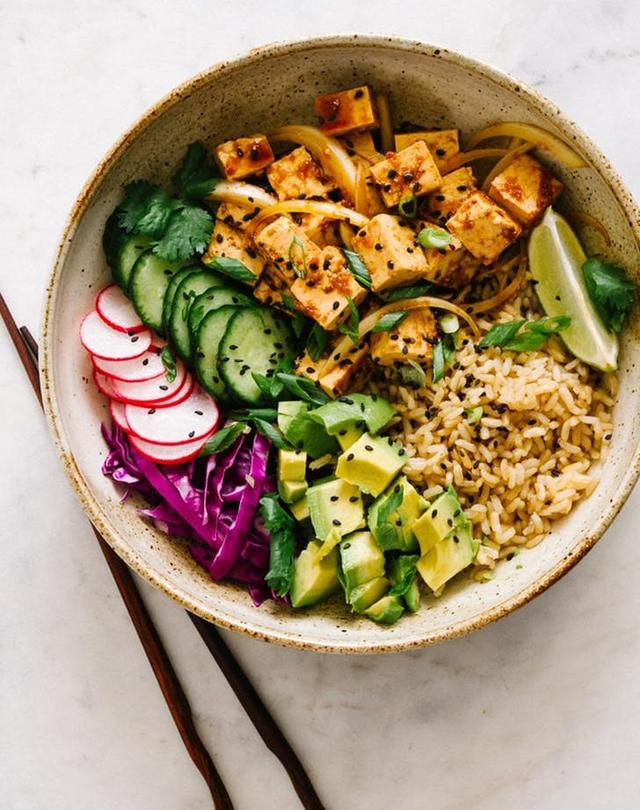 Tofu Poké Bowl Recipe
Soy-ginger tofu takes center stage in this vegan poké bowl. Top it with cucumber, radishes and cabbage for extra crunch.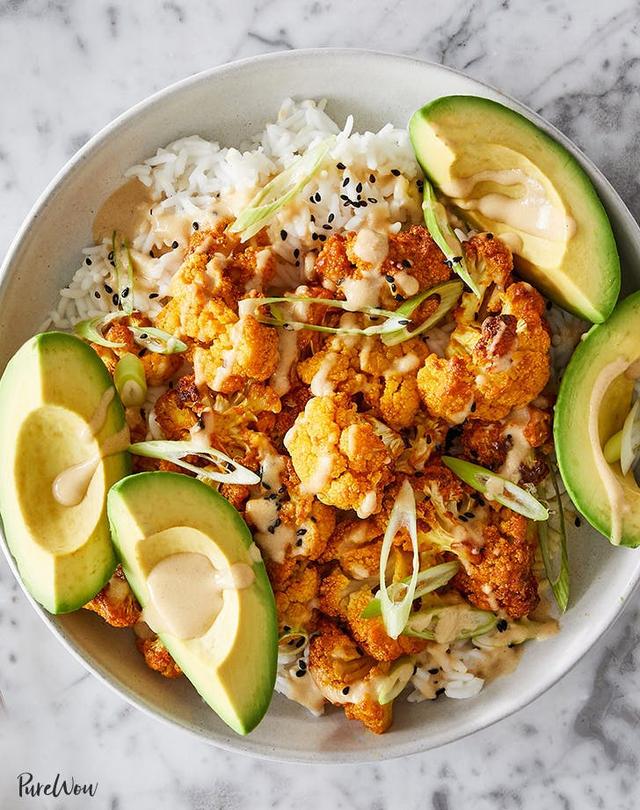 Roasted Tandoori Cauliflower Bowls
This simple dish cooks in the oven on a sheet pan, and it's loaded with the ginger, cumin, turmeric and paprika spice you're craving.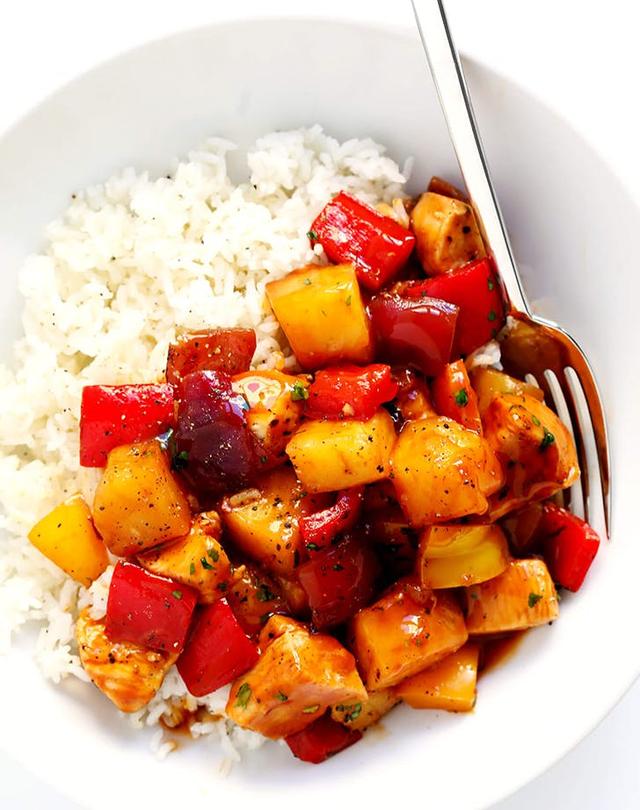 Hawaiian BBQ Chicken Bowls
Yep, dinner can be this simple. Sauté chicken and veggies, add pineapple and douse it in barbecue sauce. Done.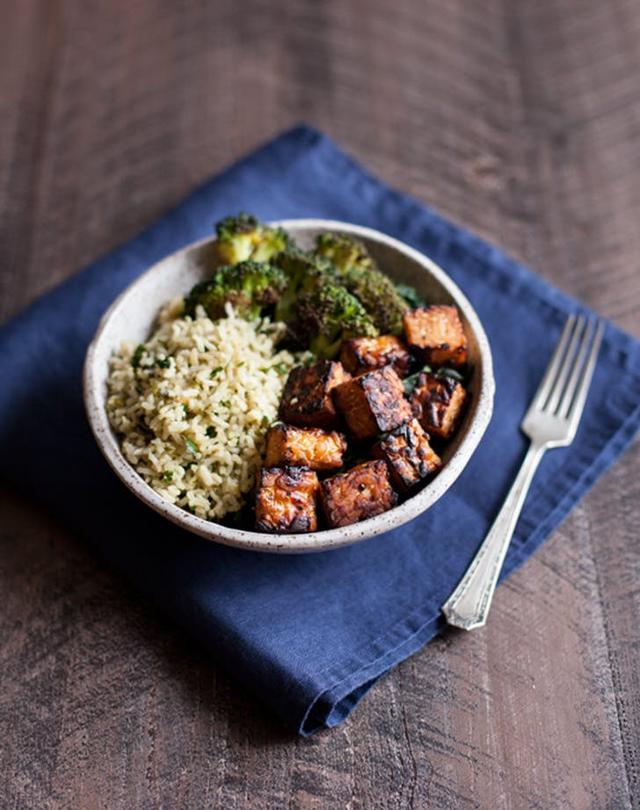 Lemon Pepper Baked Tempeh Cubes and Tempeh and Herbed Rice Bowl
Let tofu take the night off. Coterie member Gena Hamshaw mixes in lemon-pepper tempeh with whatever veggies you have on hand. Total cook time? Twenty minutes. Deliciousness level? 100.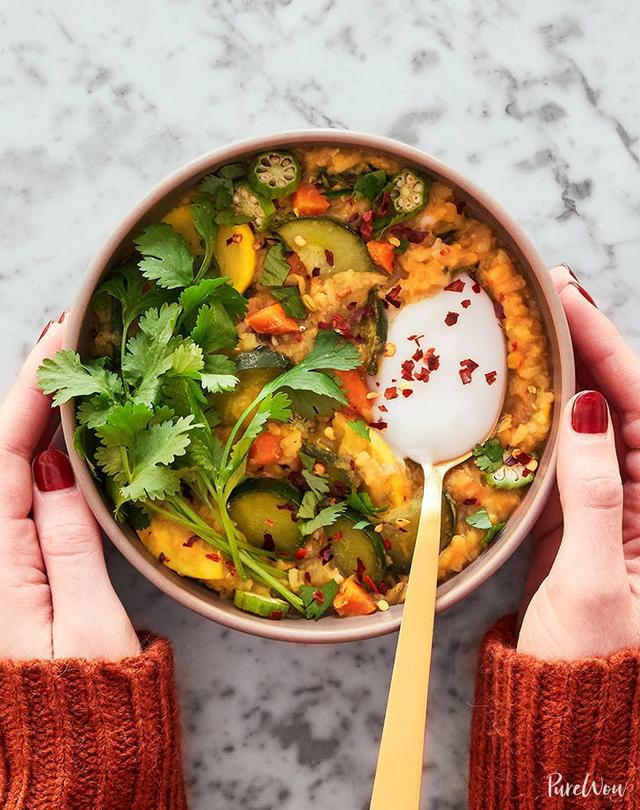 Easy Indian-Inspired Kitchari Bowls
Wait, you haven't heard of kitchari bowls? While the restorative Indian stew now has its own trending hashtag, it's actually been a popular Ayurvedic dish for centuries.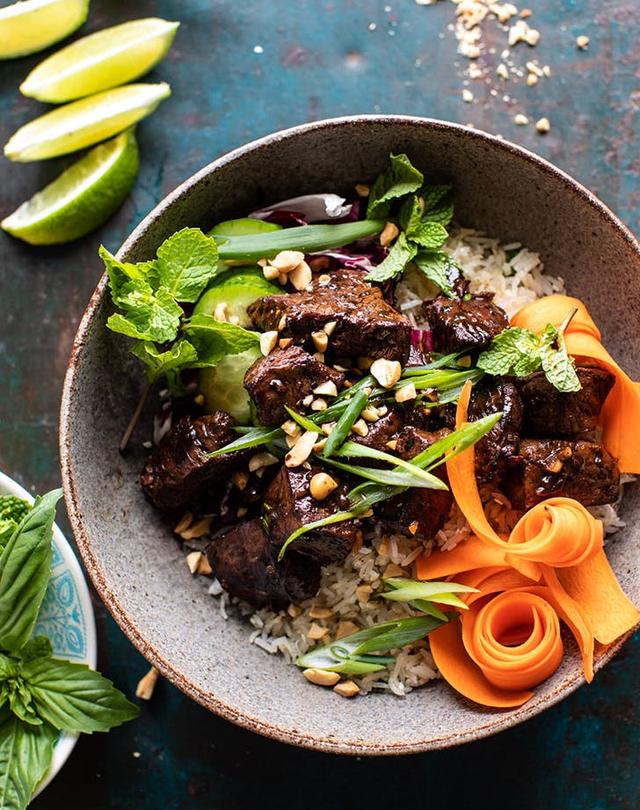 30-Minute Vietnamese Beef and Crispy Rice Bowl
In just 30 minutes, transport yourself to Saigon. This flavorful beef bowl serves up plenty of fresh herbs and veggies, with a bed of crave-worthy crispy rice.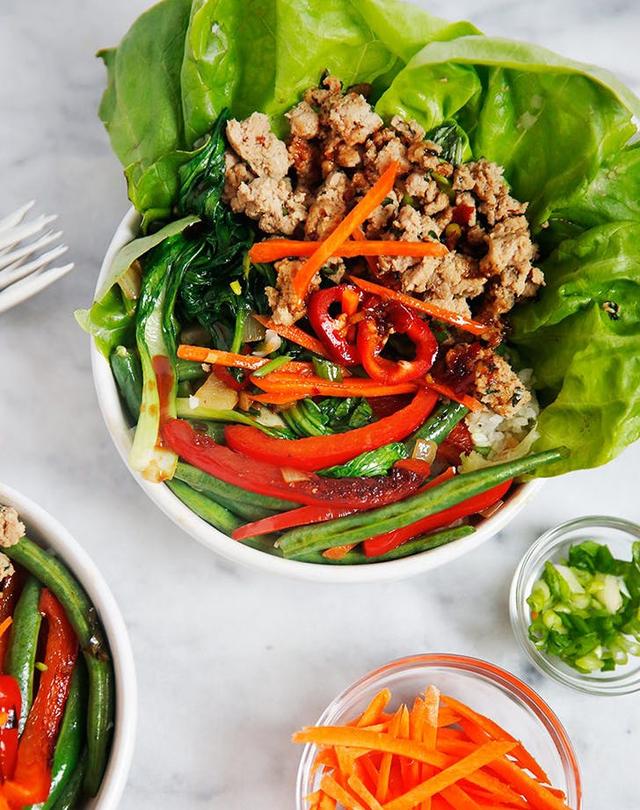 30-Minute Thai Basil Turkey Bowls
Turkey isn't reserved for sandwiches and Thanksgiving dinner. Ground turkey can also make the base of these Thai-basil-flavored rice bowls, complete with a topping of ghost pepper. Oh, did we mention it's Whole30-approved too?