Robert Mueller's report dealt a series of blows to Donald Trump's presidency, even if no indictments were made. A growing number of senior Democrats are calling for impeachment proceedings to begin. Embarrassing revelations for the president's inner circle came to light, such as Sarah Sanders allegedly lying to the public. And of course at least 10 instances of possible obstruction were examined in the 400-page document.
Yet no matter what storm comes his way, Donald Trump's Twitter always weathers it.
His infamous social media account has just shy of 60 million followers, so nearly the population of Britain. The Mueller report dropped on 18 April. Within 24 hours he had gained another 20,100 followers – or the entirety of Newquay if you prefer.
But, as these graphs show you, that's not unusual for this political tweeting machine.
His Twitter follower growth over the past 30 days is equivalent to the population of Bristol: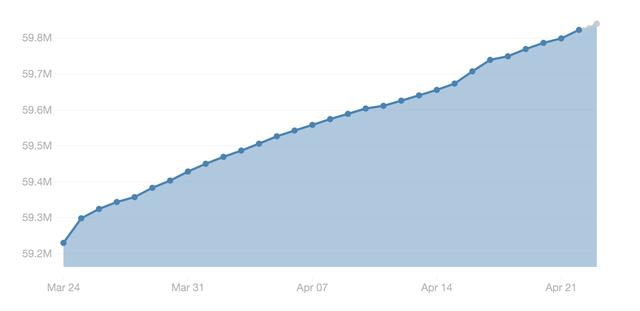 (Crowdtangle)
The past three months' growth is about the population of Northern Ireland:
(Crowdtangle)
And the past year has seen an impressive London-sized growth: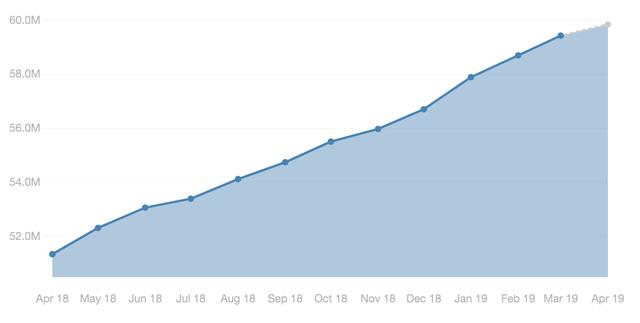 (Crowdtangle)
So it seems bad news does not hamper the president's account.
While he luxuriates in an all-time high number of followers, Trump is tweeting more. He, or of course his staff, is currently tapping out an average of 10 tweets a day, compared to 8.7 the six months prior to that (the population of your local Tesco Express maybe?).
Perhaps it's obsessive to examine a politician's account in such detail, but I imagine that is exactly what Dan Scavino and the rest of Trump's social media team are doing. More tweets means more followers; we're seeing more of the president's agenda and opinions pouring straight onto our feeds.
It may be easy to forget the significance of these 280 character messages, but it's a place where an unfiltered Donald Trump can announce blanket bans on transgender people serving in the military, fire top-level government officials, attack everyone from Native American people to 2020 US election candidates, and further sow discord and division across the country – so we better keep an eye on it.
Yours,
Lucy Anna Gray
Assistant audience editor