The Trump administration is being accused of "stonewalling" Congress by ignoring a deadline for the Treasury to hand over Donald Trump's tax returns and defying a subpoena requesting ex-personal security director Carl Kline appear before a House investigative committee.
"It appears that the president believes that the Constitution does not apply to his White House, that he may order officials at will to violate their legal obligations, and that he may obstruct attempts by Congress to conduct oversight," said Elijah Cummings, chairman of the House Oversight Committee.
President Trump made his feelings on Democrat-led investigations in the wake of the Mueller report perfectly clear in an interview on Tuesday, stating: "There is no reason to go any further, and especially in Congress where it's very partisan - obviously very partisan. I don't want people testifying to a party, because that is what they're doing if they do this."
Please allow a moment for our liveblog to load
Key Points
White House accused of 'stonewalling' Congress by ignoring subpoena, tax return deadline
House Judiciary Committee keen to secure Don McGahn testimony
Senior Democrats continue impeachment calls
Trump meets Twitter CEO and complains about follower count
Yesterday afternoon Trump met with the CEO of Twitter, Jack Dorsey, in the Oval Office, just hours after using the social media site to bemoan it as discriminatory towards Republicans, accusing Twitter of playing "political games".

Donald J. Trump"The best thing ever to happen to Twitter is Donald Trump." @MariaBartiromo So true, but they don't treat me well as a Republican. Very discriminatory, hard for people to sign on. Constantly taking people off list. Big complaints from many people. Different names-over 100 M.....

Donald J. Trump.....But should be much higher than that if Twitter wasn't playing their political games. No wonder Congress wants to get involved - and they should. Must be more, and fairer, companies to get out the WORD!
The meeting and morning rant came as news broke that Twitter had deactivated roughly 5,000 pro-Trump bots on the platform for pushing out disinformation last week alongside the release of the Mueller report.
Here's Clark Mindock's report.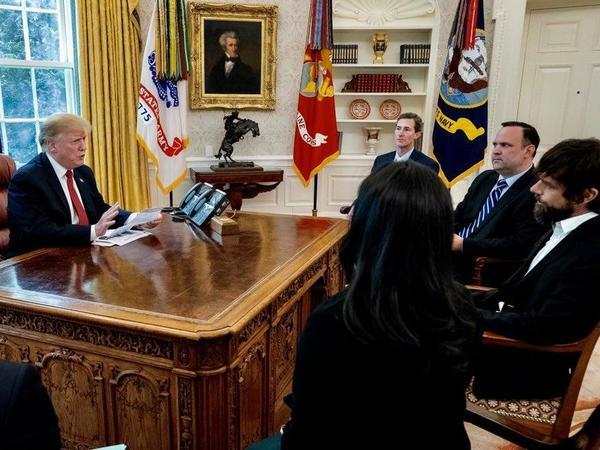 As Democrats continue to pore over the Mueller report underlining and highlighting key passages, many within the party remain at odds with House speaker Nancy Pelosi on the question of initiating impeachment proceedings against President Trump regarding his attempts to obstruct justice - only prevented, according to Bob Mueller, by the defiance of McGahn and other concerned colleagues.
Many are now in favour of impeachment, including Maxine Waters, chairwoman of the House Financial Services Committee, whose tweet below reflects the feelings of many frustrated Democrats on Capitol Hill.

Maxine WatersNinety percent of the calls and mail I'm receiving in my office support impeachment of Trump and so do I. Dems divided. The impeachment resolution must start with & be taken up by the Judiciary Committee. Rep. Nadler is the Chairman of the Judiciary Committee.
President Trump, naturally keen to draw a line under the "Witch Hunt Hoax", tweeted his fury about what he regards as ongoing Democratic persecution last night.

Donald J. TrumpYou mean the Stock Market hit an all-time record high today and they're actually talking impeachment!? Will I ever be given credit for anything by the Fake News Media or Radical Liberal Dems? NO COLLUSION!
Chairman Nadler, who has subpoenaed the US Department of Justice to provide the unredacted Mueller report and underlying evidence, issued a subpoena on Monday for McGahn to provide the committee with documents by 7 May and testify in person on 21 May.
(((Rep. Nadler)))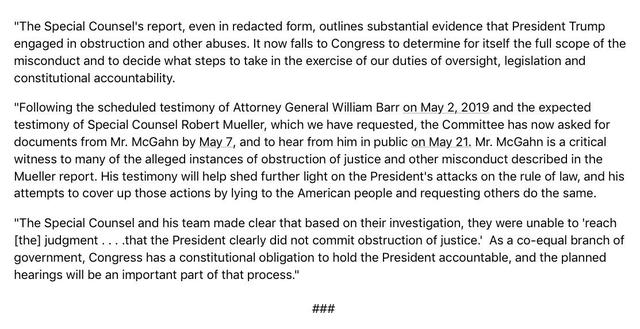 Today, I issued a subpoena to former White House Counsel Don McGahn for documents and public testimony following revelations uncovered during the course of Special Counsel Robert Mueller's investigation into obstruction of justice by President Trump.
But it was not clear that McGahn would comply, especially if the White House asserts executive privilege. Nor could Democrats predict how much the former White House counsel would be willing to discuss, even if he does testify.
On Tuesday evening, Nadler said: "The moment for the White House to assert some privilege to prevent this testimony from being heard has long since passed."
The House of Representatives has the sole power under the US Constitution to impeach the president, and any effort would be led by the judiciary panel.
Mueller's report concluded that there was not enough evidence to establish that Trump's campaign engaged in a criminal conspiracy with Moscow. The report outlined multiple instances, however, where Trump tried to thwart Mueller's probe.
Mueller stopped short of concluding whether Trump could be prosecuted for obstruction of justice, a criminal charge that requires proof beyond a reasonable doubt.
Such a high standard would not apply to Democrats if they decided to bring impeachment proceedings.
In the days following the Mueller report's release, McGahn came under attack from Trump's personal attorney Rudy Giuliani, who called into question the veracity of his statements to Mueller's team of prosecutors.
"I would ask which of the three versions is McGahn standing by. There are three versions he gives of that account," Giuliani told CNN over the weekend. "I'm telling you, he's confused."
A prominent elections lawyer, McGahn served as Trump's campaign counsel before being named White House counsel in November 2016.
He played a pivotal role in helping Trump reshape the federal judiciary in a conservative direction and roll back regulations on a range of industries.
All of this comes as the House Judiciary Committee hopes to make a star witness of Don McGahn, the former White House counsel described in the Mueller report as repeatedly standing up to President Trump. Chairman Jerrold Nadler hopes to have him testify in support of their investigation into whether Trump used his office to obstruct justice.
Since the 18 April release of FBI special counsel Robert Mueller's report on Russian interference in the 2016 election and any ties to Republican Trump's campaign, Democrats have seen McGahn as someone who could be as important as Mueller himself.
But the Democrats are likely to face Trump's resistance. The Washington Post reported on Tuesday that the White House planned to oppose a subpoena by the House of Representatives Judiciary Committee for McGahn to testify, claiming executive privilege, a legal doctrine allowing the president to withhold information about internal executive branch deliberations from other branches of government.
Mueller's 448-page partially blacked-out report portrayed McGahn as one of the few figures in Trump's orbit to challenge him when he tried to shut down the investigation that has clouded his more than two years in the White House.
"Mr McGahn has been touted as a man of integrity and he is a major witness in the Mueller report," said Democrat Sheila Jackson Lee, a member of the Judiciary Committee.
Democrats are particularly interested in hearing McGahn describe in his own words and in Congress an account in the Mueller report in which McGahn refused Trump's instructions.
In June 2017, Trump called McGahn to say he should tell deputy attorney-general Rod Rosenstein to remove the special counsel because he had conflicts of interest, the report said.
Trump also failed to get McGahn to dispute media reports that the president tried to fire Mueller, the report said.
"That, in itself, could be an obstruction of justice, as Mr McGahn would be able to testify that he was asked to do it and then asked not to tell anyone what he'd been asked to do," Lee said.
"Nobody disobeys my orders," Trump insisted to reporters at the White House on Easter Monday.

The HillQuestion: "Are you worried that your staff is ignoring your orders as the Mueller Report portrays?" President Trump: "Nobody disobeys my orders." http://hill.cm/5g3urRq
The White House's attempt to stonewall the House follows Trump and his business organisation suing Elijah Cummings on Monday to block a subpoena from the Oversight Committee that seeks years of the president's financial records. The complaint, filed in federal court in Washington, said a subpoena from Cummings "has no legitimate legislative purpose" and accused Democrats of harassing Trump.
Cummings said the White House "has refused to produce a single piece of paper or a single witness" in any of the panel's investigations this year. Democrats took control of the House in January.
The back and forth over Kline's testimony played out in a series of letters over the past month between the White House, the Oversight Committee and Kline's lawyer. The White House demanded that one of its lawyers attend the deposition to ensure executive privilege was protected, but Cummings rejected that request. The White House then ordered Kline, who now works at the Pentagon, to defy the subpoena.
Cummings said the committee has for years required that witnesses are represented only by their own counsel.
"There are obvious reasons we need to conduct our investigations of agency malfeasance without representatives of the office under investigation," Cummings said in a statement.
A spokesman for the top Republican on the Oversight panel, Ohio representative Jim Jordan, said Cummings was choosing confrontation over cooperation.
"Chairman Cummings rushed to a subpoena in his insatiable quest to sully the White House," said Russell Dye.
The Oversight panel has been investigating security clearances issued to senior officials, including Trump son-in-law Jared Kushner, former national security adviser Michael Flynn and former White House aide Rob Porter.
Tricia Newbold, an 18-year government employee who oversaw the issuance of clearances for some senior White House aides, told the committee earlier this year that she compiled a list of at least 25 officials who were initially denied security clearances last year because of their backgrounds. But she said senior Trump aides overturned those decisions, moves she said weren't made "in the best interest of national security."
According to a committee memo, Newbold said the disqualifying issues included foreign influence, conflicts of interest, financial problems, drug use, personal conduct and criminal conduct.
Newbold said she raised her concerns up the chain of command in the White House to no avail. Instead, she said, the White House retaliated, suspending her in January for 14 days without pay for not following a new policy requiring that documents be scanned as separate PDF files rather than one single PDF file. Kline was Newbold's supervisor.
Newbold said when she returned to work in February, she was cut out of the security clearance process and removed from a supervisory responsibility.
The Trump administration is facing growing questions over its apparent reluctance to co-operate further with congressional committees investigating the president's affairs in the aftermath of the Mueller report.
Speaking to The Washington Post yesterday, the president said: "There is no reason to go any further, and especially in Congress where it's very partisan - obviously very partisan. I don't want people testifying to a party, because that is what they're doing if they do this."
His words came as a former White House personal security director Carl Kline defied a subpoena and the Treasury Department ignored a deadline set by the House Ways and Means committee for providing President Trump's tax returns, which passed at 5pm EST yesterday.
Representative Elijah Cummings, chairman of the House Oversight Committee, angry at the developments, said the White House has adopted the "untenable" position that it can ignore requests from the Democratic majority in the House.
"It appears that the president believes that the Constitution does not apply to his White House, that he may order officials at will to violate their legal obligations, and that he may obstruct attempts by Congress to conduct oversight," Cummings said in a statement.
Oversight Committee"Not only are they blocking witnesses from coming forward, but they have not given us one document upon our request." - Chairman @RepCummings
Carl Kline did not show up Tuesday for a scheduled deposition and Cummings said he is consulting with other members of Congress and staff about scheduling a vote to hold Kline in contempt. The committee subpoenaed Kline after one of his former subordinates, Tricia Newbold, told the panel that dozens of people in Trump's administration were granted security clearances despite "disqualifying issues" in their backgrounds.
Regarding the president's tax returns, Ways and Means Committee chairman Richard Neal received a letter from treasury secretary Steve Mnuchin asking for more time and said he would give the panel a final decision by 6 May.
Mnuchin told Neal that he is consulting with the Justice Department "due to the serious constitutional questions raised by this request and the serious consequences that a resolution of those questions could have for taxpayer privacy."
Lauren Fox

Key quote at the end here from the letter from the Department of Treasury to House Ways and Means Committee Chairman Richard Neal.
Neal hasn't announced next steps, but he could opt to issue a subpoena to enforce his demand, sent under a 1924 law that requires the Treasury secretary to furnish any tax return requested by a handful of lawmakers with responsibility over the Internal Revenue Service.
Hello and welcome to The Independent's rolling coverage of the Donald Trump administration.