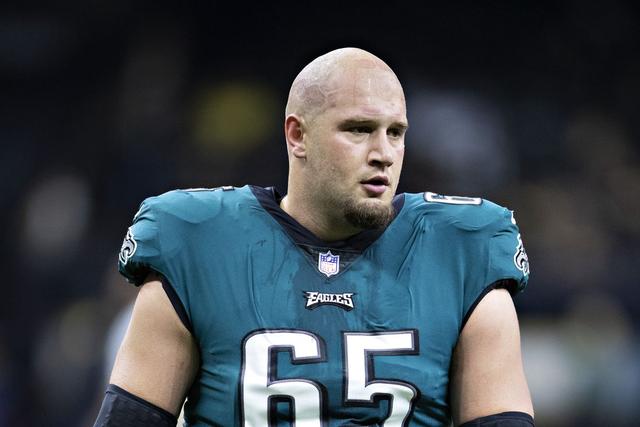 Photo by Wesley Hitt/Getty Images

UPDATE: Lane Johnson called in to Paul Jolovitz鈥檚 Sunday night show on SportsRadio 94WIP to expand on his tweet accusing Donovan McNabb of being a snake.
鈥淭his is what I meant 鈥?every training camp we have all of these ex-players come and shake our hands, wish us good luck. Then, they just go out and just talk hate. I feel there is a lot of envy, jealously, and I see a lot of fakery. It isn鈥檛 just me 鈥?a lot of other teammates see it too. You would think the best quarterback in franchise history would try to build up a young man that looks up to him instead of always criticizing him, critiquing him and wishing he would fail so he could be the missing link and feel better himself. That is what I don鈥檛 like. I鈥檓 not a guy that thinks I have it all figured out, I have many problems as well, but I get tired of all the fakery to be honest with you. [...] I don鈥檛 think he wants [Wentz] to out-succeed him. I felt like a lot of players, even when we were making our Super Bowl [run] didn鈥檛 want us to win. That is just how it is. That鈥檚 how the world works. People can put on a good show, a good face, but the eyes never lie. I see it, a lot of other teammates see it. Honestly it is part of the business, but these guys say what they want, but then when an athlete voices his opinion, we鈥檙e the bad ones. We鈥檙e humans too. It鈥檚 not like we are just entertainment on Sundays and robots for everyone鈥檚 entertainment. It is what we do, its what we love, but some guy are scared to speak their mind because of they are scared of the criticism, scared of the backlash, afraid of getting thrown in the media in a bad light. The thing about my NFL career is I have seen the best and I have seen the worst. I feel like I have a lot of perspective other people don鈥檛 have. Here is the thing I realized: when I go to the Pro Bowl, I see a lot of Hall of Famers walking by 鈥?everyone wants to stay relevant. Everybody has an ego. I鈥檓 not different. At the same time what really maters 鈥?glory fades. I鈥檝e seen that. Donovan was the best quarterback the Eagles ever had. You would think instead of talking down and wishing the worst for someone who was in his position, you would think you鈥檇 be on the other side of the fence. But I think it goes to show you just what kind of intentions he has.
McNabb indirectly responded with this tweet:

Donovan McNabbDeal with it.
McNabb has also been responding to critical tweets with various GIFs:
ORIGINAL STORY BELOW.
Surprisingly, Sunday evening鈥檚 most savage moment did not occur on Game of Thrones. Rather, it happened when Philadelphia Eagles right tackle Lane Johnson called out Donovan McNabb on Twitter. Take a look:
Lane Johnson@donovanjmcnabb ...and you wonder why nobody respects you when you come back!!!!
Damn. That鈥檚 pretty intense.
Johnson is clearly responding to McNabb鈥檚 comments from Saturday about how the Eagles need to consider moving on from Carson Wentz if he fails to take Philadelphia to the NFC Championship Game within the next two seasons.
Johnson, who quite literally protects Wentz on the football field, was also quick to defend his quarterback shortly after the PhillyVoice report emerged earlier this offseason.
Lane admittedly isn鈥檛 one to mince words. Here, he鈥檚 taking a pretty big shot at one of the more accomplished players in franchise history. McNabb obviously holds a lot of team records and his jersey number was even officially retired.
But McNabb鈥檚 legacy didn鈥檛 do anything to prevent Johnson from calling him a snake (six emojis!) and saying that nobody respects him.
Just your normal, quiet Sunday evening.