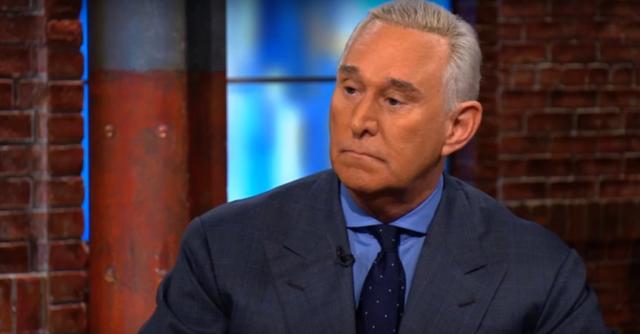 BTW
President Donald Trump's former adviser Roger Stone, who is out on bail for his alleged involvement with WikiLeaks in the 2016 elections, is scheduled for a (paid) gig at a strip club in Virginia next month.
Stone, who is out on $250,000 bond and has reportedly gone bankrupt owing to his legal fees, will be speaking at a "meet-and-greet" event on May 4 at Paper Moon strip club in Richmond, Virginia, the Daily Beast reports. An event organization named Black Cat Events promoted the speaking engagement on Twitter.
Blackcat EventsRoger Stone Papermoon Midlothian May 4 8 pm! Come on out. Great event. Will be on #wrva today at 3:35 discussing local #asstifa nerds angry about it.
It's not clear how much he's receiving for the gig or what wisdom he will be sharing at the event, but it appears to have come to him at the right time, what with his recent woes of having to go from a nine-bedroom mansion to a one-bedroom apartment amid reported financial trouble.
"I've lost my home, my insurance, what little savings I had, my ability to make a living because people pay me to write and talk, and of course the things they want me to write and talk about are the very things I'm not allowed to talk and write about," he moped in an interview earlier this month. "In the blink of an eye, you can lose everything."
Twitter hasn't been sympathetic to Stone's woes, and the event's unexpected juxtaposition of a strip club hosting a former presidential adviser made it go viral over the weekend.
HOODY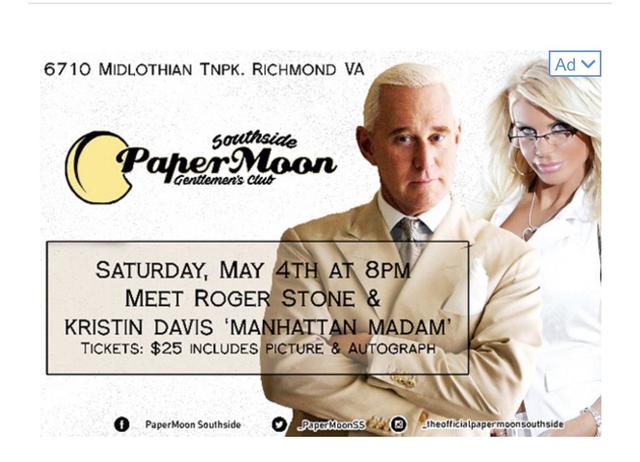 Roger Stone went from working for the president to doing $25 meet and greets at your local strip club. Gotta pay the lawyers somehow.

ThirdcloudTo begin, the visual image of Roger Stone is HORRIFYING—put him next to a pole in a Strip Club? That's abuse, but appropriate PR

Jim Roberts#RogerStone raising funds in a strip club? No surprise. He should be stripped...of his law license.
A Twitter account that seemingly operates as an independent watchdog in the area has been pushing back on the upcoming appearance, urging others to call Black Cat Events and remind them of Stone's ties to the far-right.
Richmond PoliceOh, I should mention that this is the guy that has scheduled a Roger Stone event at the strip club he works at. His boss, Billy, can be reached at 804-218-2204. Now is as good of a time as any to call in and tell him that platforming Roger Stone is supporting fascism.
Stone has admitted to working closely with members of far-right group the Proud Boys, which the Southern Poverty Law Center classifies as a hate group. The Proud Boys have seemingly taken it upon themselves to protect Stone and express their support for him, defending him against the charges he's facing.