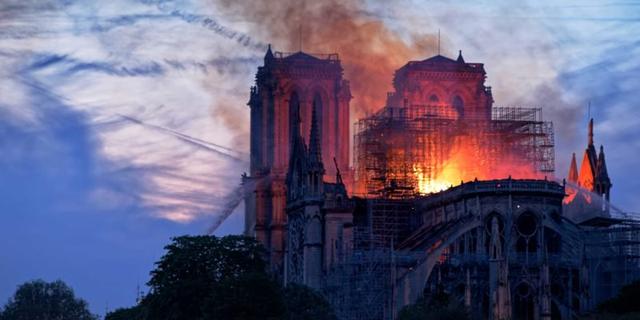 The White House has offered financial assistance to rehabilitate Notre Dame in Paris, a day after the historic church was engulfed in flames. The restoration efforts have already received almost $1 billion in funding worldwide.
The president's quick gesture to help, while lovely, reflects poorly on his priorities. Twitter was eager to point out that cities and territories that fall under his leadership still need resources after tragedy, loss, and corruption. For example, Flint, Michigan, still doesn't have clean water.
Jasøn FussełłPOC in Flint: *need water for years* White House: QUICK! This already dead building could use some WATER!!!
Ari Cabello-Bazziwhere the FUCK is this assistance to the people in Flint, Michigan? where the FUCK is the assistance to help rebuild the 3 black churches? where the FUCK is the assistance to Puerto Rico and my own family living there? i'm all for the help to Notre Dame but seriously?
AVIERWhat a slap in the face to our own people. I am completely for the restoration and rebuilding of the Notre Dame but not with outside government aid. We have so many issues that have not been taken care of such as Flint and Puerto Rico.
QueenMo'BUT DOES FLINT HAVE WATER THOUGH
aidanyour church can wait , what about the thousands left without drinking water in flint ? stop prioritizing religion on the lives and health of your own citizens
kuzOnce again. I'll say this again we got a city on our own soil without water.
Even Amariyanna "Mari" Copeny, the 11-year-old who became famously known as Little Miss Flint for penning a letter to President Obama about the water crisis, also tweeted about it.
Mari CopenyWell look at there. Priorities all kind of messed up.
On Tuesday, around the same time as the White House announcement, Flint reportedly received its remaining $77.7 million in federal funding from a $120 million federal and state loan that was announced in 2017 for improving the city's water infrastructure.
While this loan aims to support certain water projects in Flint in the short and long term, local officials say a lot more needs to be done, and would require $300 million in "capital improvements" over the next two decades. This month marks the fifth year since a move to save money and draw water from the Flint River has led to a public health crisis in the area.
Along with Flint, many pointed out the glaring, more recent account of three Black churches set on fire in Louisiana, which received little media attention or response from the president.
Darja Meskin We can't afford to help Puerto Rico, fix Flint, or rebuild the black churches that were burned in America, but we have resources for this? Let private donors and the French government handle it.
Missy luvs ChuckBut small black churches in Louisiana are on their own, yeah? Hundreds of millions? That could do wonders for Flint. Think of what it could do for Puerto Rico.
crimson postgrad, cpaYeah so let's help France and let's also give flint clean water and rebuild three black churches ALSO BURNED TO THE GROUND and let's put the lights back on in Puerto Rico
Jesus Steve ChristFlint / Puerto Rico: we need help with clean water Louisiana: 3 black churches were burned down last week by a white nationalist Trump White House: let's help rebuild Notre Dame #AmericaFirst #MAGA #MorningJoe
Hillary Clinton also tweeted a reminder about the Lousiana church fires, sharing the link to a GoFundMe page that a local news site says has received increasing funds since the Notre Dame fire, raising about $1 million of its $1.8 million goal.
Then there is the crisis in Puerto Rico in the aftermath of 2017's Hurricane Maria, which Trump did not respond to so quickly.
KashanaWhite House Offers Not To Assist Puerto Rico
dylan*Flint & Puerto Rico enter the chat*
Dana*Stares in Puerto Rican*
Last month, the president reportedly said the U.S. territory has received funds "way out of proportion" compared to Texas and Florida in the aftermath of their natural disasters, and refused to offer further aid to refurbish Puerto Rico's water system or make the territory resilient to future storms. However, Trump is reportedly on board with giving $600 million in assistance for addressing a shortage of food stamps on the island, according to the Guardian.
The Notre Dame fire has been heartbreaking for many around the world, largely for people's personal experiences with visiting the centuries-old monument. But it also shines a light on how certain historic monuments are worth mourning, while the destruction of Black churches and communities of color get ignored.
READ MORE:
The post 'What about Flint, Puerto Rico, Black churches,' people ask after Trump pledges aid to France appeared first on The Daily Dot.