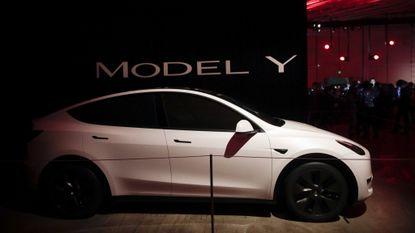 Compared to past Tesla rollouts, the Model Y's debut seemed to fall a little flat.
Billed as a sport utility vehicle, the Model Y in fact looks quite similar to Tesla Inc.'s Model 3 sedan, with a higher roofline and raised body.
There are a few differences — the Model Y is capable of carrying more passengers in some configurations, and more cargo. But while Tesla Chief Executive Elon Musk described the vehicle as having the "functionality of an SUV but it will ride like a sports car," some analysts deemed it a conservative move by a company known for bold bets.
It was the lengthy delivery timeline — fall 2020 for a long-range, 300-mile version with a starting price of $47,000, and spring 2021 for the standard-range, 230-mile version that starts at $39,000 — that rattled Wall Street, though. On that timetable, the Model Y will go up against heightened competition in the electric-car market.
Tesla shares tumbled 5% Friday, to close at $275.43. The stock has dropped 20% over the last two months.
Although Thursday's Model Y event had all the trappings of a typical Tesla unveiling — the pulsing music, attendees lined up before doors even opened, and dramatic lighting and rock concert-like atmosphere inside the company's L.A. Design Studio in Hawthorne — there was no "extra sauce," said Mike Ramsey, automotive analyst at Gartner Inc.
"We thought it was very disappointing," said Garrett Nelson, senior equity research analyst at CFRA. "The specs were about in line with our expectations. But it's more about the timing."
Analysts have called the Model Y the most important vehicle in Tesla's lineup. The demand for SUVs has jumped dramatically in the last five years, especially the market for smaller crossovers. And Tesla stands to make more profit from the Model Y's higher prices compared to those of the Model 3, because the production cost differential between the two is not expected to be significant, Ramsey said.
Musk is known for pitching overly optimistic car delivery dates. Deliveries of the Model X SUV were delayed by more than 18 months after Tesla had production problems with the vehicle's falcon-wing doors. At Thursday's unveiling, Michael Harley, executive editor of Kelley Blue Book, predicted that the first Model Y delivery could be "realistically, probably pushed back to spring of 2021."
By 2021, the market will be stocked with electric cars from almost every major manufacturer. Hyundai and Kia are already selling electric versions of the Kona and Niro crossovers, priced about $36,000.
Despite the potential for increased competition, Musk said Thursday that sales of the Model Y could outpace those of the company's higher-priced Model S sedan, Model X SUV and the Model 3 combined.
Model Y sales could make up about 15% to 20% of Tesla's overall unit sales over the next three years, Dan Ives, managing director at Wedbush Securities, wrote in a note to clients Friday. But Tesla needs to upsell customers from lower-priced segments, Toni Sacconaghi, senior technology research analyst at Bernstein, wrote in a Friday note to clients.
The company's need for cash was driven home by the refundable $2,500 deposit required to order the Model Y. That's an increase from the $1,000 that potential Model 3 customers had paid to reserve their place in line. Within a week of the Model 3's unveiling in 2016, Tesla said it had received more than 325,000 reservations, allowing it to raise a significant amount of money.
"I think it's no surprise Tesla needs money," said Jessica Caldwell, executive director of industry analysis at Edmunds. "They need to go on a bit of a cash run right now."
Two months ago, the company laid off 7% of its full-time workforce to cut costs, and this week pushed up prices by about 3% on its Model S, Model X and higher-priced version of the Model 3. The company reported it had $3.7 billion in cash at the end of last year; it has a $183-million debt payment coming due next month.
Nelson said concerns about Tesla's cash supply and balance sheet have waned after the company's two solid quarters of positive free cash flow. However, the higher deposit price for the Model Y could affect order volume, he said.
More pressingly, analysts question whether the Model Y will cannibalize sales of the Model 3, especially as Musk has said that the crossover would be about 75% common with the sedan. Though Tesla recently said it would deliver the long-awaited $35,000 version of the Model 3 as soon as the end of the month, interested buyers could decide to wait for the Model Y.
"The looks aren't exotic or anything, but so what," said Ramsey, the Gartner analyst. "It still looks like a Tesla and scratches the need in essentially the hottest, most important market. In terms of the package, the capabilities, the looks, I thought they hit it on the nose."