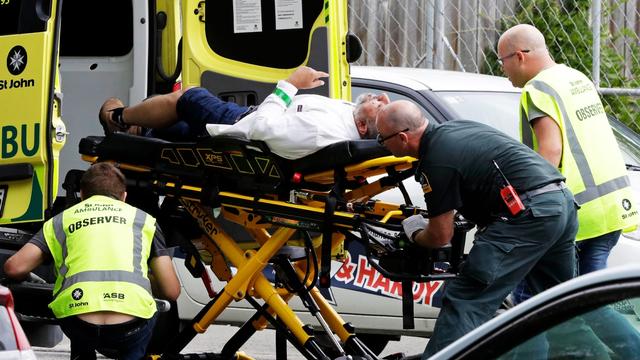 Gunfire erupted at a mosque in Christchurch, New Zealand, on Friday afternoon local time, according to multiple media reports.
There were no official reports of casualties but New Zealand police reported that they were responding to a "serious ongoing firearms incident" in the center of the city.
Witnesses from inside and outside the Masjid Al Noor mosque described scenes of carnage and chaos.
"My wife is dead," a man who fled the mosque told the Christchurch Press.
Another man told the newspaper, "There were bodies all over me."
One witness said the gunman was wearing a helmet.
"He had a big gun and a lot of bullets and he came through and started shooting like everyone in the mosque, like everywhere, and they have to smash the door and the glass from the window and from the small door to try and get out," he said.
Mohan Ibrahim told the New Zealand Herald he was in the Masjid Al Noor when he heard the shots.
"At first we thought it was an electric shock but then all these people started running," he said.
"I still have friends inside. I have been calling my friends but there are many I haven't heard from. I am scared for my friends lives."
Benjamin Jellie told the newspaper he heard at least three bursts of gunfire and then saw people jumping over the back fence of the mosque.
"Those coming over the fence, all adults and including at least three men, were screaming and crying," Jellie said.
Len Peneha told the Guardian that he'd seen a man in black enter the mosque, and then dozens of shots, and then people fleeing. Later, he said that he went inside to help and "I saw dead people everywhere."
The New Zealand police also cited reports of gunfire at a second mosque and at the main hospital in Christchurch, though details were sketchy.
New Zealand PolicePolice are currently responding to reports of shots fired in central Christchurch at around 1:40pm.Armed police have been deployed.Police urge anyone in central Christchurch to stay indoors and report any suspicious behaviour immediately to 111.
New Zealand PoliceIn response to a serious ongoing firearms incident in Christchurch all Christchurch schools have been placed into lockdown. Police urge anyone in central Christchurch to stay off the streets and report any suspicious behaviour immediately to 111.