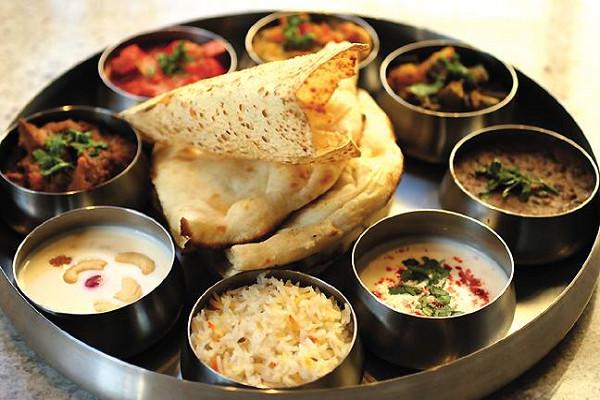 Kalpasi [official]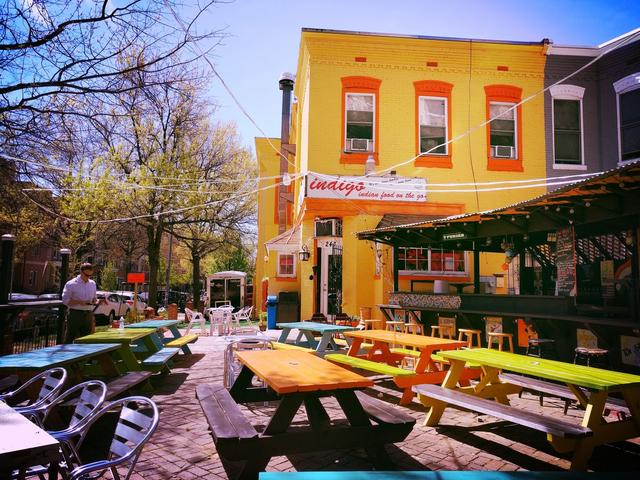 Indigo [official]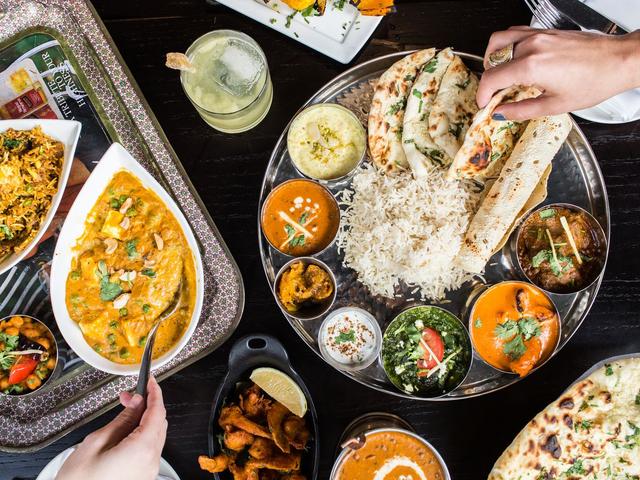 Reema Desai/For Pappe
Platters that will satisfy vegetarians, seafood lovers, and fans of regional specialities
View as Map
A thali platter from Pappe on 14th Street NW

| Photo by Reema Desai/For Pappe
Indian thalis boast an assortments of dishes usually served in small bowls and arranged on a large platter. Found all over India, Thalis feature regional specialities showcasing a variety of curries, vegetables, and breads. From Loudoun County to Northwest D.C. and into Maryland, local restaurants have thalis that satisfy vegetarians, seafood lovers, and fans of North and South Indian dishes.
Note: Restaurants on this map are listed geographically.
46005 Regal Plaza Suite140
Sterling, VA 20165
Agni's South Indian thalis (lunch-only) arrive on platters lined with banana leaves. The menu changes every day for vegetarian and the non-vegetarian versions, but dishes such as kootu — lentils cooked with spices — and sour tamarind rasam soup are staples. Get free refills of anything on the platter. Only bread comes with an additional charged.
10151 New Hampshire Ave
Silver Spring, MD 20903
Situated in a strip mall in Silver Spring, Jewel of India is a hidden gem that specializes in familiar flavors of North Indian cuisine done well. The house special vegetarian thali lets guest pick three dishes in addition to dal, a pulao rice, and a choice of naan or roti. The malai kofta, cheese and vegetable fritters in a creamy sauce, are a must try, but there are also around 15 vegetarian curries available.
3. Rupa Vira's The Signature - Finest Indian Cuisine
21760 Beaumeade Cir Unit 120A
Ashburn, VA 20147
India's western state of Gujarat is known for its focus on vegetarian dishes and sweet and sour flavors. Rupa Vira is one of the few places in the area to serve up a traditional Gujarati thali, which is available for dinner on Fridays through Sundays. It starts with an assortment of appetizers known as farsaan, and the main platter features dishes including sweet, yogurt-based kadhi, puri fried puffed bread, and assorted vegetables. You might need a nap afterwards, but it's totally worth it.
8046 New Hampshire Ave
Langley Park, MD 20783
At this vegetarian spot in College Park, the thalis lean South Indian with a number of dishes not easily found in the area. That includes avial (assorted vegetables in a mild coconut based sauce), kootu, and more. Known for its assortment of dosas, it's also one of the few places in the area to offer the crisp, rice pancakes on a thali. The Woodlands Special gives you a choice of a dosa or an uttapam (vegetable pancake), medu vada (lentil donut) or idly (steamed rice cake) with coconut chutney, and spicy tamarind and lentil sambar for dipping.
13055 Worldgate Dr
Herndon, VA 20170
Kalpasi doesn't shy away from spices. Featuring the rich flavors of the Chettinad region of South India, the restaurant packs lots of black pepper and red chiles in the food. its lunch-only thali ($11 to $14) is a fantastic deal with eight to 10 dishes revolving around meat — there's an option for chicken, mutton, or fish — or vegetarian curries along with rice, chapati bread, and a small dessert to finish.
1413 Park Rd NW
Washington, DC 20010
Come hungry and bring a friend or a date, because the impressive thali for two at Bombay Street Food is not for the faint of heart. It includes greatest hits like tandoori chicken, saag paneer, lamb curry and gulab jamun. There's also a vegetarian thali on weekdays for lunch that's designed for one person.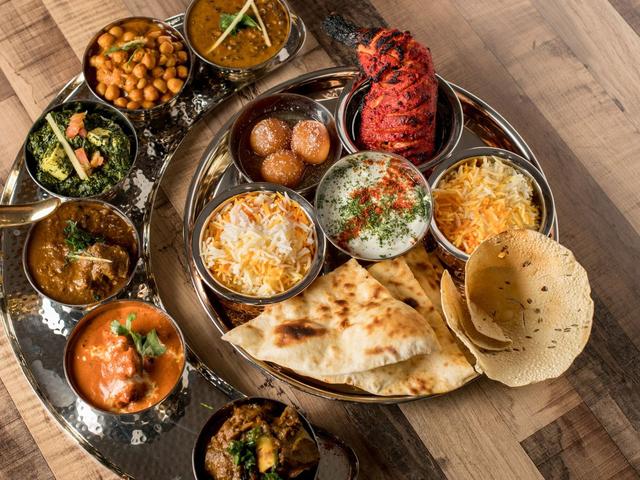 Bombay Street Food/Emma McAlary
Eater DC
By signing up, you agree to our Privacy Policy and European users agree to the data transfer policy.

2433 18th St NW

Washington, DC 20009

This longstanding Adams Morgan restaurant offers solid North Indian classics. The five-item thalis are available as fully vegetarian or as a combo with three meat dishes. They come with naan, rice, and dessert. The baingan bhartha (roasted eggplant), saag makai (corn and spinach), and spicy chicken vindaloo are consistently good.

1317 14th St NW

Washington, DC 20005

Pappe serves terrific thalis in a dining room brightened with colorful silk fabrics from New Delhi and hand-drawn wall murals. The maharaja thali — which includes lamb, chicken curry, and lentils, among other goodies — is as nice as the setting. It's available for lunch and weekend brunch.

Reema Desai/For Pappe

243 K St NE

Washington, DC 20002

This kitschy mom-and-pop restaurant in NoMa has high quality home-style food. The thali option comes with five different vegetarian entrees or with a choice for one meat and four veggies. The pumpkin curry and the goat are fantastic here, as are the okra and the saag chicken. It's a popular spot without much indoor seating, so go on a nice day when you can eat at one of the picnic tables in the patio.

815 Connecticut Ave NW

Washington, DC 20006

The Samundari thali at accomplished restaurateur Ashok Bajaj's first place will please seafood lovers. There's a fish curry, tandoori seafood, and creamy black lentils served on a silver platter.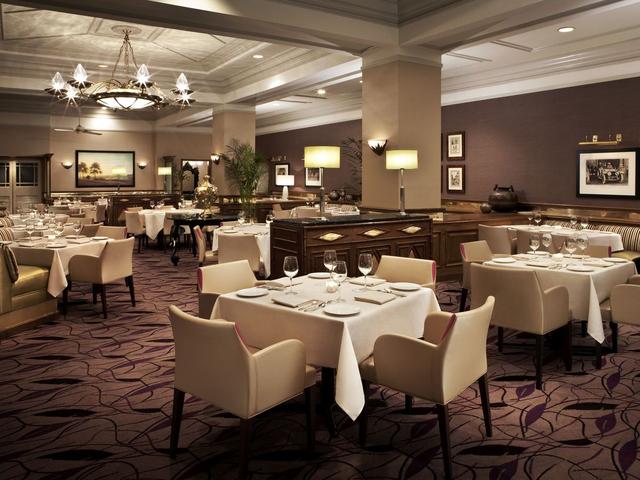 1504 King St
Alexandria, VA 22314
The Nepali thali here is a rare specialty with staples like mustard greens, goat curry, and a potato pickle. Think Indian food but with slightly tamer spices. While you're there, get an order of dumplings (momos) on the side.