Cooking Time
Ingredients
For the Tofu
1 1/4 cups unbleached all-purpose flour
1 tablespoon corn starch
1/4 teaspoon salt
Pepper to taste
1/2 teaspoon paprika
1/2 teaspoon cumin
1/4 teaspoon onion powder
1/4 teaspoon garlic powder
1 cup unsweetened almond milk
1 cup panko breadcrumbs
1 package super firm tofu
For the Buffalo Sauce
1/2 cup vegan butter
1/2 cup red hot sauce
1 tablespoon white vinegar
1/4 teaspoon worcestershire sauce
1/4 teaspoon paprika
1/4 teaspoon garlic powder
Dash of red pepper flakes
For the Ranch Dressing
1 cup soaked, raw cashews
1/2 cup unsweetened almond milk
1 tablespoon apple cider vinegar or lemon juice
1/4 teaspoon garlic powder
1/4 teaspoon onion powder
1/2 teaspoon dried dill
1 tablespoon finely chopped fresh chives
1 tablespoon finely chopped fresh parsley
Salt & pepper to taste
Other
Fresh chopped chives
Pizza crust
Preparation
For the Baked Tofu
Preheat oven to 400°F. Grease a baking sheet or line with parchment paper.

If tofu isn't already pressed, wrap it tightly in paper towels. Place it on a plate and lay a baking sheet over it. Place a heavy object, such as a cast iron or heavy book on top and slightly press down. Leave for 5 min. or until water has drained. Cube tofu once done.

In a large mixing bowl, whisk together all ingredients (except breadcrumbs and tofu) until thick and creamy. In a smaller bowl, add the breadcrumbs and a pinch of salt. Taking one piece of tofu at a time, dunk in the wet mixture, toss in breadcrumbs and place on baking sheet. Repeat with the rest of the tofu making sure to evenly spread them out. Bake for 20-22 min. or until golden brown and crispy.
For the Buffalo Sauce
While tofu is baking, prepare the sauce. Melt all ingredients in a small saucepan over medium heat. Bring to a simmer and let thicken up for 5-6 min. Set aside.

Once tofu is done, add it to a large bowl. Pour over the buffalo sauce and toss to coat. Reserve a few tbsp of sauce. Set aside.
For the Ranch Dressing
In a high-speed blender, blend all ingredients (except fresh chives and parsley) until creamy. Pour into a bowl and stir in chives and parsley.
Assemble
Lightly brush the pizza crust with olive oil. Spread a generous amount of ranch onto the surface of the pizza crust. Add buffalo tofu chunks. Bake for 8-10 min. at 400°F until crispy and golden brown. Serve with a drizzle of more ranch, a drizzle of leftover buffalo sauce, fresh chopped chives.
Discover more recipes with these ingredients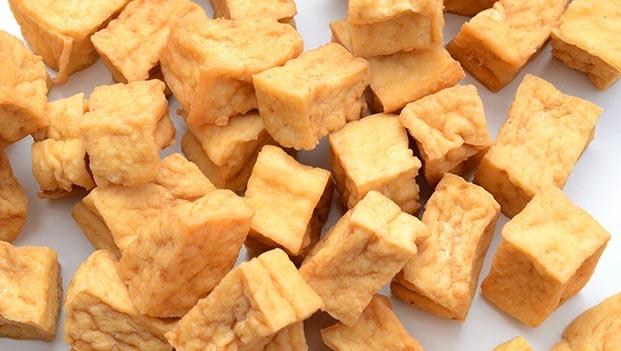 Tofu