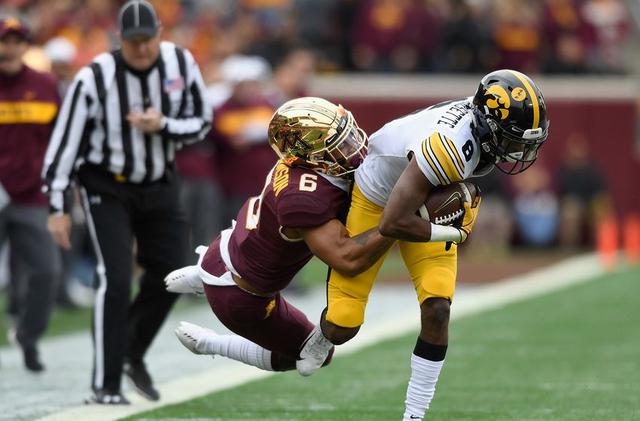 The Iowa football team is 24 hours away from playing the Hoosiers in their sixth game of the year. We've got your weather, injury, odds, and streaming info.
It felt great to have Iowa football back last weekend, and the Hawks survived their first road test in a rivalry game no less. This week the Hawks are on the road again, this time heading to Bloomington, Indiana to play Tom Allen and his Indiana Hoosiers for the first time since 2015. Saturday's contest will be the 75th between these two long-standing Big Ten programs.
The Iowa football game will kick off at 11 AM Saturday morning at Memorial Stadium, and despite the rain and cold weather that has been battering the Midwest recently, Saturday is supposed to be a beautiful fall day. Saturday's weather is shaping up to be high-50's, sunny and a minimal chance of precipitation (10%).
If you are lucky enough to be traveling to Bloomington to watch the game, have a blast! Otherwise, for the rest of us, we will have to catch the game on ESPN2. If you don't have access to ESPN2, you can stream the entire game through FuboTV with a free one week trial.
Injuries/Outages
The Iowa football team has been getting hit hard with the injury bug in the back two-thirds of their defense as of late.
Starting linebacker Nick Niemann will be out for another game with a leg injury as will starting middle linebacker Jack Hockaday. Hockaday's replacement, Amani Jones will also be out for at least the first half due to an unfortunate targeting penalty that results in an automatic ejection and one-half suspension the following week. As of now it appears Kristian Welch will fill in for Hockaday and Jones while Barrington Wade will continue to play in lieu of Niemann's absence.
I don't know that we want Amani in there playing linebacker against a team that's playing with bigger personnel like we had the week before, that probably wouldn't have matched up so well. With Nick being out, he's one of our better players, so you just try to get your best 11 guys on the field at all times, plus you play situation. So it's kind of a little bit of a mix of both.
Corners Matt Hankins and Michael Ojemudia do appear to be on track to play Saturday, but it doesn't sound like they will be starting. Freshman Riley Moss and Julius Brents appear to be getting their second straight start this year.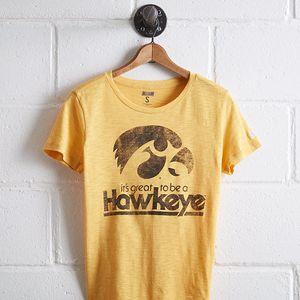 TAILGATE WOMEN'S IOWA HAWKEYES T-SHIRT
On the offensive side of the ball, both Noah Fant and Ivory Kelly-Martin are going through concussion protocol, but it sounds like they still have a chance to go Saturday according to Kirk.
Yeah, they're injured. They both came out of the game. I think the whole world saw that. Right now we'll see where it goes. I think we'll probably know more by Friday.
Odds
According to Oddsshark.com, the Iowa football team is favored to win against Indiana. Right now Iowa is giving 5.5 points to the Hoosiers despite being the away team.
I feel pretty confident at this point that Iowa can come away with a win greater than six points, but it is college football and, literally, anything can happen.
Additionally, the over/under is set at 52.5, which may be a little low for two relatively high-scoring offenses. As we alluded to in a post earlier this week, the passing attacks on both sides will be the key to victory in this game. Iowa will need to continue to build off the offensive momentum they've created, and they need Brents and Moss to step up to the challenge of facing sophomore Peyton Ramsey and the Indiana offense.
As always, our twitter account will be active providing in-game takes and analysis of Saturday's contest so make sure to give us a follow. After the game, we will be providing you with our recap of the contest, top performers, and top areas of improvement.