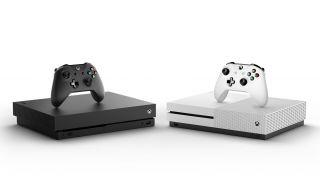 Yeah, we've all heard that Sony is outselling Microsoft two-to-one this console generation, but, considering that over 70 million people own PS4s, Microsoft is still left with a player pool of around 30 million people.
What that tells us, is that not only are the Xbox One X and Xbox One S popular consoles with gamers, but, more importantly, there's still a huge population of folks out there who have yet to experience the greatness of native 4K resolution for themselves.
That's why we're assembling a guide to the best Black Friday Xbox One and Xbox One X bundles and deals.
These two consoles, while similar in name, offer something slightly different for gamers: the One S offers upscaled 4K and a cheaper price tag, while the One X offers improved graphics and higher frame rates for a bit more cash.
Both consoles are great pieces of kit and, with 4K TV prices reaching an all-time low and Microsoft's Xbox Game Pass library quickly filling up, now is as good a year as any to invest in a Microsoft console of your very own.
How to get the best Xbox One deals on Black Friday
Other than checking TechRadar.com for the latest deals you mean? For starters, you'll need to do some research – and show some restraint.
The best deals are bound to happen on Black Friday weekend and last into Cyber Monday. It's likely that we'll be lucky ahead of time and will be able to score some good deals (like we were last year), but chances are good Microsoft is saving the best deals for the biggest sales day in the entire year.
To prepare yourself for the slew of deals that are destined to drop on Black Friday and Cyber Monday, your best bet is to check fliers for doorbuster deals that often are only sold in a limited number and keep your eyes peeled for Amazon Gold Box deals that change every few hours. You might not always see a great Xbox One S or Xbox One X deal in these materials, but you're bound to see plenty of tangentially related products, like Xbox One games and Xbox One accessories.
Lastly, set a budget. Yes, it's understandable you want THE BEST deal possible. But that's something that changes on the hour and can be sold out in just minutes. Instead, we recommend setting a price that makes sense to you and sticking to it. Wait until you see a bundle that reaches that threshold and snatch it up the second the price reaches your set target. That way you won't miss out on a great deal while you wait for something better, and you can always return it should you find a better deal somewhere else. Oh, and don't forget to add in the cost of an extra controller and games into your calculations.
When is Black Friday 2018?
Like every year, Black Friday will go down the day after Thanksgiving – i.e. November 23, 2018 for the deals kick off date.
When is Cyber Monday 2018?
The most cyber of Mondays takes place on the Monday immediately after Black Friday, so Cyber Monday 2018 will fall on November 26.
The best Xbox One deals right now
Cant wait for Black Friday? Here's a cherry-picked selection of the best Xbox One S deals currently on sale.
Today's best PS4 deals
☆☆☆☆☆
$196.77
Rocket League bundle
$210.97
Minecraft bundle
$222
$259.99
Show More Deals
We check over 130 million products every day for the best prices
Black Friday Xbox One X bundles
Every gamer knows that if you're going to buy a console – especially one that's a few months or years old – your best bet is looking for a bundle.
Bundles essentially pack in some of the newest and best titles on a system for a price that's lower than buying them separately. This is great if, say, you wanted to buy a game like Forza Horizon 4 and just happened to be in the market for an Xbox One X at the same time.
While Microsoft has yet to unveil the full line-up of Xbox One X bundles for the 2018 holiday season, you can likely expect packages containing Fallout 76, Forza Horizon 4, Shadow of the Tomb Raider, Battlefield V and Fortnite, just to name a few.
Some of those bundles were announced already back at Gamescom, but we're expecting at least one or two more to be announced in the coming weeks, in the lead up to Black Friday 2018.
And, while we're at it with the games, let's not forget about the Xbox Games Pass subscription service, which gives you access to hundreds of games that you can download at any time. Xbox Live Gold is regularly discounted around the holidays, too, but a bundle that brings both into the mix would be fantastic.
But don't forget – Microsoft isn't the only company with a horse in this race. If 4K gaming is a must for you, check out the latest PS4 Pro bundles.
Today's best Xbox One X deals
Need that 4K gaming action with a splash of Forza Horizon 4, and need it now? Check out the best Xbox One X deals currently on offer:
Today's best Xbox One X deals
☆☆☆☆☆
$449
$478.99
$479.99
$499.99
Stay locked on TechRadar to get the best Black Friday deals
This year, TechRadar is the place to be for all the best Black Friday deals. With up-to-the-minute date on all the top retailers' discounting items for Black Friday and Cyber Monday we'll take the legwork out of finding the deals that'll save you the most cash.
For all the breaking deals info and money-saving tips you need, make sure you follow TR Deals on Twitter so you don't miss out on any sweet Black Friday gaming bargains.
Get the best Black Friday deals before anyone else
We'll let you know about all of the very best deals on the greatest tech products at the most popular retailers as they go live
Send me details about other relevant products from TechRadar and other Future brands.
Send me details about other relevant products from third parties.
No spam, we promise. You can unsubscribe at any time and we'll never share your details without your permission.