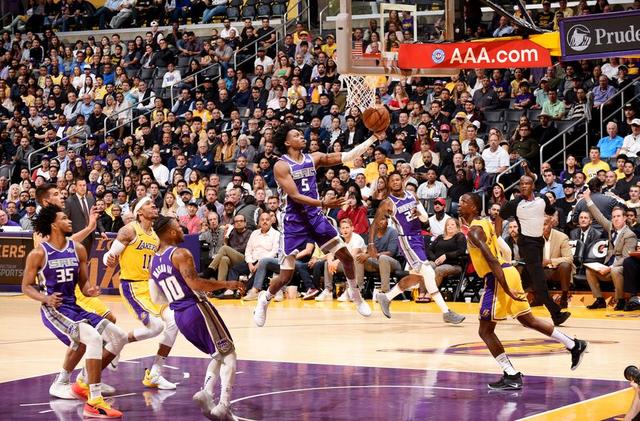 It might be happening Sacramento Kings fans. In tonight's game against the Los Angeles Lakers, De'Aaron Fox may have finally solidified himself as the leader of the purple and white.
Even though the Sacramento Kings fell to the Los Angeles Lakers tonight by a score of 128-123, there was a lot to take away from the match to make Kings fans excited.
There Goes That Fox!
Let us start with the obvious note. De'Aaron Fox was completely balling out tonight. Throughout his entire time on the court, Fox was doing everything whether it was scoring the ball or dishing it out to his teammates. He also pushed the tempo at a place where he and his teammates were able to get easy scores against their opponent.
As a result of Fox's play, 17 minutes on the court, he led the Kings to score 66 points at the end of halftime. That is right, people. SIXTY-SIX POINTS. It was definitely beautiful and refreshing basketball to witness from the Kings. Individually, Fox finished with 18 points, five assists, two steals, and only one turnover while shooting 77.8% (7-9) from the court and 66.6% (4-6) from the three-point line. Who is this guy!?
Other players from Sacramento that performed well were Buddy Hield who scored 16 points and Harry Giles who recorded 14 points, seven rebounds, and three assists. Marvin Bagley III also filled up the stat sheet as he got a double-double with 19 points and 10 rebounds.
Is Fox The Kings' Savior?
This could be an overreaction, but De'Aaron Fox might be on the verge of cementing himself as THE guy for the Kings going forward. Although it has only been two preseason games, Fox has looked pretty damn good in both appearances. He is pushing the pace, his shooting has gotten a bit better, and his defense has improved.
If Fox continues to be the consistent two-way player that he has been so far, there is no question he will be not just a part, but a focal point, in the Kings' future plans.