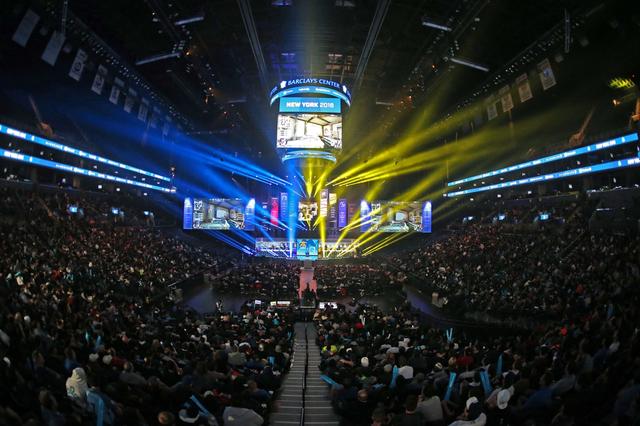 10/5/2018 4:18:45 AM EST
Two teams, North GG.Bet and mousesports, stand above the rest of a competitive field after play Thursday in the ESL Pro League Season 8 - European Union.
North leads the European bracket with 16 points despite not having any scheduled matches on Thursday. Because they will again be watching from the sideline Friday, mousesports and others have a chance to take over the top spot.
Fourteen teams are battling in round-robin, online group play in the Counter-Strike: Global Offensive league that runs through Nov. 14. The top seven placed teams advance to the $750,000 offline finals, which will take place Dec. 4-9 at Odense, Denmark.
The top 11 placed teams are guaranteed spots in the league next season. The 12th and 13th teams are sent to a relegation tournament, while the last-place team is directly relegated to ESEA Premier.
All teams play each other in consecutive one-game matches. Regulation wins provide three points, overtime wins two and overtime losses one. Regulation losses result in no points.
The idle North GG.Bet squad from Denmark carries a slim one-point edge over mousesports. The leaders have played a division-high eight matches, with only one other team (Heroic, fifth place with 11 points) having played more than six during group play.
Berlin-based mousesports are poised to take over first place on the strength of a 3-1 showing Thursday, including a pair of wins over G2 Esports (16-5, 16-8) plus a 16-9 victory over Space Soldiers, who are currently tied for third overall with 12 points. Turkish-based Space also handed mousesports their only loss of the day, 16-7.
Space also split a pair of matches with Astralis (12 points, tied for third place), losing in overtime to the squad from Denmark 25-21 before winning 19-15 in OT.
Astralis finished 3-1 on the day, also sweeping Berlin's FaZe Clan in two matches, 16-7 and 16-4. FaZe very nearly went winless in four matches, following with a 16-9 loss to G2, a Spanish team located in Berlin, before salvaging the day by beating them 16-14.
Windigo Gaming, a Ukrainian organization with a Bulgarian team, split a hard-fought pair with Heroic, winning 16-10 before falling in the day's finale 22-19 in overtime.
Play continues with 12 matches Friday, with mouseports and Astralis facing each other in a key two matches. Heroic also have an opportunity to make a leap in the standings, playing four matches -- two against G2 and another pair against AGO Esports, a Polish team. G2 and FaZe also play four matches on Friday.
ESL Pro League Season 8 - European Union standings, with points, matches played, regulation wins, overtime wins, overtime losses and regulation losses:
1. North GG.Bet, 16 points, 8 matches, 4-2-0-2
2. mouseports, 15 points, 6 matches, 5-0-0-1
T3. Space Soldiers, 12 points, 6 matches, 3-1-0-2
T3. Astralis, 12 points, 6 matches, 3-1-1-1
5. Heroic, 11 points, 8 matches, 3-1-0-4
6. BIG, 10 points, 6 matches, 3-0-1-2
7. Windigo Gaming, 8 points, 4 matches, 2-0-2-0
8. Hellraisers 1XBET, 7 points, 6 matches, 2-0-1-3
9. AGO Esports, 5 points, 6 matches, 1-1-0-4
T10. Ninjas in Pyjamas, 3 points, 6 matches, 1-0-0-5
T10. FaZe Clan, 3 points, 4 matches, 1-0-0-3
T10. Fnatic, 3 points, 2 matches, 1-0-0-1
T10. G2 Esports, 3 points, 4 matches, 1-0-0-3
14. NAVI.GG.BET, 0 points, N/A
--Field Level Media