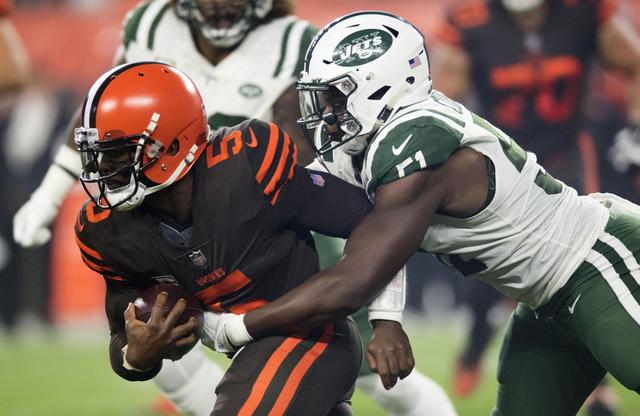 10/5/2018 1:38:27 AM EST
With Baker Mayfield entrenched as the starter, Cleveland Browns quarterback Tyrod Taylor did not rule out the possibility of requesting a trade before the Oct. 30 deadline.
"Right now, I'm focusing on getting healthy and continue to keep getting better and what I can do for the team, and that'll do it," Taylor told ESPN Cleveland Thursday. But when asked if that approach could change later this month, Taylor replied, "You never know."
"I mean, I'm well aware of all that. I don't necessarily put it on my thought process every day. I come out each and every day aiming to get better and trying to find things to work on in my game.
"We'll see. That's more of a question for my agent. We talk. I wouldn't necessarily reveal that to the media."
The comments are Taylor's first since he was concussed in Week 3 against the New York Jets and replaced by Mayfield.
After the rookie rallied the Browns from 14 points down to their first win in 635 days, head coach Hue Jackson named Mayfield the starter entering Week 4, a change that might have happened even if Taylor hadn't been injured.
Taylor, 29, completed just 48.8 percent of his passes for 462 yards, two touchdowns and two interceptions in two-plus games with the Browns, averaging 5.5 yards per attempt. His career numbers are much better (61.5 completion percentage, 53 TD passes, 20 INTs and 7.0 yards per attempt), but it's unclear whether there would be a market for him via trade.
The Browns acquired Taylor from the Buffalo Bills for the 65th overall pick in the draft last offseason. The eighth-year pro is due about $7.6 million over the rest of the season and will hit free agency next spring.
Veteran Drew Stanton, who has dressed the last two weeks with Taylor recovering from the concussion and a back injury, remains on Cleveland's roster as a veteran backup option.
--Field Level Media