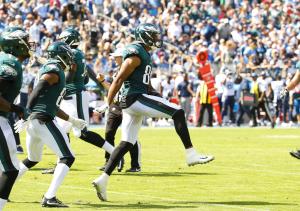 PHILADELPHIA (CBS) — A year ago, the Vikings and Eagles appeared on a collision course toward bigger things. This Sunday, the two teams that met in last year's NFC championship both find themselves in an interesting crossroads game.
These are two teams playing for their seasons. The Vikings have more at stake than the Eagles, though. Another loss would drop them to 1-3-1 in the NFC North and 0-3-1 since winning their season opener.
The Eagles will try to recover from their devastating 26-23 overtime loss to the Tennessee Titans last week, when they yielded three fourth-down conversions in overtime, one coming on a fourth-and-15 from the Titans' 31.
Vikings quarterback and noted Eagle killer Kirk Cousins passed for 422 yards with 3 TDs in last week's 38-31 shootout loss to the Los Angeles Rams. His four 400-plus yard passing games since 2016 is the most in the NFL. He threw for 303 yards, 3 TDs and 1 interception in his last game vs. Phi. (10/23/17 with Was.). In four career meetings against the Eagles, Cousins has thrown for 1,329 yards (332.3 per game) with 12 TDs vs. 3 interceptions.
Carson Wentz passed for 348 yards with 2 TDS in the overtime loss at Tennessee. Wentz is 9-0 in his last 9 home starts. In his last six home starts, he's thrown 1,464 yards (244 per game) with 18 TDS vs. 4 interceptions.
The Eagles beat the Vikings, 21-10, the last regular-season game at Lincoln Financial Field on Oct. 23, 2016 and smashed them the last time they met, in the NFC championship, 38-7.
Fast Facts
LEADER: Vikings lead all-time series, 13-10
STREAKS: Vikings have won 2 of past 3
LAST GAME: 10/23/16: Vikings 10 at Eagles 21
LAST GAME AT SITE: 10/23/16
Eagles
PTS. FOR/AGAINST 20.5/20.3
OFFENSE 363.3
PASSING Carson Wentz: 58-87-603-3-1-93.2
RUSHING Jay Ajayi: 37-155-4.2-3
RECEIVING Zach Ertz (TE): 31-327-10.5-0
DEFENSE 335.3
SACKS Fletcher Cox: 3
Vikings
PTS. FOR/AGAINST 22.5/27.5
OFFENSE 390.3
PASSING Kirk Cousins: 131-189-1387-10-2-103.6
RUSHING Dalvin Cook: 36-98-2.7-0
RECEIVING Adam Thielen: 40-473-11.8-2
DEFENSE 381.5
SACKS Danielle Hunter: 4