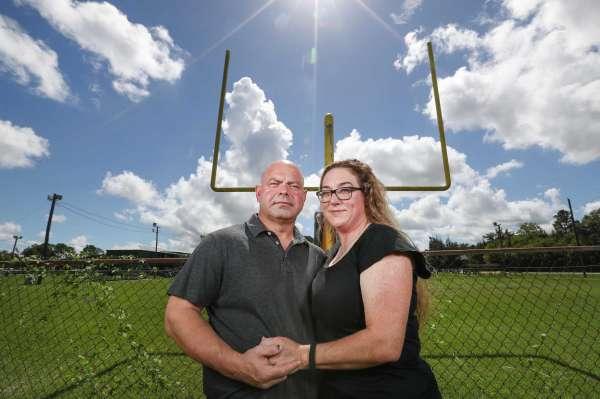 Donna and Troy Yarbrough fear their son will never be the same.
Two years after he cracked helmets with a fellow player during a routine football scrimmage, the 17-year-old former lineman still gets migraines, some so intense he has to wear sunglasses indoors. His doctors haven't cleared him to play golf, let alone football.
The Yarbroughs have now filed a civil rights lawsuit against the Santa Fe Independent School District, contending that children have a fundamental right to be protected from concussions and brain damage from contact sports.
It's among the first lawsuits in Texas — and a growing number nationwide — to draw attention to the devastating consequences of head injuries among young athletes. Repeated concussions, especially those from helmet-to-helmet contact, have been linked to Chronic Traumatic Encephalopathy, or CTE, in more than 100 National Football League players, according to the Concussion Legacy Foundation.
The Yarbroughs say they hope the lawsuit will draw attention to the potential dangers of the gridiron devotion that pervades Texas towns, where hard-driving coaches sometimes expect young players to play through pain.
"If you're not tough enough, you're ridiculed and you suffer the consequences," said the family's attorney, Sherry Chandler. "It is a culture of win at all costs."
Patti Hanssard, a district spokesperson, declined to comment on the lawsuit but said students' health and safety are priorities for Santa Fe ISD.
In Texas, which has more football programs than any other state, the onus is on adults to teach players both to avoid injuries and to report them when they happen, said Houston lawyer Eugene Egdorf, who is not involved in the lawsuit but whose firm specializes in concussion and head trauma litigation.
"You have a culture that leads to less reporting of concussions, because you have kids who don't want to come out of games when they're injured," Egdorf said. "Nobody wants to risk losing their spot."
The Yarbroughs' son, identified in court documents as C.Y., was an offensive tackle on the Santa Fe Indians' junior varsity squad when he was injured on Sept. 21, 2016. The JV offense scrimmaged against the varsity defense that day.
C.Y. texted his mother after practice, saying he had a terrible headache. He sat out the afternoon practice. Then he began to suffer dizziness, vomiting and drastic mood swings. He couldn't balance or concentrate, his parents said.
A doctor at the Concussion Center at Houston Methodist Clear Lake Hospital diagnosed a severe concussion, according to the parents. The boy's symptoms indicated he had sustained at least one previous concussion that had gone undetected. His grades plummeted. He could no longer build things in his favorite video game, Minecraft.
C.Y. had played basketball, soccer, T-ball and mixed martial arts, but he loved football from the time he was a "little bitty" kid, his mother said. He made the football All-Stars in the Pop Warner League, and suited up without fail from fifth grade on.
"He was disciplined," his mother said. "He would do whatever they wanted him to do and he never gave up."
Now, his mother and father — a UPS supervisor and petrochemical equipment manager, respectively — keep an eye out for seizures when he gets headaches. They worry that he could suffer permanent brain deterioration.
"You don't know about CTE," Troy Yarbrough said. "You hear about all these professional athletes committing suicide."
(In a cruel quirk of fate, the Yarbroughs' son sustained gunshot wounds when a teenage gunman went on a shooting spree at the Santa Fe High School campus May 18, killing eight students and two teachers.)
Health care data shows a rise in concussions across the general population, boosted by a substantial rise in cases among adolescents, according to a 2016 study in the Orthaepedic Journal of Sports Medicine.
The same year, the Program for Injury Prevention Education & Research at the University of Colorado Denver found that concussions were the most frequent sports injury, by a wide margin, during the 2016-2017 school year. Studies at Wake Forest and Boston University have discovered depleted cognitive functioning in children who began playing football before age 12.
Under interscholastic sports rules, high school players are told not to lead with the crown of their helmets when blocking or tackling, and to avoid contact with other players' heads.
State law requires coaches to attend two hours of training every two years about the dangers of concussions, said Jamey Harrison, deputy director of the University Interscholastic League, the governing body for high school competition in Texas.
Harrison said schools can administer a baseline cognitive test, as a basis to measure a player's brain function after an injury. In addition, all districts in the league are required to have a protocol governing when a player can return to the field after an injury.
Concussion lawsuits brought by families of high school athletes have been filed in at least 13 states. A handful of cases resulted in monetary settlements, including a $7.1 million negligence award for a San Diego player whose coach let him return to the field after a concussion.
Another California athlete won a $4.4 million in a settlement in a case in which he alleged his coach put him on the field despite a head injury.
A Pennsylvania class action suit that is awaiting trials claims that the state's interscholastic sports association failed to protect athletes in various sports from concussions.
Negligence cases, in which officials allegedly fail to warn or protect students, are difficult to win, said Egdorf, the Houston lawyer. Governmental entities are protected by immunity, and most successful claims involve evidence of long-term repetitive head trauma, he said.
"When you're in high school you haven't had long term exposure and delay where you can see cognitive problems like CTE and Alzheimer's," he said. He said most high school cases involve "one-time hits."
Egdorf said lawsuits have a better chance when plaintiffs can show a coach ran a drill that intentionally placed a child in danger, or that a coach allowed a child who had sustained an injury to continue playing.
Donna Yarbrough said that after years of easygoing parenting, she wants to cover her son in bubble wrap.
"Everyone needs to be more aware about concussions," she said. "I don't want other kids to get hurt."
Her husband said: "I'd tell people, 'Don't put 'em in football, put 'em in golf.'"
gabrielle.banks@chron.com
twitter.com/gabmobanks