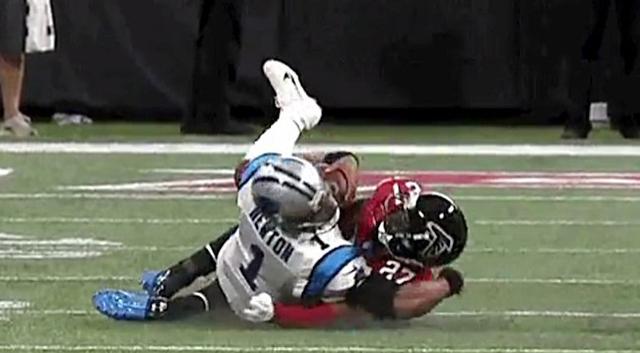 Fox
For the second straight week, the new NFL rule allowing referees to eject players for egregious helmet-to-helmet hits was used.
In Week 1, it saw a Bengals defender get tossed for a late hit to the head on a sliding Andrew Luck. In Week 2, it was an almost identical situation involving Cam Newton against the Falcons, as Newton scrambled for a first down and more on 4th and 4 in Atlanta.
Newton got loose and took the ball down to the Falcons 23 before sliding as Atlanta safety Damontae Kazee was coming up to make a tackle. Newton slides, but Kazee still comes in low like a missile, launching the crown of his helmet into Newton's head in a scary hit that drew a flag and plenty of anger from the Panthers, who immediately went after Kazee.